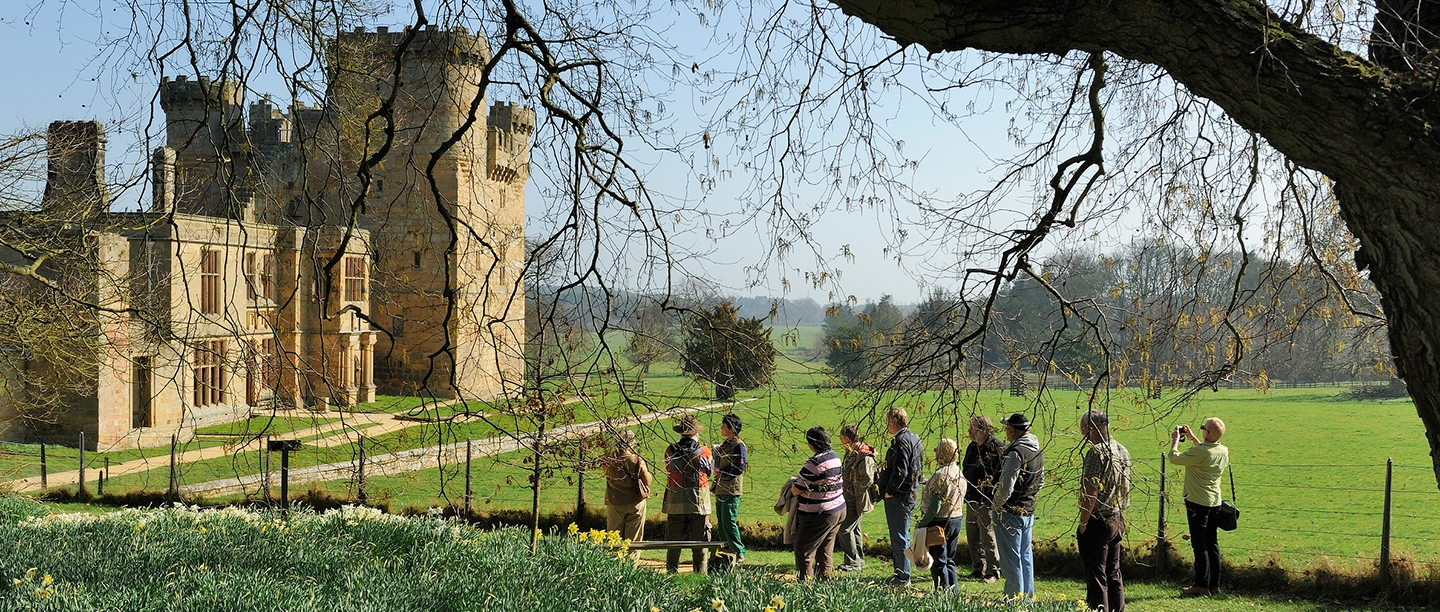 Group visits to Belsay Hall, Castle and Gardens
Boasting sweeping views over gentle rolling countryside, Belsay is set within the evocative landscape of Northumberland's 'border country'. Group visitors will be enchanted by Belsay's Grecian architecture, medieval castle, and thirty acres of outstanding gardens.
Group Discount
We offer a 15% discount (10% for Stonehenge) for travel trade and organised groups of 11 or more paying visitors when payment is made in a single transaction.
Per group you also receive:
free entry for one tour leader
free entry for one coach driver
The tour leader, coach driver and any English Heritage members do not count towards the group totals.
Booking information
Trade admission prices and opening times:
Please refer to our Trade Admission Prices & Site Opening Times brochure for pricing and opening times information at our top sites for groups.
Making a booking:
Contact information for making your group booking can be found in the Visit & Contact Information section below.
Please include the property name and date of visit in the subject line of your email along with the following information:
Group name
Name of property
Tour reference/booking reference (if applicable)
Date and time of arrival
Number of visitors
Payment method:
Payment can be made on arrival by: cash, credit/debit card, cheque (made payable to The English Heritage Trust), Agency Voucher Scheme (AVS).
Visit & Contact information
Coach parking: Space for 4 coaches on site 200m from the entrance. Coach visits are to be booked in advance.
Catering: Tearoom seats 50 and serves sandwiches, cakes and hot and cold drinks. Afternoon tea and group catering packages available. Contact the property for current/seasonal group catering offers and to book.
Gardens: Belsay is renowned for having one of the most extraordinary picturesque garden landscapes in England. The landscape divides into formal gardens, near to the house, and the wild gardens beyond. Most remarkable are the romantic quarry gardens on the walk to the castle. Paths through the grounds are flat and accessible for pushchairs and wheelchairs. Seating and rest areas are found in the formal gardens, East Quarry path and at the castle. It is a 1/2 mile walk from the hall through the gardens to the castle. There area around 40 acres to explore in total.
Access: Castle and manor house reached by 700m path through gardens; access to castle or manor house via steps. Wheelchair access to Castle by ramp from the car park to the ground floor of the hall and the tea room. Wheelchairs as well as a mobility scooter are available to borrow for free. RADAR key access for level access route to the hall (via tearoom entrance) and gardens (via toilet gate). Key available at the shop for a refunded hire charge. Shop has level access but narrow doorway.
Average length of visit: 3 hours
Address: Belsay, Nr Morpeth, Northumberland, NE20 0DX
Email: bookings@english-heritage.org.uk (group bookings)
Telephone: Belsay Hall: 01661 881636 (general enquiries only)
Local TIC: Please call Morpeth tourist information on 01670 623455 if you would like information on other things to do in the area.
Guided tours
Make your group visit extra special by adding one of our guided tours.
Please allow for the indicated minimum notice below when booking a guided tour.
Guided Tour of Gardens with Head Gardener
The garden tours are led by the Head Gardener, John Hawley who will take you on a journey of discovery through the amazing gardens of Belsay Hall. Hear the history behind the creation of the unique gardens and the work that goes into preserving them.
Belsay Hall, in the heart of the Northumberland countryside, houses over 30 acres of magnificent formal and informal gardens, including the famous Quarry Garden with its distinctive microclimate; here Species Rhododendrons can be seen in flower from November until August. Based on the ancient quarries of Syracuse in Sicily, the stone was quarried for Belsay Hall, leaving dramatic canyons and pinnacles and planted with newly introduced exotics, captivating all who visit.
With formal Terraces below the Hall, this area is the highlight of a summer visit. Old English Pinks and musk Roses combined with original Magnolias and overflowing herbaceous borders result in a feast for the senses, overlooking the spectacular Rhododendron Garden, giving Belsay's most photographed view in June.
Grade I registered, the garden is one of the finest examples of the Picturesque movement in Britain and a true plantsman's dream, with many rarities including a National Collection of Iris and a large collection of species Lilies in flower throughout the garden, being highly regarded by both garden experts and amateurs alike.
Restored to its former glory, the gardens have something for everyone, be it the summer scents of the Terraces and watching Croquet on the sunken lawn, the vast range of wildlife to be seen or the truly enchanting Quarry Garden, Belsay has it all.
Duration: 2 hours.
Minimum-maximum pax: 11 - 25 pax.
Advance booking required: Yes, a minimum of 30 days notice is required
Price: Price on enquiry. Price may be higher if booking for a weekend visit.
Virtual garden tour
Go behind the scenes with our Head Gardener, John Hawley and get a taste of what you can expect when you book a guided tour of the Grade I registered gardens as part of your next group visit to Belsay Hall, Castle and Gardens.
Aerial fam trip
Take flight above Belsay's Grecian architecture, medieval castle, and thirty acres of outstanding gardens on this aerial familiarisation visit. Group visitors can roam through the unique micro-climate of the Quarry Garden with exotic plants around every twist and turn, and enjoy the quirky open spaces around the Hall and the castle.
Group Travel Support
Further support and useful resources available to group travel organisers can be found on our dedicated Group Visits webpages.
For educational groups, please visit our School Visits webpages.