Research on Benwell Roman Temple
The excavation of the temple in 1862 has never been fully published, and there is scope for further research and excavation.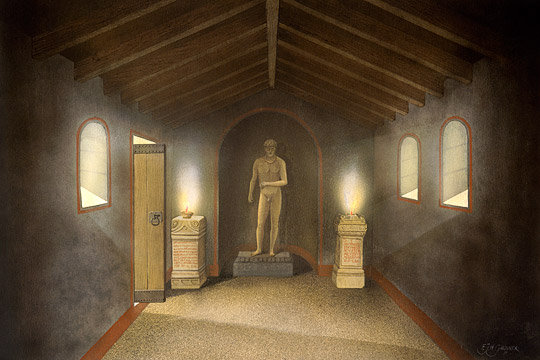 Excavation
The remains were excavated in 1862 by George Wightwick Rendel, a partner in the Elswick Ordnance Company and a Civil Lord of the Admiralty, on his land at Benwell Little Park, later known as Condercum House. He left the walls of the temple exposed, and they have been visible ever since.
The original altars were removed to the collections of the Society of Antiquaries of Newcastle upon Tyne and were replaced, probably in the 1930s, by concrete casts.
Research Potential and Priorities
General research priorities connected with Roman shrines and religion are outlined in Frontiers of Knowledge, vol 2: Agenda and Strategy, 8.6.[1] Of particular relevance to Benwell are questions regarding the origins of Antenociticus and whether worship of him was linked to the presence of a particular unit at the fort.
The various architectural and altar fragments still on the site should be fully catalogued and published.
The site has never been subjected to a formal excavation, which should yield valuable information about the date of the temple and its setting.
READ MORE ABOUT BENWELL ROMAN TEMPLE