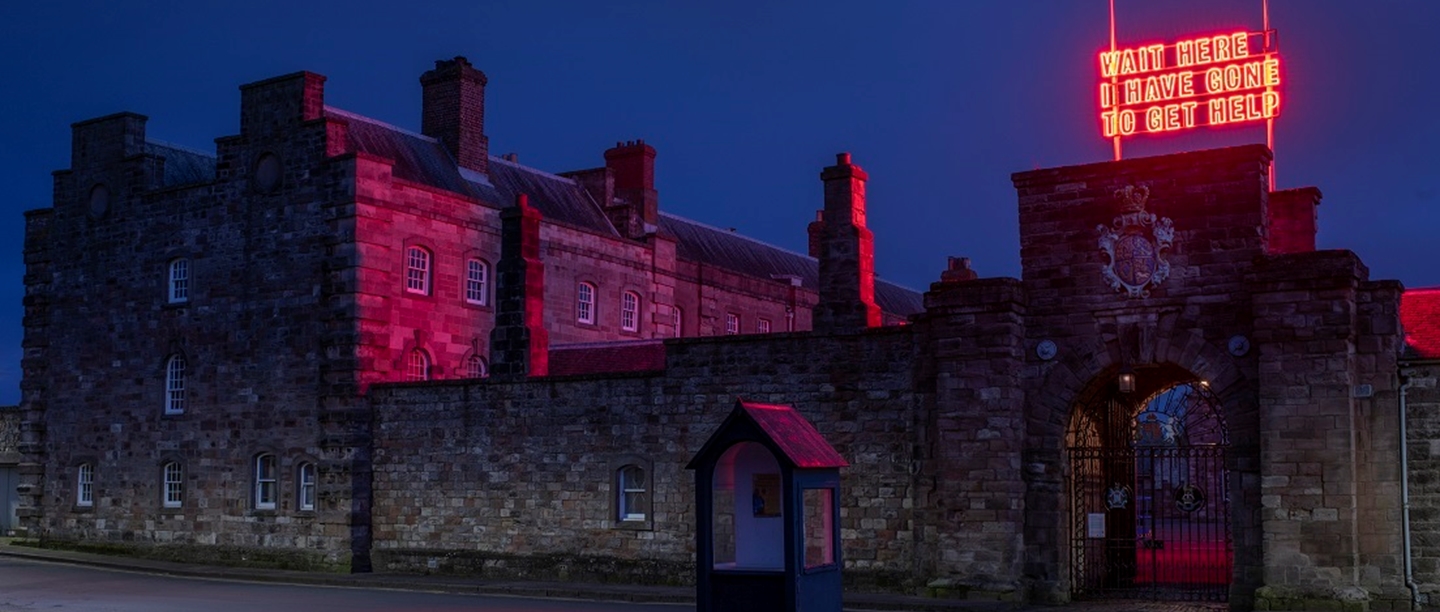 Tim Etchells: Wait Here (Double Line)
Between 18th March 2021 – 19h April 2021 Berwick Barracks will be hosting artist Tim Etchell's temporary installation Wait here (Double Line).
Visible above the gatehouse entrance of the town's former military barracks, Etchells' work makes a playful intervention into the site invoking an imaginary situation of peril and a fictitious mission to gather support. Long a home for troops on call for missions further North or abroad – the Barracks is recast by Etchells as the location for another kind of story about danger and the need for caution or defence.
The installation
Tim Etchells' neon and LED pieces often draw on his broader fascinations as an artist, writer and performance maker, exploring contradictory aspects of language – the speed, clarity and vividness with which it communicates narrative, image and ideas, and at the same time it's amazing propensity to create rich fields of uncertainty and ambiguity
Economy of language is important in Etchells' work - Wait Here (Double Line) uses just eight words to spell out a phrase which involves us in a narrative situation whose details remain forever ambiguous. The identity of the person who has gone to get help, what kind of assistance they are seeking, what reason they have to need help and from whom they are seeking it, are all unclear – creating a space of implication without a concrete narrative around which it may cohere.
Etchells said about the work "It's always an interesting to make work specially for a particular site. It's a process that involves practical and quite pragmatic consideration of the location in terms of possible places to install a work as well as providing the chance to consider the different stories and ideas that are circulating in a place. In the case of the Berwick Barracks I was thinking about its origin as part of a defensive outpost, and the way it resonates with narratives of danger, attack and defence. I wanted something that would resonate strongly with the situation and the phrase used in Wait Here seemed to open lots of possible interpretations, serious and comical at the same time."
Wait Here (Double Line) is particularly pertinent as 2021 marks the 300th anniversary of the Barrack's opening and first being occupied by soldiers. It continues a long history of contemporary art on the site including ongoing temporary exhibition programmes at the Gymnasium Gallery and the landmark Berwick Ramparts Project in 1996.
About the artist
Tim Etchells (b. 1962, Stevenage, UK) has produced major commissions for public space internationally including; 'With/Against', Great Exhibition of The North and BALTIC, Gateshead; 'Different Today', SITE Gallery, Sheffield; his poster project 'And For The Rest' created and presented in: Brussels (2014), Basel (2015), and Athens (2016); 'Vacuum Days (Utrecht)' (2016); and 'Eyes Looking' a video installation which took over Times Square, NYC, commissioned as part of Times Square Arts Alliance 'Midnight Moments' series (2016).

His work has been presented internationally in group and solo exhibitions at galleries and museums including: Kunstverein Braunschweig, DE; TATE Modern, London, UK; Bloomberg SPACE, London, UK; Plymouth Arts Centre, Plymouth, UK; Jakopič Gallery, Ljubljana, SI; Bunkier Sztuki, Krakow, PL; Gasworks, London, UK; and Künstlerhaus Bremen, Bremen, DE. www.timetchells.com.

Wait Here (Double Line), 2021 has been commissioned by Berwick Visual Arts in partnership with English Heritage and supported by Berwick Welcome Visitor Project.