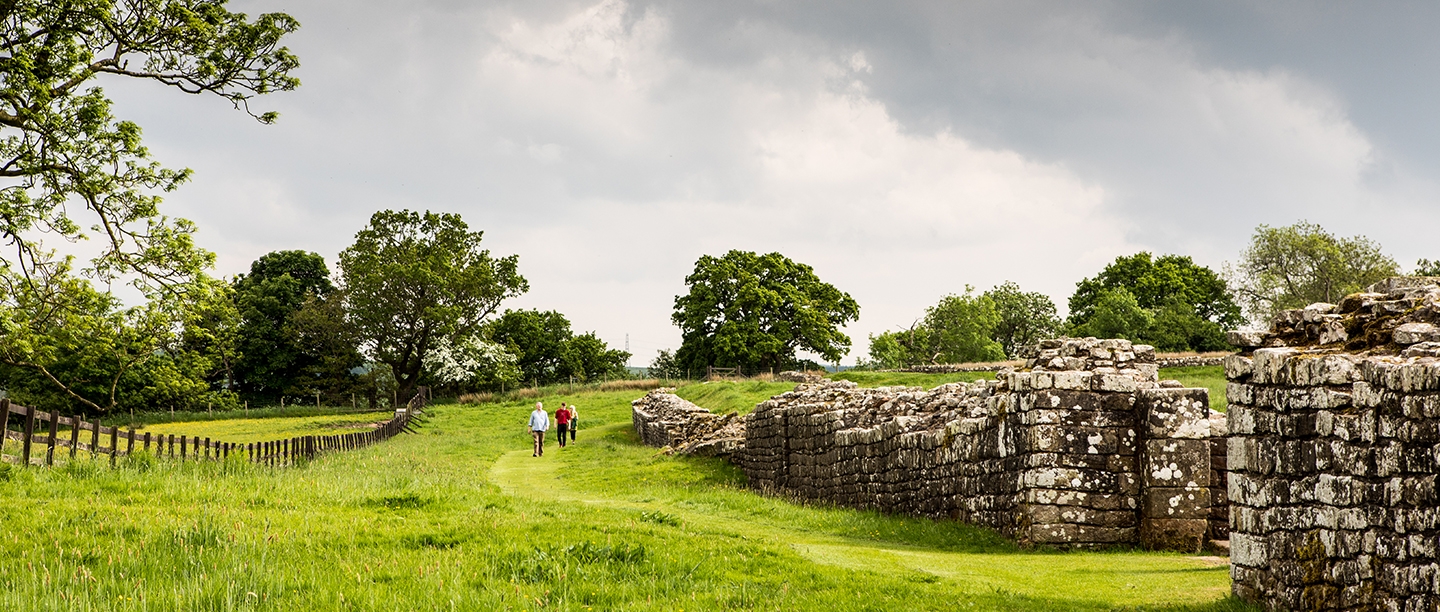 Group visits to Birdoswald Roman Fort
Start your Hadrian's Wall adventure at Birdoswald Roman Fort in Cumbria. Here you can still see the remains of all of the Wall's defining features. Stand in awe as the longest remaining stretch of the Wall spans as far as your eye can see, and explore the ruins of the Roman fort, a turret and milecastle.
Group Discount
We offer a 15% discount (10% for Stonehenge) for travel trade and organised groups of 11 or more paying visitors when payment is made in a single transaction.
Per group you also receive:
free entry for one tour leader
free entry for one coach driver
The tour leader, coach driver and any English Heritage members do not count towards the group totals.
Booking information
Trade admission prices and opening times:
Please refer to our Trade Admission Prices & Site Opening Times brochure for pricing and opening times information at our top sites for groups.
Making a booking:
Contact information for making your group booking can be found in the Visit & Contact Information section below.
Please include the property name and date of visit in the subject line of your email along with the following information:
Group name
Name of property
Tour reference/booking reference (if applicable)
Date and time of arrival
Number of visitors
Payment method:
Payment can be made on arrival by: cash, credit/debit card, cheque (made payable to The English Heritage Trust), Agency Voucher Scheme (AVS).
Visit & Contact information
Coach parking:A car and coach park is provided 100 metres to the north-east of the fort. Adjacent to the entrance is a coach dropping-off point for passengers not wishing to walk to the entrance.
Catering: Tearoom seats 38 inside and additional seating outside. Serves soup, sandwiches, cakes and refreshments.
Exhibition: The visitor centre has an exhibition full of hands-on activities and an introductory film. Here you can discover the history of Hadrian's Wall and Birdoswald Roman Fort.
Access: Our exhibition and surrounding areas are flat and accessible by wheelchair, including the excavated area out on site. Although please bear in mind that there are some parts of uneven ground and sharp inclines with limited wheelchair access.
Average length of visit: 1 hour.
Address: Gilsland, Brampton, Cumbria, CA8 7DD
Email: bookings@english-heritage.org.uk (group bookings)
Telephone: Birdoswald Roman Fort: 016977 47602 (general enquiries)
Local TIC: Please call Carlisle tourist information on 01228 598596 if you would like information about other things to do in the local area.
Guided tours
Make your group visit extra special by adding a guided tour.
Please allow for the indicated minimum notice below when requesting a guided tour. Guided tours are always subject to availability.
Birdoswald Roman Fort tour
Let one of our expert guides bring to life 2000 years of history at this amazing site. Your guide will begin with an introduction to the site using an interpretive model of the Roman fort. Your group will then enjoy a guided walk around the remains of this Roman fortification at the edge of an empire. All the while admiring the spectacular views of the Irthing Valley towards the Lake District.
Duration: 1 hour.
Price: Price on enquiry.
Minimum – maximum pax: 11 - 30 pax. Larger groups can book multiple tours, subject to availability.
Advance booking required: Yes, a minimum 14 days notice is required.
Group stays
The converted 17th century bunkhouse offers group accommodation overlooking the remains of the Roman Fort and has a maximum capacity of 37 people. Choose to stay on a self-catering basis and make the most of the kitchen or allow our catering staff to provide meals for you from breakfast to lunch to dinner.
Find out more
Aerial fam trip
Take flight above the the largest Roman artefact in the world. Explore the Wall's rich history and its dramatic landscape on this aerial familiarisation visit. Groups will love visiting over 20 fascinating sites such as Housesteads Roman Fort, Chesters Roman Fort, Corbridge Roman Town and Birdoswald Roman fort.
Group Travel Support
Further support and useful resources available to group travel organisers can be found on our dedicated Group Visits webpages.
For educational groups, please visit our School Visits webpages.