History of Black Middens Bastle House
Black Middens Bastle House is situated in an isolated spot on the north side of the Tarset Valley. A bastle house is a type of fortified, or defensible, farmhouse peculiar to the Border country between England and Scotland.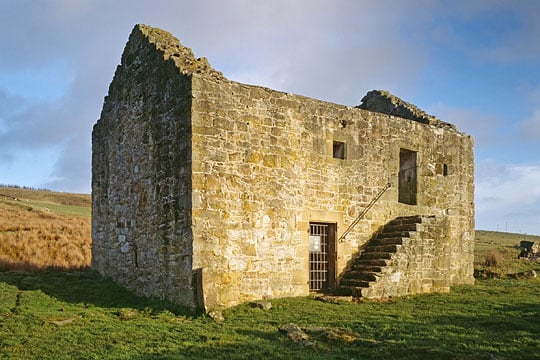 Most examples were built from the mid-16th to the mid-17th centuries, in response to cross-border raids and national boundary disputes. They are generally two-storey buildings, with living accommodation on the first floor and shelter for cattle and sheep on the ground floor. They were homes and refuges for rich freeholders, lairds and heads of border clans.
More prominent landowners had pele towers, similar to bastles but with three or four storeys; most of these are found further south. Bastles were often built in clusters so that the inhabitants were within easy reach of their neighbours and could provide one another with support.
The remains of a similar building (not in the care of English Heritage) stand nearby, while a mile away is a group of three bastles, all still roofed. Little is known of the history of this site and there appears to be only one surviving documentary reference to Black Middens, in 1583, when it seems to have come under attack in a raid by the Armstrong family.
Many bastles were occupied until the 19th century, long after Border disturbances had ended. It is likely that Black Middens and the adjacent buildings were used as farmsteads into the 20th century.
Description
This bastle has several typical features. It is a rectangular building with thick walls built of roughly squared large stone blocks. As is usual, these are laid irregularly with smaller packing stones in between.
Though the bastle house is now roofless, the lower ends of the timber roof-trusses are still visible. In 1970 it was recorded as having a slate roof. There was originally only one doorway, for livestock, in the east-facing wall. This has been blocked with masonry.
The south wall has two modern doorways, inserted when the ground floor was divided by a partition wall; these are now blocked by iron grilles. For security the ground floor had narrow ventilation slits rather than windows.
Access to the upper floor was by external steps and holes for a drawbar to secure the first-floor door can still be seen. There would also have been internal access, by ladder, to the living quarters. Some bastles had stone barrel vaults to support the first floor; others, such as Black Middens, had timber beams. At the west end of the upper floor are stone corbels and timber beam holes to support a hearth.
Further Reading
Ramm, HG, McDowall, RW and Mercer, E, Shielings and Bastles (London, 1970)