History of Bowes Castle
Bowes Castle was built between 1171 and 1187 on the site of the Roman fort of Lavatris. The Roman fort can be traced for most of its perimeter.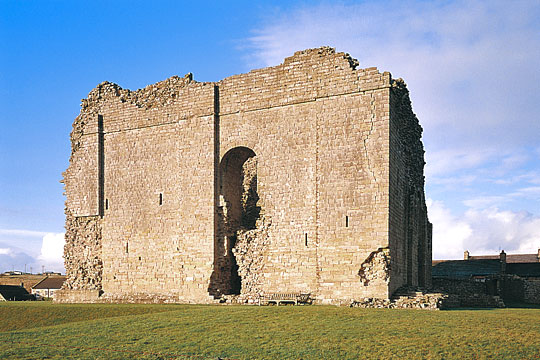 Strategic importance
It was constructed to guard the strategic route known as the Stainmore Pass, and was occupied from the late 1st century AD to the late 4th century. The importance of this route and the crucial defensive position of the fort were recognised by Henry II who built the keep in the north-west sector of the fort.
The castle was originally a possession of the Honour of Richmond but came into the ownership of the Crown when Earl Conan died without male heirs in 1171. King Henry II lost no time in strengthening a castle so vital for the defence of the kingdom against a Scottish invasion, which did in fact occur in 1173–4.
Bowes was besieged by the army of King William of Scotland which immediately retreated when Geoffrey, Archbishop of York, approached with a relieving army. No further expenditure on its fabric is recorded after 1187, and, as the keep is the only part of the castle that still stands, the history of the rest is obscure.
Changes of Ownership
The castle appears to have remained in Crown ownership until 1233, when it was presented by Henry III to the Duke of Brittany.
In 1241 the castle and manor of Bowes were given to Peter of Savoy who was the king's uncle and also Earl of Richmond. Edward II subsequently granted the castle to John de Scargill in 1322, causing much local resentment, and tenants of the earl besieged and captured the castle.
After further changes of ownership the castle reverted to the Crown in 1471.
By the 17th century it had become redundant, and after the Civil War parts of it were dismantled and the stone was re-used for other buildings.
Description
The castle now stands in a field surrounded by a moat on two sides. The keep is the only surviving part. It is rectangular in plan, with broad, flat buttresses at the corners and halfway along each wall.
The keep was originally three storeys high. It was entered at first-floor level via a main door in the east wall, reached by a flight of stairs within a forebuilding that has now disappeared. The entrance to the building is now through an opening that was originally an arrow slit.
The two upper floors and the basement – which provided secure storage space – were linked by the spiral staircase in the thickness of the wall at the south-east corner. The first floor, suspended on vaulting added in the 13th or 14th century, was divided into a hall and a chamber by a cross-wall.
Smaller rooms and passageways to latrines were constructed in the thickness of the walls. The north-east room was a kitchen. The spiral stair continued up to the second floor, now inaccessible and ruinous.
Further Reading
Kenyon, K, Barnard Castle, Bowes Castle and Egglestone Abbey (English Heritage guidebook, London, 1999)