History of Dunster Butter Cross
The town of Dunster retains many fine historic buildings and monuments. They include the medieval Butter Cross, which probably once stood at the south end of the market in the high street, where it was called the market cross or the high cross. Today it has been removed to a bank beside the Alcombe road, but it still has an important story to tell about the town.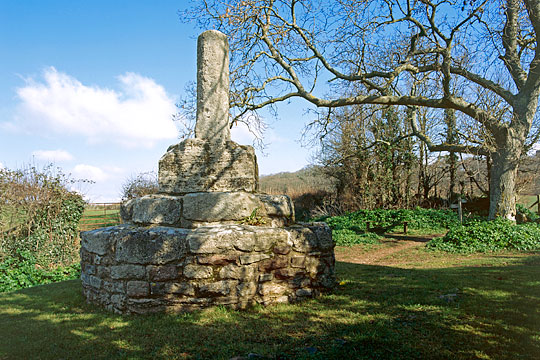 A trading place
The cross dates from the 15th century, when Dunster was a prosperous small town, with an important market that was a centre for the local wool and cloth trade. Many English towns and villages had such a cross, usually standing in a market or on a crossroads. These crosses reminded the viewer of the death (and therefore the resurrection) of Jesus. They also acted as local landmarks, and a stopping point for religious processions.

By the 17th century the cross was known as the Butter Cross, the place in the market where butter was sold. It may have been damaged at or before this time: as a result of the long English Reformation of the 16th century, and the religious upheaval of the 17th-century Civil War, many people regarded traditional crosses as superstitious. The damaged cross, missing the upper part of the shaft and the cross-arms, seems to have been moved to its present position in the late 18th century (according to documentary evidence seen by the local archaeological society).

The cross was once much taller, perhaps 6 or 7 metres high, and would have had short cross-arms at the top of the octagonal shaft. The upper surface of the base of the cross-shaft is sculpted to suggest the hill of Golgotha (outside Jerusalem) on which the cross of Jesus stood.
Nearby places of interest
Dunster has much else to offer the visitor. A good place to start is at the Exmoor National Park Visitor Centre, which tells the story of the wool trade centred on Dunster.
The priory church is mostly 15th-century but is Norman in origin, and contains the tombs of the Luttrell family, owners of Dunster Castle, and a fine rood screen. The monastic tithe barn and circular 13th-century dovecote stand near the church, and there are fragments of another medieval cross in the churchyard near the west door.
Dunster Castle sits on a hill at the edge of the village. First built as a motte-and-bailey castle in the years following the Norman Conquest, it was extensively refortified in the 13th century and modernised in the late 17th century. Remodelling in the 19th century gave the castle its present romantic, embattled skyline. Now in the care of the National Trust, it was owned by the Luttrell family for 600 years.
English Heritage also looks after Dunster Gallox Bridge, a rare medieval packhorse bridge and ford, and the 17th-century Yarn Market.
Further Reading
Historic England entry for Dunster Butter Cross [note that the description of the cross as a 'wayside' rural cross is probably incorrect; see the evidence in the Victoria County History volume, below]

Pevsner, N, The Buildings of England: South and West Somerset (London, 1958)

Pooley, C, Old Crosses of Somerset (London, 1877)

Somerset Archaeological Society, report of visit by the West Somerset branch in September 1942 in the Taunton Courier and Western Advertiser (26 Sept 1942), p 4 (registration required; accessed 22 May 2018)

Victoria County History of Somerset: the Dunster volume is not yet published (2018) but a draft version is available online (accessed 22 May 2018)