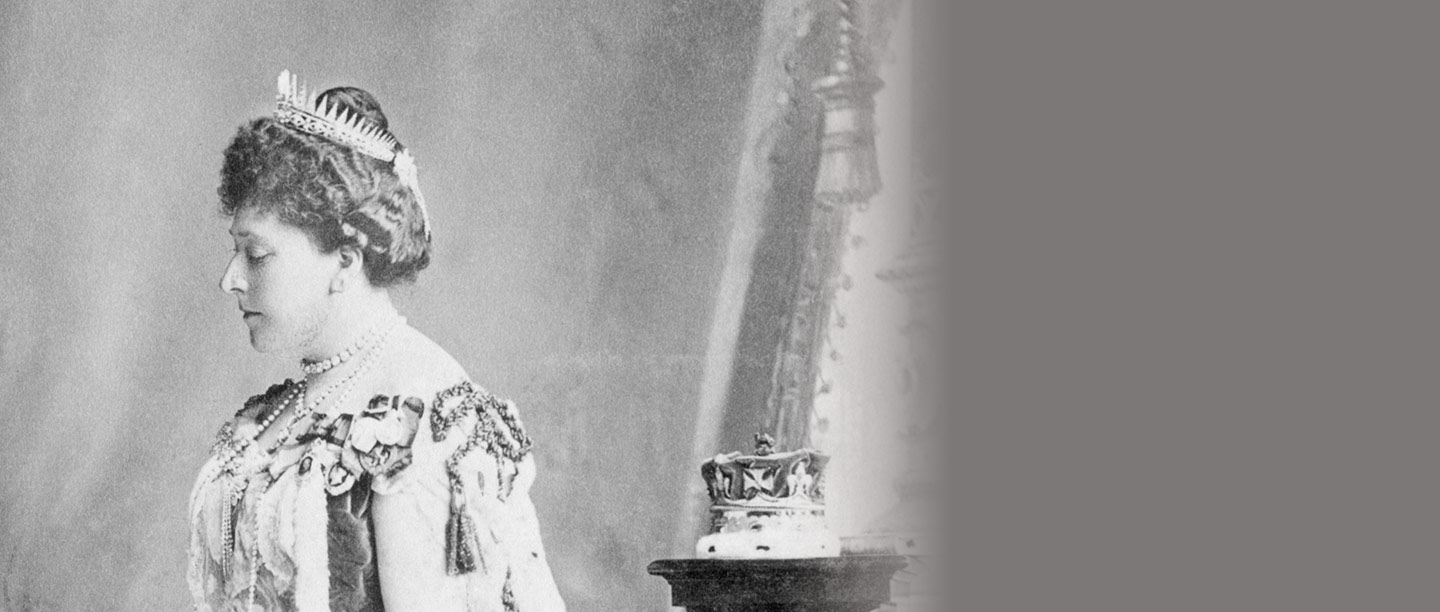 Princess Beatrice
Princess Beatrice (1857–1944) was the fifth daughter and youngest child of Queen Victoria and Prince Albert. Her mother's favourite, she spent much of her life as the queen's companion at Osborne House, so beginning her strong associations with the Isle of Wight.
Queen Victoria only reluctantly allowed Beatrice to marry on condition that she and her husband, Prince Henry of Battenberg, made their home with her. After his death in 1896, Beatrice succeeded him as Governor of the Isle of Wight, living first at Osborne with her mother and later making Carisbrooke Castle her home.
Early life
The last of Victoria and Albert's nine children, Beatrice was known affectionately as 'Baby' well into adult life. She had in many ways a sad and solitary childhood, growing up in the aftermath of Prince Albert's early death in 1861, which left Victoria grief-stricken. Her nearest sibling in age, Leopold, was a sickly child, and without other children as playmates Beatrice grew up to be quiet and reserved.
But Victoria and Albert indulged Beatrice more than her siblings, and she could be naughty. In the summer of 1862 she shut her governess in the barracks at the children's miniature fort in the grounds at Osborne, and demanded that she bark like a dog to be released.
Her intended role was clearly to be her mother's companion and helper, and marriage seemed unlikely. When in 1884 the 27-year-old Beatrice fell in love with Prince Henry of Battenberg, Victoria initially reacted frostily, determined, it seems, to keep her daughter by her side. After Beatrice unofficially announced her intention to marry Henry, the queen did not speak to her for months. However, she eventually allowed the marriage, on condition that Prince Henry resigned his commission in the Prussian army and that the couple made their home with her.
Read more about Victoria and Albert's children
Marriage and Osborne
Princess Beatrice and Prince Henry married at St Mildred's Church, Whippingham, near Osborne, on 23 July 1885, and made Osborne their home. In 1890 a private suite was created for them on the first floor of the new Durbar Wing there. The couple's four children were born between 1886 and 1891.
In 1889 Queen Victoria made Prince Henry Governor of the Isle of Wight, but he grew restless at Osborne. On one occasion he slipped away on a trip to Corsica, and the queen sent a warship to bring him back. In late 1895 he persuaded the queen to let him travel to West Africa to fight in the Ashanti war. But he caught malaria while in Africa, and died in January 1896 on the return journey.
After his death Beatrice succeeded her husband as Governor of the Isle of Wight, but remained the queen's companion and unofficial secretary, living at Osborne Cottage on the Osborne estate.
more about Osborne's history
Beatrice at Carisbrooke
After Queen Victoria died at Osborne in 1901, the main house – which Beatrice's brother, Edward VII, had no interest in – became a convalescent home, with part of the ground floor opened to the public. Princess Beatrice initially remained at Osborne Cottage. However, the traditional residence of the Isle of Wight's governors was at Carisbrooke Castle. When it became vacant after the death of the last deputy governor in 1913, Princess Beatrice decided to make the governor's residence there her summer home.
Princess Beatrice already had strong links with Carisbrooke Castle before she took up residence there. In 1898 she opened a museum in the gatehouse, which had been restored as a memorial to her husband. It became the first home of the Carisbrooke Castle Museum, which at that time focused mainly on Charles I, who had been held prisoner there in 1647–8.
Beatrice moved in after making some alterations, such as adding a bathroom, to make the castle more up to date. She had the medieval hall range and the adjacent chamber block, the Constable's Lodging, adapted for her use – many internal fittings, such as panelling and window seats, survive from her time. The L-shaped range in the south-east corner of the castle was adapted to provide accommodation for her staff, and a tunnel was built between it and Beatrice's apartments to allow them easy access.
The Privy Garden
From the 17th century the walled area in the south-west corner of Carisbrooke Castle, behind the St Nicholas Chapel, had served both for pleasure and as a kitchen garden for captains and governors of Carisbrooke, depending on their horticultural inclinations. From 1913 Princess Beatrice made it a private or privy garden for her personal use.
This was the inspiration for the Edwardian-style Princess Beatrice Garden, designed in 2009 by the garden designer Chris Beardshaw as the result of a bequest. His design creates a geometric layout that takes inspiration from plans of the original privy garden, while also weaving in elements of the castle's architecture. Elements of Princess Beatrice's blue, red and gold heraldic crest are also woven into the design.
More about the garden
Princess Beatrice also supported the restoration work on the Chapel of St Nicholas at Carisbrooke Castle. In 1919 a decision was made to transform it into a memorial to the men of the island who had died in the First World War. The names of the 2,000 island men killed in both the First and Second World Wars are inscribed on stone panels between the windows, while Princess Beatrice commissioned the altar painting in memory of her youngest son, Maurice, who was killed at Ypres in 1914.
For 25 years, until 1938, Princess Beatrice's personal standard flew over the Carisbrooke Castle keep when she was in residence. She died at the age of 87 at her last home, Brantridge Park, Sussex, in 1944, and was buried beside her husband at Whippingham.