Princess Beatrice Garden
Princess Beatrice's Garden is an Edwardian-inspired garden, designed by Chris Beardshaw, the former BBC Gardener's World presenter. The garden was opened in 2009 and is set within the former 'privy' gardens of Queen Victoria's daughter Princess Beatrice.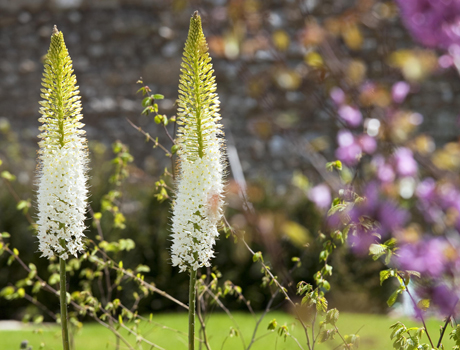 The Garden design
The tranquil Princess Beatrice garden celebrates the time when the Princess lived at the castle in her role as Governor of the Isle of Wight. She held this position from 1896 until her death in 1944, and from 1913 the walled garden became her private or 'privy' garden which she enjoyed during regular visits to the island.
Designed by award-winning gardener, Chris Beardshaw, the garden was inspired by architectural elements from the castle chapel as well as the Princess's heraldic crest. Its geometric pattern was created to be visually spectacular both from the ground and from above, as you walk by on the medieval castle walls. Enclosed on all sides and nestling below the medieval ramparts, it is a sheltered and peaceful place full of colourful flower borders and flower meadow planting. With gravel paths running between clipped formal hedges, and seating around the fountain centrepiece, it is a perfect place for strolling and relaxing.
The plants were chosen to echo Princess Beatrice's blue, red and gold heraldic crest, and the layout reflects architectural detail on the adjoining Chapel of St Nicholas. Princess Beatrice re-built the chapel in 1904 and it became a war memorial for the island following the death of her son Maurice at Ypres in 1914.
An unusual aspect of the garden is an orchard of fruit trees which provide a canopy of blossom in spring and fruit in autumn for visitors to stroll under. The trees are contained in large planters so that their roots do not damage the archaeological remains of a 13th-century building recently discovered.