History of Chisbury Chapel
Although used as a barn for the last three centuries, the medieval building was originally built as a chapel.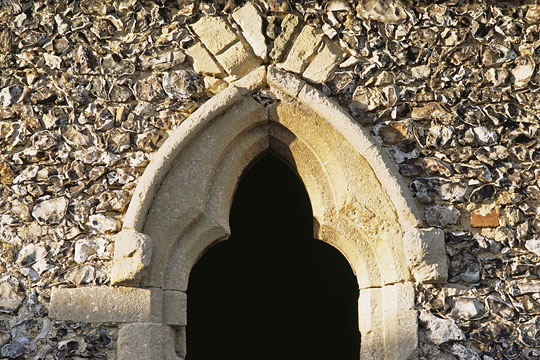 The lord of Chisbury Manor asserted his high social status by building a chapel-of-ease in the 13th century. The household of the manor and the local people could attend services and pay their taxes, or tithes, without having to travel to the parish church at Great Bedwyn.
There are two vertical lines within the plaster of the side walls that mark where the rood-screen – a timber partition surmounted by a cross – once separated the altar from the nave. There is also a red cross. Crosses were painted on the walls of a church during the consecration ceremony, marking the religious status of the building.
The building ceased to be used as a consecrated chapel in 1547, as a consequence of the Reformation of the English church. The chapel's subsequent use as a barn, as part of Chisbury farm, has ensured its survival until today.
The chapel is positioned on the edge of the earthwork defences of a much earlier Iron Age hillfort, known as Chisbury Camp. This area of high ground was in a strategic position useful for defence and was occupied into the Romano-British period.
Note
The text on this page is derived from the Heritage Unlocked series of guidebooks, published in 2002–6. We intend to update and enhance the content as soon as possible to provide more information on the property and its history.