History of Countess Pillar, Brougham
This pillar marks the place where Lady Anne Clifford, Countess of Dorset, bade farewell to her mother, Margaret, on 2 April 1616, at the gateway to Brougham Castle.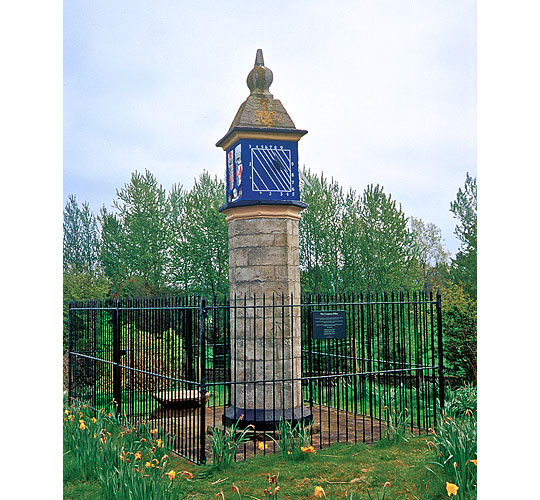 Soon afterwards Margaret died and, in her memory, Lady Anne erected this pillar in 1656. She was particularly close to her mother, who was her only support during a long inheritance battle.
Lady Anne was born in 1590 at Skipton Castle and was the only surviving child of George Clifford, 3rd Earl of Cumberland. The family had owned land in Westmorland, now part of Cumbria, since the 13th century, including the nearby castles of Appleby and Brougham (an English Heritage site). When her father died his estate went to her uncle, but Anne believed this land was rightly hers.
Highly intelligent and determined, she refused to compromise over the dispute, which she won in 1643 after 29 years.
Description
The pillar is about 4.3 metres (14 feet) high, and consists of a stone octagonal shaft surmounted by a cube, with a pyramid on top. Sundials are carved on three sides of the cube, while the face visible from the road displays colourful heraldic shields which relate to the Clifford family. Beneath the shields is a curious ornament variously interpreted as a shield and a skull.
The pillar also has an inscription recording the erection of the pillar in 1656, and describing the wishes of Lady Anne for money to be given to the poor of the parish in remembrance of her mother. A flat stone, where these alms were distributed on the anniversary of their final meeting, can be seen nearby.
Several mason's marks can be seen on the pillar, identifying the stones a particular mason had worked, for correct payment. The left mark belongs to a mason called Jonathon Gledall; the other is unknown.