History of Cow Tower
One of the earliest purpose-built artillery blockhouses in England, Cow Tower was built in 1398–9 to control a strategic point in Norwich's city defences.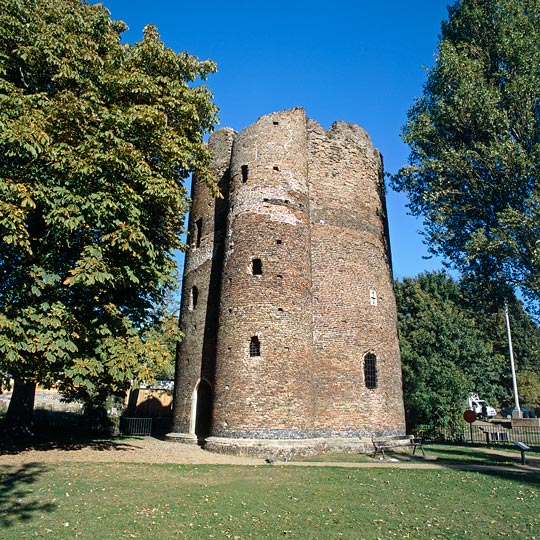 The tower was intended to house guns and a garrison of gunners to defend the approach to the city across the River Wensum. Its height of over 15 metres was necessary to overlook the high ground on the opposite bank.
Built with widely splayed gun ports, the tower was suitable for the recently developed cannon while the 'arrow loops' could still be used for crossbows and small guns. The tower was built as an addition to the defences already encircling medieval Norwich.
The walls of the tower were built with a core of mortared flint rubble, faced internally and externally with brick, with external stone dressings. The ground floor may have been a communal dining room when the tower was garrisoned, with sleeping quarters on the upper two levels.
It seems likely that the origin of the tower's name is derived from the surrounding meadow, previously known as Cowholme.
Further Reading
Ayers, BS, Smith, R and Tillyard, M, 'The Cow Tower, Norwich: a detailed survey and partial reinterpretation', Medieval Archaeology, 32 (1988), 184–207
Note
The text on this page is derived from the Heritage Unlocked series of guidebooks, published in 2002–6. We intend to update and enhance the content as soon as possible to provide more information on the property and its history.