History of Eynsford Castle
Eynsford Castle is a rare survival of an early Norman 'enclosure castle', which remained unaltered by later building work. Begun by William de Eynsford I in the late 1080s, the castle was later the subject of a hotly disputed inheritance, which reached a climax in 1312 when one of the claimants broke in and vandalised it. Soon afterwards the castle was abandoned, and by the 18th century many of the buildings had fallen into disrepair, being used only as stables and kennels for hunting dogs.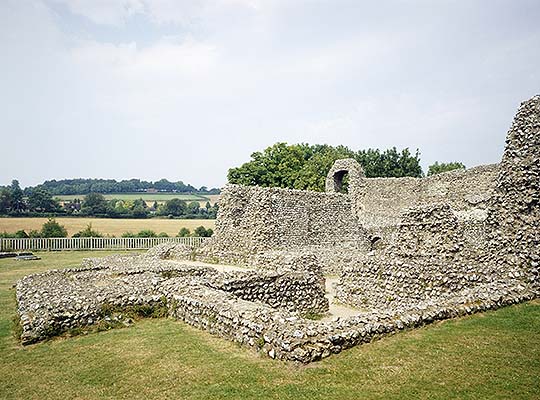 The Norman Castle
The castle was founded shortly after the Norman Conquest of 1066. There was an earlier, Saxon building on the site, composed of a timber watchtower on an artificial motte. No evidence of this can be seen today.
The impressive curtain wall was built between 1085 and 1087, probably by William de Eynsford I, a knight and sheriff of Kent. In 1130 the wall was heightened and a gate-tower was built to strengthen the castle defences. A hall, which provided accommodation for the Eynsford family, and associated buildings were also erected inside the castle walls about this time. These buildings were reconstructed in about 1250, following a fire.
Dispute and Disrepair
The line of the Eynsford family, owners of the castle, died out in 1261, and the castle and its estate were divided between the Kirkeby and Criol families, causing much dispute.
The conflict reached a climax in 1312 when Nicholas de Criol and his supporters broke in and vandalised Eynsford Castle as a protest against Judge William Inge, who had bought the castle from the Kirkeby family. Doors and windows were broken down, much damage was caused and cattle were let loose. Afterwards the castle was never lived in again.
Eventually the castle passed into the ownership of the Hart Dyke family of nearby Lullingstone Castle. It was used for some time as a manorial court, but the buildings gradually fell into disrepair. By the mid-18th century the castle was being used as stables and kennels for hunting hounds.
Later History
Antiquarians became interested in Eynsford Castle in 1835, when the architect Edward Cresy was employed to clear the site of the 18th-century stables and kennel buildings. Cresy published a survey of the ruins which recorded several features of the castle which have since crumbled.
The castle was taken into state guardianship in 1948. It was excavated by Stuart Rigold in the 1950s and 1960s, with further excavations by Valerie Horsman in the 1980s.
Further Reading
Cresy, E, 'Eynsford Castle, in the county of Kent (appendix)', Archaeologia, 27 (1838), 391–7
Rigold, SE, Eynsford Castle (HMSO guidebook, London, 1964)
Rigold, SE, 'Eynsford Castle and its excavation', Archaeologia Cantiana, 86 (1972), 109–71