Description of Eynsford Castle
The ruins of Eynsford Castle stand on the east bank of the river Darent in Kent. Unusually for a Norman castle, it had no motte or keep. Instead its principal defence was the extensive curtain wall enclosing the site, parts of which survive to their full height.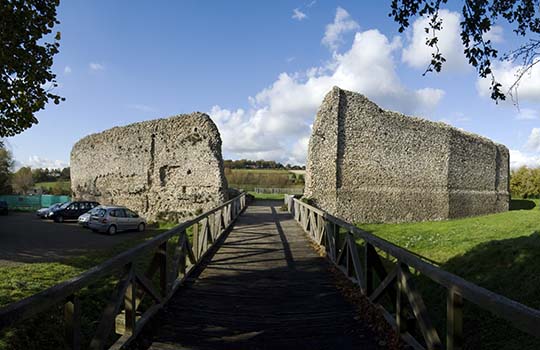 Entrance, Curtain Wall and Service Buildings
The castle was entered through a gatehouse, reached by a timber drawbridge over the wide, shallow moat. The foundations of the gatehouse, built in the late 11th to early 12th centuries, are visible today.
The curtain wall stands 9 metres (29 feet) high and is almost 2 metres (7 feet) wide at its base. The north-west segment of the wall has collapsed, but fragments of its remains can still be seen. The collapse exposed part of the low oval man-made mound inside. A concrete wall has since been erected to retain the mound.
Three openings in the curtain wall mark the remains of garderobes or latrines, which discharged into the moat below. There would have been timber outbuildings between the garderobes and the kitchen.
To the left of the main entrance are ruins of both the well, which was the castle's main water supply, and the great kitchen, built between 1150 and 1175.
The castle had an outer bailey to the south-east which would have contained further buildings, but very little is known about them or the extent of the outer bailey.
Hall Building
The hall building was constructed in the 12th century on the site of an earlier, possibly Saxon, structure. External stairs led to the domestic accommodation on the first floor, comprising a hall, used for eating and public business, and a solar, the domestic chamber.
On the ground floor were two undercrofts, or cellars. The undercroft beneath the solar was a self-contained residential apartment with its own entrance, well, garderobe and fireplace. It would have been used by an important person, such as the bailiff of the castle. The undercroft beneath the hall would have served as storage space.
At some point in the late 12th or early 13th century, a forebuilding was added to the hall to provide more rooms. After a fire in about 1250, repairs and improvements were made, which included the building of a new, second kitchen to serve the private apartments and the hall.