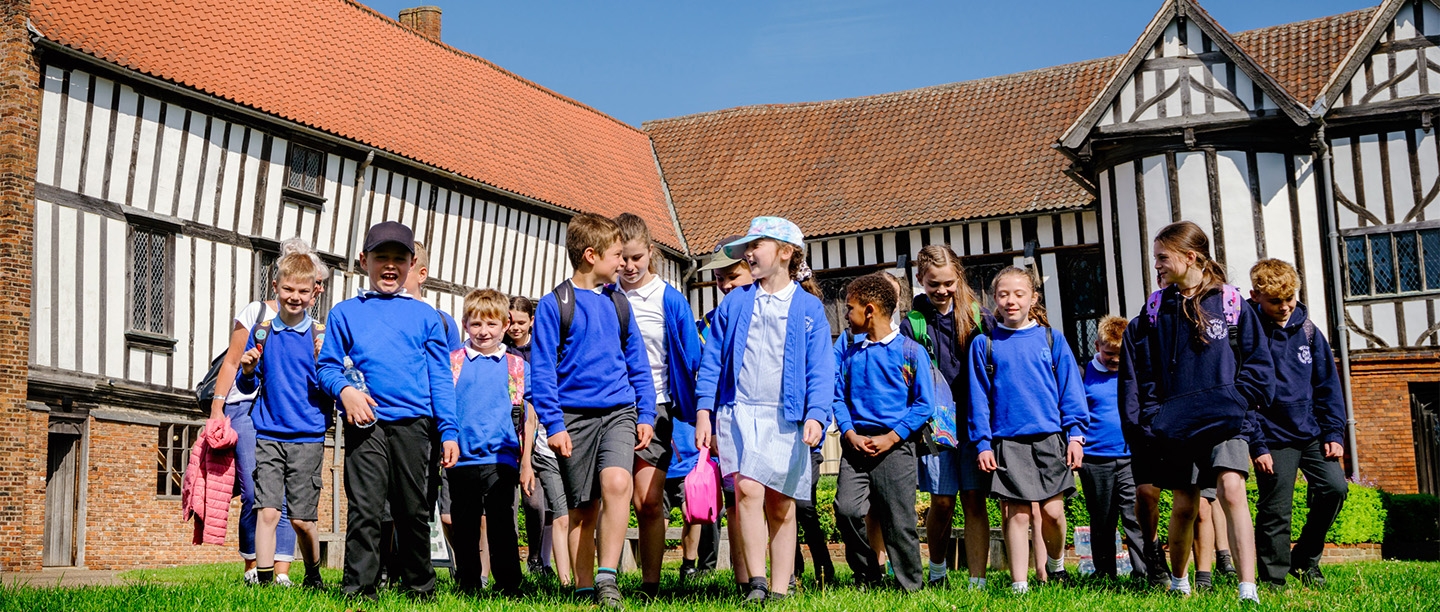 Schools
Bring history to life for your pupils with a visit to Gainsborough Old Hall. As one of the best preserved Tudor manor houses in the country, pupils can step into the shoes of the people who lived and worked there. By taking part in our hands-on Discovery Visit they will prepare a feast fit for Henry VIII and experience life in a Tudor household.
Curriculum Links
Support your teaching in the classroom by stepping out of it. A visit to Gainsborough Old Hall will help you bring learning to life as well as cover multiple topics and key stages.
KS1 History: Significant historical events, people and places in their own locality
KS2 History: A study of an aspect of history or a site dating from a period beyond 1066 that is significant in the locality
KS 3 History: The development of Church, state and society in Britain 1509-1745
KS 3 History: A study over time, testing how far sites in their locality reflect aspects of national history
Free Self-Led Visits
Enjoy a free self-led visit to Gainsborough Old Hall and experience over 500 years of history. Explore the vast kitchen, where grand feasts would have been prepared and then admire the great hall with its ornate wooden ceiling, where they would have been enjoyed. Explore the rest of the Old Hall and discover how this incredible building has changed over time and been used in many different ways, ranging from a beer hall to a cinema!
Enquire now
Expert-Led Discovery Visits
Immerse your students in the history of Gainsborough Old Hall during an expert-led Discovery Visit. At just £100 per group per session, it's a great way to delve deeper into Tudor life and experience Henry VIII's court. Pupils will take part in hands-on activities, try on costumes and learn more about the people who lived and worked here.
Find out more
Plan your trip
We have a wide range of materials to support your visit and make school trip planning easy. You can find all our site-specific information and tools below, and for Covid-19 risk assessments and measures we've got in place please visit our what to expect page.
Download our free resources to help you make the most out of your visit and create unique learning experiences before, during and after your trip. We also offer free planning visits for group leaders once you have made a booking. Visit our bookings page to start planning your trip!