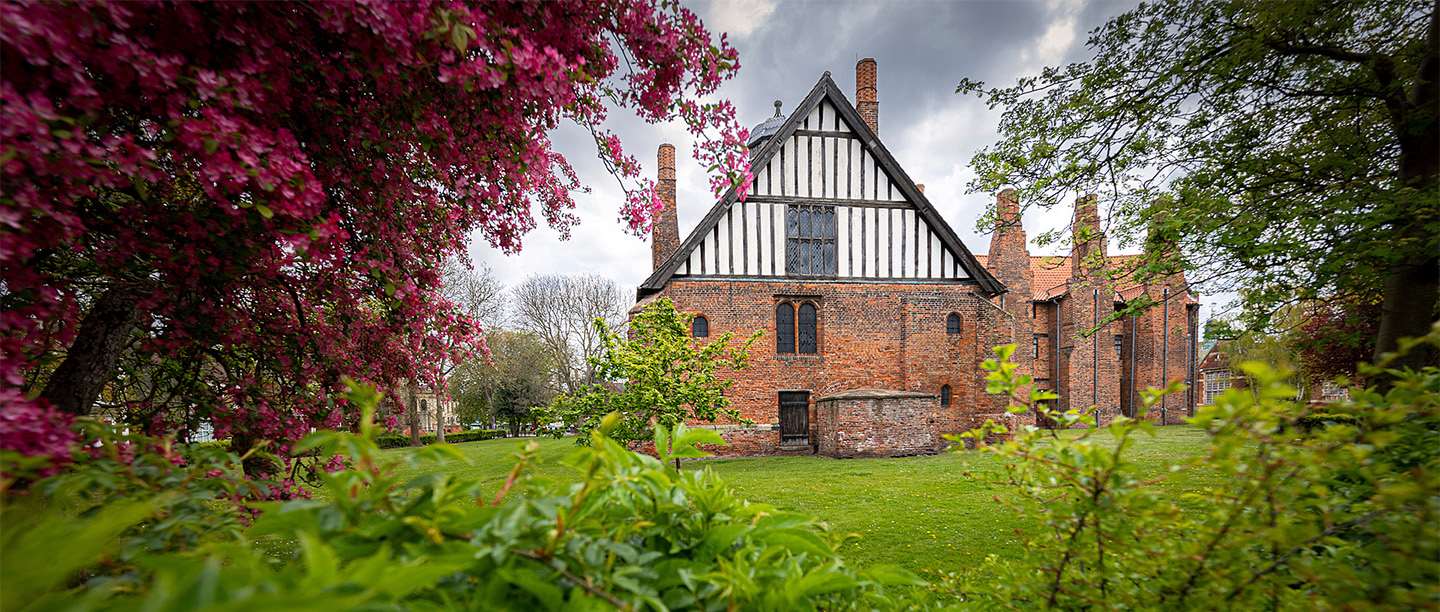 Schools
Bring history to life for your pupils with a visit to Gainsborough Old Hall. As one of the best preserved Tudor manor houses in the country, pupils can step into the shoes of the people who lived and worked there. By taking part in our hands-on Discovery Visit they will prepare a feast fit for Henry VIII and experience life in a Tudor household.
Information about your visit
Our number one priority remains the health, safety and security of all of our visitors, staff and volunteers. Our staff are still working hard to keep everyone safe and make sure you and your group have an enjoyable visit.
Please note that we are currently experiencing high volumes of enquiries about our education visits, so we might take a little longer to come back to you.
Important information to consider before you book:
To keep everyone safe we're continuing to limit visitor numbers at some sites and in some indoor spaces. Please book as soon as possible to secure your preferred trip date and times.
In order to process your enquiry as quickly as possible, please ensure you have provided the following information, or have this information ready when you speak to one of our advisers: visit arrival and departure time; age range of the group; subject(s) to be studied; learning objective; number of learners and leaders; name of trip organiser; name of trip leader; SEND requirements.
Find out more about what to expect on your school visit and make sure you download our COVID risk assessments; download a free copy of managing education visits during the pandemic and if you're participating in a Discovery Visit download our managing Discovery Visits during the pandemic risk assessment
To make the planning process as easy as possible, make sure you check our Plan Your School Trip section at the bottom of this page, for updated information on the facilities at the site as well as our free resources.
You'll need to book your visit at least 14 days in advance. Please check our terms and conditions for full details.
Although is it not a requirement, any teachers, parents, or students aged 16 years can check in via the NHS Test and Trace app, using the NHS QR code posters displayed at the site entrance. Please factor this into your travel/arrival time. For more information about how we are handling your personal data for NHS Test and Trace please visit this page.
Our staff are continuing to wear a face covering in our busy areas and indoor spaces, and we encourage you and your group to do the same where possible.
At some sites you might not be able to use our handling collections or costumes as part of a free self-led visit, but where we can provide hands-on items in a safe way we will. We've adapted our Discovery Visit workshops to keep you and your group safe at all times, but for certain sessions we're still working on this – please check the Discovery Visit section and Facilities section on this page below for further information.
Curriculum Links
Support your teaching in the classroom by stepping out of it. A visit to Gainsborough Old Hall will help you bring learning to life as well as cover multiple topics and key stages.
KS1 History: Significant historical events, people and places in their own locality
KS2 History: A study of an aspect of history or a site dating from a period beyond 1066 that is significant in the locality
KS 3 History: The development of Church, state and society in Britain 1509-1745
KS 3 History: A study over time, testing how far sites in their locality reflect aspects of national history
Free Self-Led Visits
Enjoy a free self-led visit to Gainsborough Old Hall and experience over 500 years of history. Explore the vast kitchen, where grand feasts would have been prepared and then admire the great hall with its ornate wooden ceiling, where they would have been enjoyed. Explore the rest of the Old Hall and discover how this incredible building has changed over time and been used in many different ways, ranging from a beer hall to a cinema!
Enquire now
Expert-Led Discovery Visits
Immerse your students in the history of Gainsborough Old Hall during an expert-led Discovery Visit. At just £100 per group per session, it's a great way to delve deeper into Tudor life and experience Henry VIII's court. Pupils will take part in hands-on activities, try on costumes and learn more about the people who lived and worked here.
Find out more
Plan your trip
We have a wide range of materials to support your visit and make school trip planning easy. Download our free resources to help you make the most out of your visit and create unique learning experiences before, during and after your trip.
We also offer free planning visits for group leaders once you have made a booking. Our Education Booking Team is on hand to advise and help you create the best possible school trip to suit your needs and area of study.
Facilities

PARKING: There is no car or coach parking on site, please use the local car parks- charges apply. Coach drop off is on Gladstone Street, on the north perimeter of the Hall (10 minute stay with no return within an hour).
TOILETS: Toilets are open as usual and an accessibility lift is in place. Please bring your pupils in small groups at a time.
EDUCATION ROOM: Available for Discovery Visit groups.
LUNCH: You are welcome to bring a picnic to eat in the grounds. There are some picnic benches and grassed areas to sit on. In the case of wet weather we will try to provide an indoor space, but this cannot be guaranteed.
SHOP: There is a small shop selling English Heritage gifts and souvenirs open for group leaders. You are able to order goody bags, which can be booked in advance paid for on the day.
ACCESSIBILITY: The toilet facilities are situated on the lower ground floor, these are accessed by a platform stair-lift; staff will be available to operate this for you. Much of the site has uneven surfaces. There are upper floors only accessed via steps and stairs.
Risk Assessments

Our ready-made Discovery Visit Risk Assessments take the hassle out of planning.
Enquire now

0370 333 0606

School visits

We're here to support your school trip planning this term. To start your enquiry, it's best to complete our online form. All bookings must be made at least 14 days in advance. Please make sure you check our terms and conditions ahead of your visit.

If you'd like more information about a site or one of our workshops, get in touch to speak to your local Education Visits Officer.

Please note that we are experiencing high volumes of enquiries about our education visits so we might take longer than usual to come back to you. We're currently prioritising the most urgent enquiries. We will respond as soon as possible. Thank you for your patience and please accept our apologies for the inconvenience. We look forward to seeing you soon.