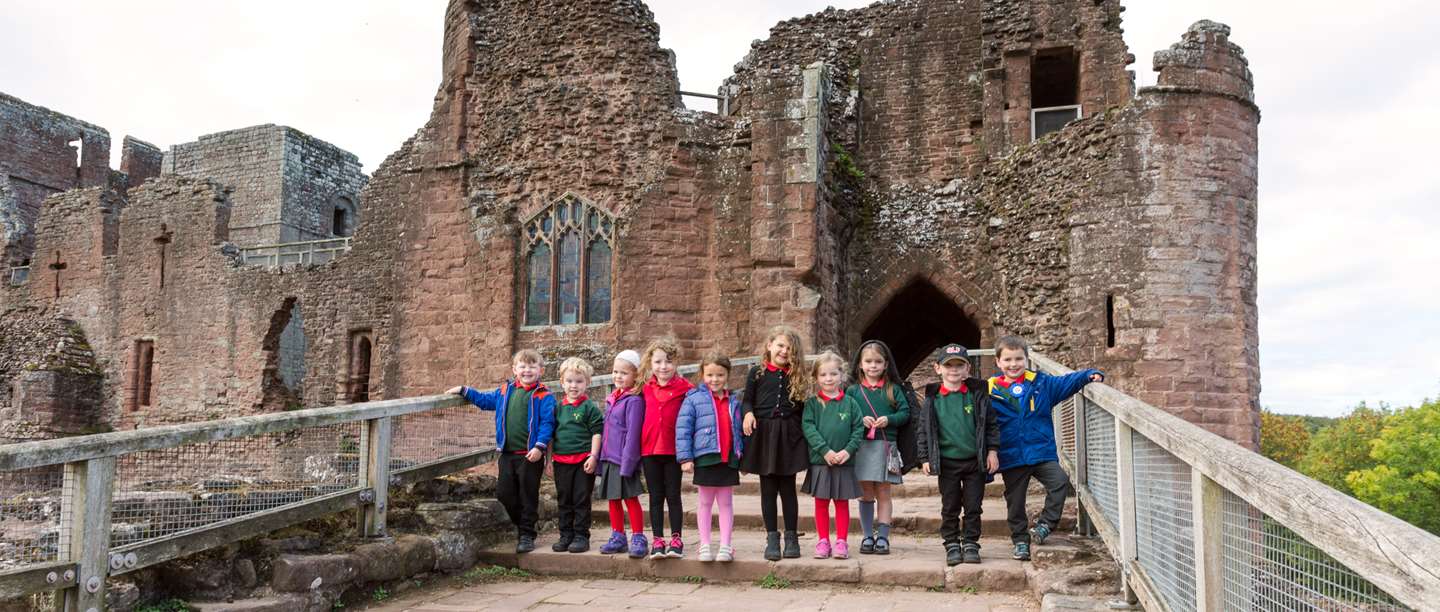 Schools
A climbable keep, a dungeon, arrow loops, murder holes and more make this quintessential castle a must to support your teaching of the curriculum. Explore on one of our free self-led visits or book an expert-led Discovery Visit for a hands-on learning session for your class.
Information about your visit
Our number one priority remains the health, safety and security of all of our visitors, staff and volunteers. Our staff are still working hard to keep everyone safe and make sure you and your group have an enjoyable visit.
You and your group don't need to have a COVID Pass to visit, but please don't visit if you or any of your group have symptoms of Covid-19, have tested positive or if you've been asked to self-isolate. We'll always follow the latest government guidance, and if anything changes we'll update this page to let you know our plans.
Important information to consider before you book:
Face coverings are now legally required in all our indoor public places, including our visitor centres, shops, on all on-site transport, and in our cafes except when you are eating or drinking (unless exempt)
To keep everyone safe we're continuing to limit visitor numbers at some sites and in some indoor spaces. Please book as soon as possible to secure your preferred trip date and times.
In order to process your enquiry as quickly as possible, please ensure you have provided the following information, or have this information ready when you speak to one of our advisers: visit arrival and departure time; age range of the group; subject(s) to be studied; learning objective; number of learners and leaders; name of trip organiser; name of trip leader; SEND requirements. Go to our bookings page to make an enquiry or update an existing booking.
Find out more about what to expect on your school visit and make sure you download our COVID risk assessments; download a free copy of managing education visits during the pandemic and if you're participating in a Discovery Visit download our managing Discovery Visits during the pandemic risk assessment
To make the planning process as easy as possible, make sure you check our Plan Your School Trip section at the bottom of this page, for updated information on the facilities at the site as well as our free resources.
You'll need to book your visit at least 14 days in advance. Please check our terms and conditions for full details.
Although is it not a requirement, any teachers, parents, or students aged 16 years can check in via the NHS Test and Trace app, using the NHS QR code posters displayed at the site entrance. Please factor this into your travel/arrival time. For more information about how we are handling your personal data for NHS Test and Trace please visit this page.
At some sites you might not be able to use our handling collections or costumes as part of a free self-led visit, but where we can provide hands-on items in a safe way we will. We've adapted our Discovery Visit workshops to keep you and your group safe at all times, but for certain sessions we're still working on this – please check the Discovery Visit section and Facilities section on this page below for further information.
Enquire Now
Curriculum links
Support your teaching in a fun and engaging way, with a visit to Goodrich Castle.
KS1 History: Significant historical events, people and places; study of castles
KS1-3 History: Local History Study
KS2 History: A study of an aspect or theme in British history that extends pupils' chronological knowledge beyond 1066
KS2-3 Geography: Understand the strategic significance of the castle's position
KS3 History: Development of Church, state and society in Medieval Britain 1066-1509
GCSE History: Study of the historic environment
Free Self-led Visits
At Goodrich Castle you will discover one of the most complete sets of medieval domestic buildings surviving in England, at one of the key points of entry into Wales. Explore the Norman keep and red sandstone curtain walls cut from the deep dry moat. See the gatehouse, towers, chapel, kitchen, well, dungeon, halls and garderobes - everything your students would expect to find in a castle. Study the Civil War, medieval monarchs, Countess Joan de Valance, famous for entertaining up to 200 guests in her fashionable home, and develop your students' enquiry skills, interpreting the ruins as both a stronghold and a home.
Enquire now
Expert-led Discovery Visits
Let our experts bring this medieval castle to life for your class with a fun and interactive Discovery Visit. On a guided tour of Goodrich Castle with one of our knowledgeable costumed volunteers, your students will imagine what life was like in the 13th century, with immersive learning activities.
Our Discovery Visits have been adapted to follow health and safety guidelines and will still offer your students a quality and fun learning experience.
FIND OUT MORE
Plan your trip
We have a wide range of materials to support your visit and make school trip planning easy. Download our free resources to help you make the most out of your visit and create unique learning experiences before, during and after your trip.
We also offer free planning visits for group leaders once you have made a booking. Our Education Booking Team is on hand to advise and help you create the best possible school trip to suit your needs and area of study.