The Birdoswald Roman Trail
Birdoswald's historic landscape is dominated by remains of the Roman frontier. Picturesquely set by the River Irthing, it is the perfect location for a full day out for those eager to experience more turbulent Roman history. Highlights in this section of the World Heritage Site, include the longest continuous stretch of the wall, a Roman fort and a priory made from stones found on Hadrian's Wall.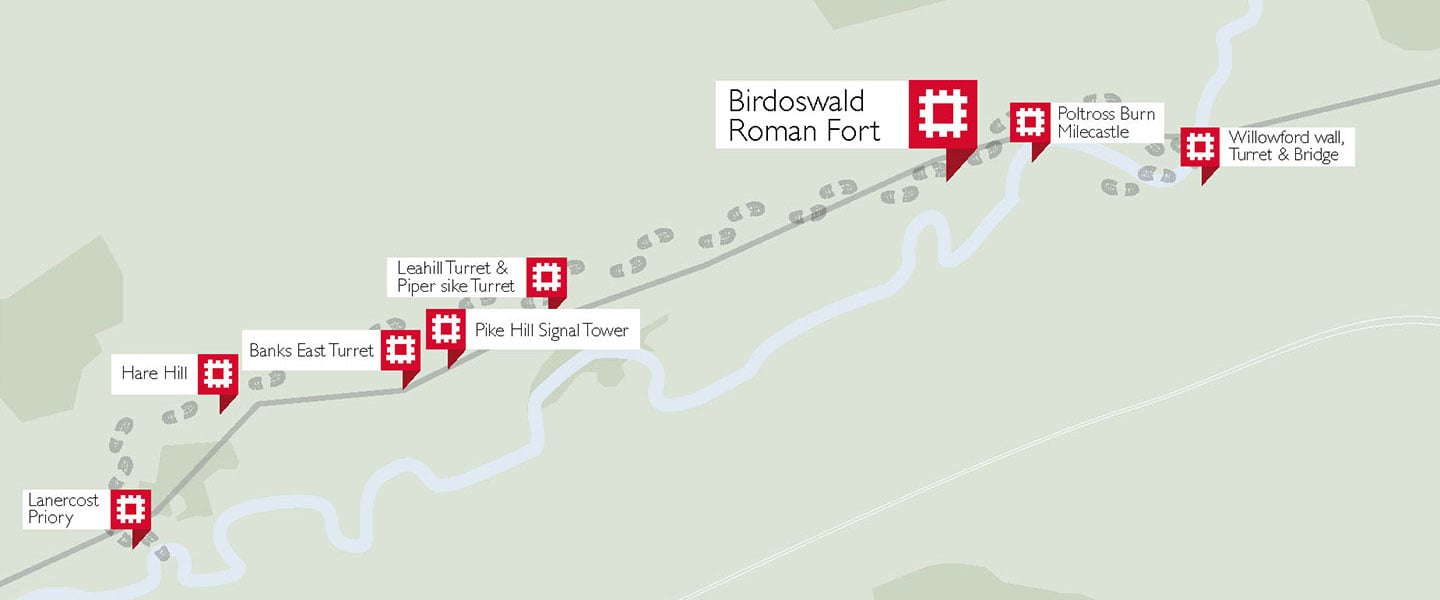 Take a Day to Discover
Hadrian's Wall crosses two of England's most picturesque counties; dipping and winding through the Cumbrian and Northumbrian borders. The highlights in this section of the World Heritage Site are undoubtedly the longest continuous stretch of the wall, the best preserved milecastle, a Roman fort which explores life in post-Roman Britain and a priory made from stones found on Hadrian's Wall.
The entire 30 miles of this western section of Hadrian's Wall, from the River Irthing crossing at Harrow's Scar to Bowness-on-the-Solway, was originally built of turf. It was probably during Hadrian's reign that this section of the wall began to be rebuilt in stone and the work continued when Hadrian's Wall was reoccupied in the 160s. The first two Roman miles west of the river were replaced on a different line. In places the remains of the turf wall can still be seen running behind the later stone wall.
Lanercost Priory
The beautiful and now tranquil setting of Augustinian Lanercost Priory belies an often troubled history. Standing close to Hadrian's Wall, it suffered frequent attacks during the long Anglo-Scottish wars, once by Robert Bruce in person.
Visit the best-preserved of Cumbrian monasteries and you will see impressive remains of the noble 13th-century church, which survives to its full height, housing some fine monuments within its dramatic triple tier of arches.
Don't miss the Roman inscriptions, chosen by medieval masons simply because they were useful for building the priory. Explore the undercroft, once used for storing food and drink and you'll come across replica Roman altars and tombstones found near Lanercost over the last 200 years.
Hare Hill
Head north-east of Lanercost Priory for just under one mile and you'll reach a short length of Hadrian's Wall that still stands at a massive 2.7 metres high. This section of the wall is one of the tallest you'll come across and is worth a visit.
Imagine how huge the newly built Hadrian's Wall would have been some 2,000 years ago. Almost three times as big as the wall you can see here
Banks East Turret
The entire western 30 miles of Hadrian's Wall was originally built from turf. During Hadrian's reign, soldiers attempted to rebuild this section of Wall with stone, although not all 30 miles were replaced.
At Banks East Turret, once a stone tower, you can see evidence of the turf wall as it was built to receive the turf rampart on either side. Just a stone's throw from Hare Hill, this imposing and very well-preserved turret with adjoining stretches of Hadrian's Wall is well worth a visit.
Pike Hill Signal Tower
This ancient signal tower pre-dates Hadrian's Wall. The Roman soldiers would have used the tower as a look-out and to pre-warn their colleagues at forts on the Stanegate of any potential danger looming.
Today you can see the remains of one of a network of signal towers that kept the Roman army safe. Plus you'll notice that Pike Hill was later joined to Hadrian's Wall at a 45 degree angle.
Leahill and Piper Sike Turrets
Two miles west of Birdoswald Roman Fort you will discover a pair of turrets that formed part of the Hadrian's Wall defences. The first turret is at Leahill and spans 13.5 feet by 14.5 feet. This freestanding turret has the remains of foundation walls just over 3 feet high.
Then head east of Leahill Turret for a few minutes and you will find Piper Sike Turret; home to a well-preserved cooking-hearth. Excavators unveiling this turret believe it is likely to have been a living space for Roman soldiers.
Birdoswald Roman Fort
Birdoswald Roman Fort is the perfect stopping point along the west side of Hadrian's Wall for a longer break from your day's adventure and to rest your weary legs.
Treat yourself to a warming soup in the tearoom. Once you're refreshed, explore the extensive remains of the Roman fort and discover life shortly after the Romans left Britain. Outside you can see wildlife in abundance as this site is a real nature haven. Inside, the exhibition has interesting displays and artefacts, as well as a model of the Wall at its full height.
Birdoswald also offers farmhouse-style accommodation for anyone wanting to to stay even longer at this wonderful historic site.
Harrow's Scar Milecastle and Wall
Your next stop after exploring Birdoswald is a short stroll east to see the longest continuous stretch of Hadrian's Wall. Don't leave the area without witnessing this breath-taking section.
Above the remains of the bridge, on the bank of the river sits Harrow's Scar Milecastle (49). This mile of Hadrian's Wall is one of the most written about by travel editors and is worthy of a 'selfie'. Don't forget to tweet it to @EHHadriansWall.
Poltross Burn Milecastle and Turrets
Today you can see six well preserved milecastles along Hadrian's Wall. This one is one of the best-preserved without a doubt. What makes it so special? Perhaps the inclusion of an oven, a stair to the rampart walk, and the remains of its north gateway, known locally as 'the King's Stables'.
Willowford Wall, Turrets and Bridge
Once you've experienced the longest continuous stretch of the wall, walk down the hill towards the Irthing Valley. Here you will discover Willowford Wall, Turrets and Bridge. Willowford Wall was once made from turf, until Hadrian ordered it to be rebuilt from stone. Today, you can see this fine 900 metre section of the Wall dipping and winding through beautiful Cumbrian countryside.
The impressive remains of a Roman bridge can be seen where the wall meets the River Irthing. Willowford Bridge is a marvellous feat of Roman engineering.