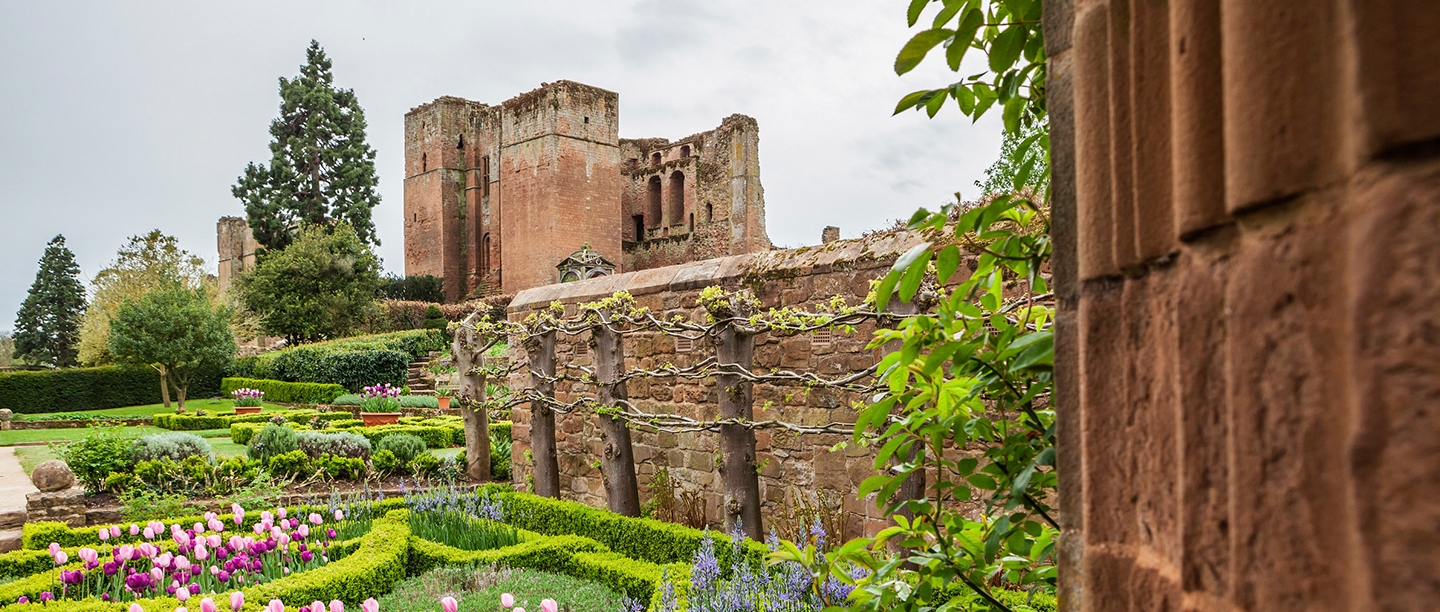 Group visits to Kenilworth Castle and Elizabethan Garden
A vast medieval fortress that endured a famous siege and later became an Elizabethan palace, Kenilworth Castle is among Britain's biggest historical sites.
Experience 900 years of history as you can marvel at the mighty medieval keep, climb the towers to admire the fantastic views, and imagine the majesty of the Great Hall.
Group Discount
We offer a 15% discount (10% for Stonehenge) for travel trade and organised groups of 11 or more paying visitors when payment is made in a single transaction.
Per group you also receive:
free entry for one tour leader
free entry for one coach driver
The tour leader, coach driver and any English Heritage members do not count towards the group totals.
Booking information
Trade admission prices and opening times:
Please refer to our Trade Admission Prices & Site Opening Times brochure for pricing and opening times information at our top sites for groups.
Making a booking:
Contact information for making your group booking can be found in the Visit & Contact Information section below.
Please include the property name and date of visit in the subject line of your email along with the following information:
Group name
Name of property
Tour reference/booking reference (if applicable)
Date and time of arrival
Number of visitors
Payment method:
Payment can be made on arrival by: cash, credit/debit card, cheque (made payable to The English Heritage Trust), Agency Voucher Scheme (AVS).
Visit & Contact information
Coach parking: Free parking for up to six coaches, 150 metres from the entrance.
Catering: The tearoom can accommodate 50 people inside and a further 30 people outside. The menu includes drinks, cakes, sandwiches, as well as hot and cold light lunches. See below for our pre-booked group catering packages.
Exhibition: An exhibition detailing the history of the castle can be found in the stables, next to the tearoom. Leicester's Gatehouse is displayed with the chambers on its lower floors re-created as they might have appeared when the gatehouse was inhabited in the 1930s. There is an additional display on the top floor of Leicester's Gatehouse titled 'The Queen and the Castle: Robert Dudley's Kenilworth'. Featuring items both from museums and private collections, this exhibition tells the story of Elizabeth I's relationship with Dudley and her four visits to Kenilworth.
Gardens: Robert Dudley, Earl of Leicester, created a special, fabulous garden for Queen Elizabeth I in 1575. This garden, lost for centuries, has been brought back to life by a pioneering team of historians, archaeologists, plantsmen and plantswomen, designers, craftspeople and gardeners. Featuring a fountain and aviary, it presents the most complete evocation of an Elizabethan garden anywhere in the world. Large grassed areas surround the castle.
Audio tour: Scan our QR on arrival to access a free audio tour. Available in English, French and German.
Orientation map: Download a copy of our Kenilworth Castle orientation map to help with your planning.
Access: Kitchen area and Great Hall: Level access: Upper floors mainly reached by spiral staircases. Low level introductory display accessible to wheelchair users in the stables. Garden: Accessible with compacted gravel paths and smooth grass. Benches provided. Leicester's Gatehouse and exhibition: Access to all floors via lift.
Average length of visit: 3 hours
Address: Kenilworth, Warwickshire, CV8 1NG
Email: bookings@english-heritage.org.uk (Group bookings)
Telephone: 01926 852078 (General enquiries only)
Local TIC: Please call Kenilworth tourist information on 0300 555 8171 if you would like information on other things to do in the area.
Guided tours
Make your group visit extra special by adding one of our guided tours.
Please allow for the indicated minimum notice below when booking a guided tour.
From Fortress to Palace tour
Let our expert guide take you into the castle ruins, revealing to you the history and the development of the castle from a medieval fortress to a Tudor palace, starting at the 12th-century Norman Keep and finishing with the story of the slighting of the castle in 1650.
Duration: 45 minutes.
Minimum-maximum pax: 12 - 30 pax. Larger groups can book multiple tours.
Advance booking required: Yes, a minimum of 14 days notice is required
Price: normal admission fee + £5.50 per person.
Price (with guidebook): normal admission fee + £7.50 per person.
Love Story in Ruins tour
The story of Elizabeth I and Robert Dudley's relationship has twisted and changed over the centuries. Our expert guide will shed light on the love story between Elizabeth I and Robert Dudley and her spectacular 19 day visit to Kenilworth Castle, in which Robert would attempt to win his Queen's heart forever!
Duration: 45 minutes.
Minimum-maximum pax: 12 - 30 pax. Larger groups can book multiple tours.
Advance booking required: Yes, a minimum of 14 days notice is required
Price: normal admission fee + £5.50 per person.
Price (with guidebook): normal admission fee + £7.50 per person.
Large parts of the site are accessible for disabled visitors, but we can alter tours to suit the needs of most visitors. Please notify us in advance if you have any special requirements.
Catering
Our Tearoom is situated within the spectacular grand Tudor stables. Built by John Dudley who was 'Master of the Horse' for Henry VIII - this building would likely have been the grandest stables in the kingdom, and today is a most beautiful setting for a lunch or cream tea.
Pre-booked groups can enjoy any of the following refreshments as part of their visit:
Cream Tea - £5.40 per person.
A pot of tea served with a scone, jam, Cornish clotted cream and butter.
Coffee and Cake - £5.50 per person.
Any hot drink with a slice of cake.
Picnic Lunch - £7.95 per person.
Available on request. Further details can be provided when making your booking.
Group Travel Support
Further support and useful resources available to group travel organisers can be found on our dedicated Group Visits webpages.
For educational groups, please visit our School Visits webpages.