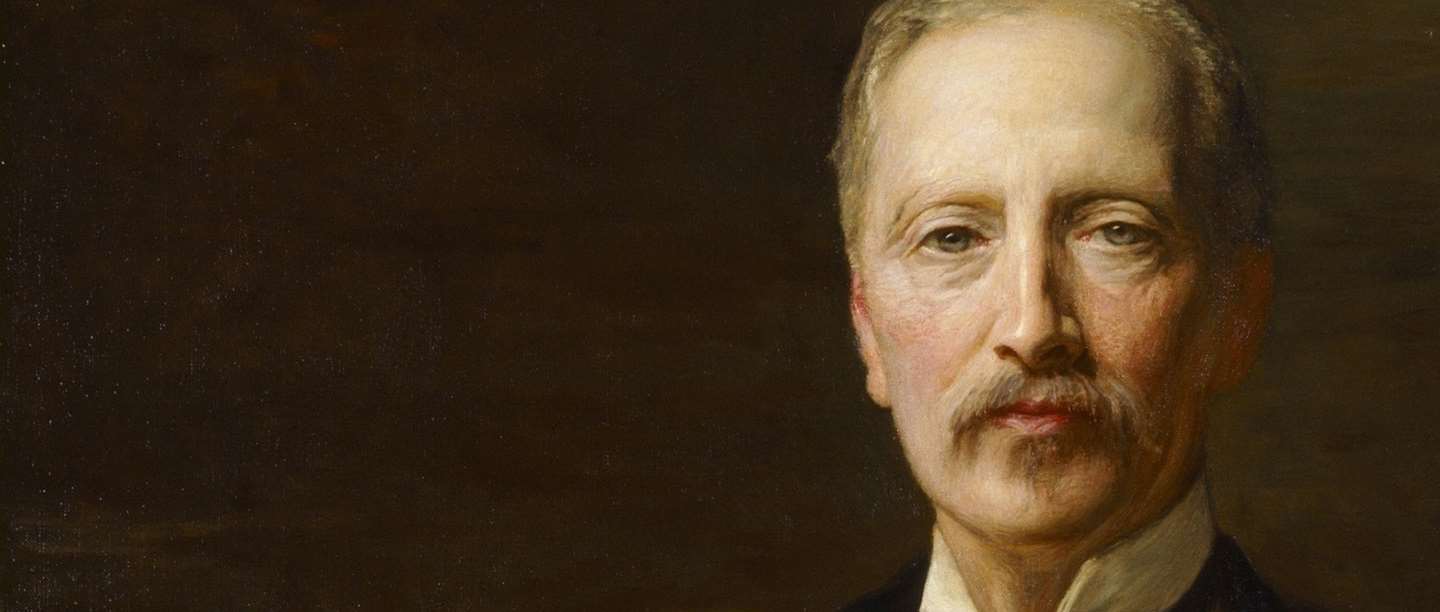 The Iveagh Bequest
The paintings displayed on the ground floor at Kenwood were collected in the late 19th century by the Irish brewing magnate and philanthropist Edward Cecil Guinness, 1st Earl of Iveagh.
Lord Iveagh's internationally important collection of Old Master and British paintings includes masterpieces by Rembrandt, Vermeer, Gainsborough, Reynolds and Turner.
Find out more about the collection and the man behind it.
The Man Behind the Collection
Lord Iveagh was born in Dublin in 1847, the youngest son of brewer Sir Benjamin Lee Guinness. When he was just 20 he took over management of the brewery at St James's Gate in Dublin where the famous Guinness stout has been brewed since 1759. Lord Iveagh was a brilliantly effective businessman and brought extraordinary success to the Guinness Brewery, ultimately becoming the richest man in Ireland.
Lord Iveagh's immense wealth enabled him to purchase many outstanding works of art to fill the walls of his five houses, including Farmleigh in Ireland and Elveden in Suffolk, which he shared with his wife Adelaide, known as 'Dodo', and their three sons.
A Shrewd Businessman
Lord Iveagh entered Arthur Guinness, Son and Company aged just 15 and worked as his father's secretary at the brewery while studying at Trinity College Dublin. On his father's death in 1868 he inherited a share of the business, which he ran with his elder brother Arthur until 1876, when he bought out Arthur's shares and became sole proprietor at the age of 29.
Lord Iveagh's head for business enabled him to successfully grow the brewery. In 1879, 565,000 hogsheads (barrels containing approximately 432 pints) of stout were brewed at St James's Gate. Within seven years this number had swelled to 907,000 hogsheads, multiplying the value of the brewery enormously.
In 1886 Lord Iveagh floated two-thirds of Arthur Guinness, Son and Company on the London Stock Exchange. It was by this time the world's largest brewery. The venture proved hugely successful, with the company valued at the then enormous sum of £6 million (almost £500 million in today's money).
Lord Iveagh became a multi-millionaire overnight and was able to retire aged only 38. Despite his formal retirement he stayed on as Chairman of the brewery and remained very involved in the business until his death in 1927.
A Generous Philanthropist
Like other members of the Guinness family, Lord Iveagh was a generous philanthropist. He was deeply concerned for the welfare of employees at the brewery and in the 1870s he established a free dispensary for the workforce, as well as making provisions for pension funds and other allowances. Such acts of social reform were rare in the late 19th century.
Lord Iveagh also contributed almost £1 million to slum clearance and social housing projects in both Dublin and London. In Dublin, the Iveagh Trust funded huge areas of urban renewal in some of the most deprived parts of the city and continues to provide over 10% of the social housing in central Dublin to this day.
Lord Iveagh also made donations to Dublin's hospitals, founded the Iveagh Market to enable street traders to sell produce out of the rain and established several public parks. He was also responsible for social housing projects in London through the Guinness Trust, founded in 1890, which still manages more than 65,000 homes today.
In recognition of Lord Iveagh's philanthropic, civic and business activities in Ireland and Britain, he was ennobled, first in 1885 when he was created baronet of Castleknock. Six years later was he was made Baron Iveagh, of Iveagh in County Down, before becoming Viscount Iveagh in 1905 and finally, Earl of Iveagh and Viscount Elveden, of Elveden in Suffolk in 1919.
A Passionate Collector
Lord Iveagh showed an early interest in collecting beautiful things. He probably made his first purchases at the International Exhibition of Arts and Manufactures held in Dublin in 1865, when he was only 18. In 1872 he and his brother Arthur co-organised the Dublin Exhibition of Arts, Industries, Manufactures and Loan Museum, to which they each lent several Italian sculptures.
Lord Iveagh first began collecting Old Master and contemporary British paintings, as well as sculpture, furniture and textiles in the 1870s, to furnish his palatial home of Farmleigh and his Dublin townhouse at St Stephen's Green. However, the bulk of Lord Iveagh's outstanding collection was amassed over a period of just four years to decorate his London home in Grosvenor Square.
On 23 June 1887 Lord Iveagh went shopping. Strolling down London's Bond Street, he entered picture dealers Thomas Agnew & Sons. Over the next four years, Lord Iveagh purchased 212 paintings from Agnew's, primarily by 18th- and 19th-century British artists.
He also acquired a significant collection of 17th-century Dutch and Flemish Old Masters, as well as 18th-century French and Italian paintings by artists such as François Boucher and Francesco Guardi.
Lord Iveagh's Taste
At the time that Lord Iveagh was amassing his collection, the agricultural depression in Britain had forced many aristocratic land-owning families to sell their ancestral paintings. This both informed and suited Lord Iveagh's taste for spectacular Georgian portraiture. He collected paintings of fashionable society beauties, like Gainsborough's Mary, Countess Howe, and portraits of celebrities including the famed courtesan Kitty Fisher and actress Dorothea Jordan.
Lord Iveagh favoured portraits of glamorous women and charming children over those of men. He was even known to have returned portraits of male sitters to Agnew's for credit. In 1892 he sold back a portrait of John Musters by Sir Joshua Reynolds, but kept that of Muster's wife Sophia, who was a celebrated 18th-century beauty.
Reynolds was Lord Iveagh's favourite artist and in total he acquired 36 works by him. He also collected paintings by other leading Georgian artists including Thomas Gainsborough, George Romney, John Hoppner, Henry Raeburn and Sir Thomas Lawrence.
Through Agnew's, Lord Iveagh sought out paintings that were widely known and highly prized at the close of the 19th century. One such picture was Rembrandt's Self-portrait with Two Circles.
Painted in around 1665, it was first reproduced as a print in the mid 18th century and was publicly exhibited at the Royal Academy in London in1877. As a consequence it was a famous and celebrated artwork when Lord Iveagh purchased it on 10 July 1888.
Lord Iveagh also had an eye for paintings by 17th-century artists who were just being rediscovered in the late 19th century. These included Frans Hals and Johannes Vermeer, whose paintings he was able to snap up at bargain prices.
Read more about Rembrandt's Self Portrait
Lord Iveagh and Kenwood
In 1900, Lord Iveagh purchased several properties in the north London suburb of Hampstead and became active in the community as a preservationist. This made him the obvious person to turn to when Kenwood was threatened with development in the 1920s.
In 1925 Lord Iveagh purchased Kenwood and the surrounding estate from the 6th Earl of Mansfield. Sadly the historic contents of the house had been sold at auction three years earlier, but the empty villa was the perfect place in which to display the best of Lord Iveagh's paintings. He personally selected 63 of the finest pictures from his collection and had ambitions to arrange them within the house himself.
Sadly, Lord Iveagh died in 1927 without having achieved his ambition, but in a final extraordinary act of philanthropy, he bequeathed Kenwood, the grounds and his selected paintings to the nation for the public to enjoy.
At Lord Iveagh's request, today Kenwood is '…preserved as a fine example of the artistic home of a gentleman of the 18th century'. His collection, known as the Iveagh Bequest, includes the most important group of Old Master paintings given to the nation in the 20th century. These hang alongside one of the finest collections of works by the foremost British artists of the Georgian era.