History of Knights Templar Church
Standing on the Western Heights above Dover are the stone foundations of a small chapel, which has been linked to the Knights Templar.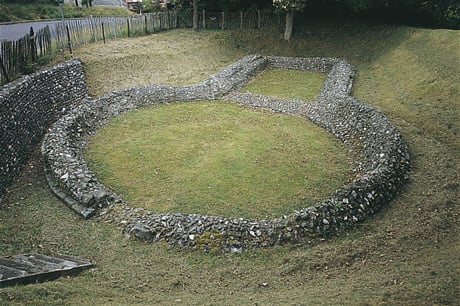 The Knights Templar were a military and religious order founded in the 12th century, during the Crusades, to protect pilgrims travelling to the Holy Land and to defend the holy places there. They became rich and powerful but increasingly unpopular, and the order was eventually suppressed in 1312.
The port of Dover, the chief departure point for pilgrimages to the Holy Land, was an obvious place for the Templars to have held property, but they are believed to have left the town before 1185 and their links to this particular site are tenuous.
An alternative interpretation suggests that the building was a wayside shrine on the Dover to Folkestone road.
Description
The chapel, built in the 12th century, had a circular nave 10 metres (33 feet) in diameter and a rectangular chancel.
The form mirrors that of the Church of the Holy Sepulchre in Jerusalem, and it is this association that has suggested the link with the Templars. Their most complete church, though much restored, is the Temple Church in London.
The buried foundations were discovered in the early 19th century during the construction of the Western Heights military defences. Only the flint and mortar core of the foundations and a small area of stone facing survive.