Description of Meare Fish House
The Fish House is a small two-storey, stone-built structure. On the ground floor are a hall, parlour and service rooms, and above, originally reached by an external stair, were two chambers. This arrangement ingeniously (and perhaps uniquely) incorporates the rooms found in larger houses within a compact but dignified building.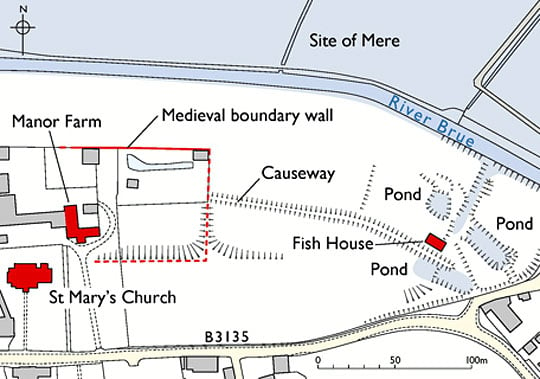 Setting
The Fish House stands in a meadow bordering the canalised river Brue, 60 metres from the water's edge, overlooking the site of the mere to the north. On a clear day Wells Cathedral can be glimpsed to the north-east. To the west lie the parish church and Manor Farm.
The building was freestanding, but by the early 16th century it did not stand alone. To the east of the Manor House there was a 'pratty [ie well-built] house for the fishers to drynk in'.[1] There were also three small ponds nearby.
The Building
The building is of two storeys, aligned approximately east–west, and measures 21ft 8in by 40ft 6in (6.60 metres x 12.36 metres). Most of the fabric is of Blue Lias and the dressings are of Doulting Limestone, both local materials.
The main ground-floor entrance is on the south front, opening into a room (16ft 1in x 15ft 6in; 4.91 metres x 4.71 metres) clearly intended as the hall – a room which in high-status houses, by this period, had achieved a degree of standardisation of function and layout.[2]
Halls were typically linked to service rooms (for storing, preparing and dispensing food and drink) by paired or multiple doorways, and this is the case here: a pair of arched doorways, with a single small room beyond, adjoins the hall to the west. At the other end is a third room, occupying the typical position of a 'parlour', but in this case of uncertain function, being ill-lit and without a fireplace. It was linked to a latrine in a turret, now destroyed, at the north-west corner.
The upper floor was reached by a stone-built external stair, destroyed by 1854, which led to a large well-lit room with a fireplace (restored in 1955). This was clearly the 'chamber', a room for sleeping, private business and recreation.
It was connected to a smaller, more private chamber to the west and in turn to the destroyed latrine turret. The original floor and five-bay arch-braced roof were burnt in the 1880s.[3] The roof was replaced in 1912 and again in the 1950s, but not the upper floor.
Footnotes
1. TNA, E 315/420, fol 41.
2. J Blair, 'Hall and chamber: English domestic planning 1000–1250', in G Meirion-Jones and M Jones, Manorial Domestic Buildings in England and Northern France, Society of Antiquaries of London, Occasional Volume 15 (London, 1993), 1–21.
3. H St G Gray, 'The Abbot's Fish House, Meare', Proceedings of the Somerset Archaeological and Natural History Society, 72 (1926), xli.