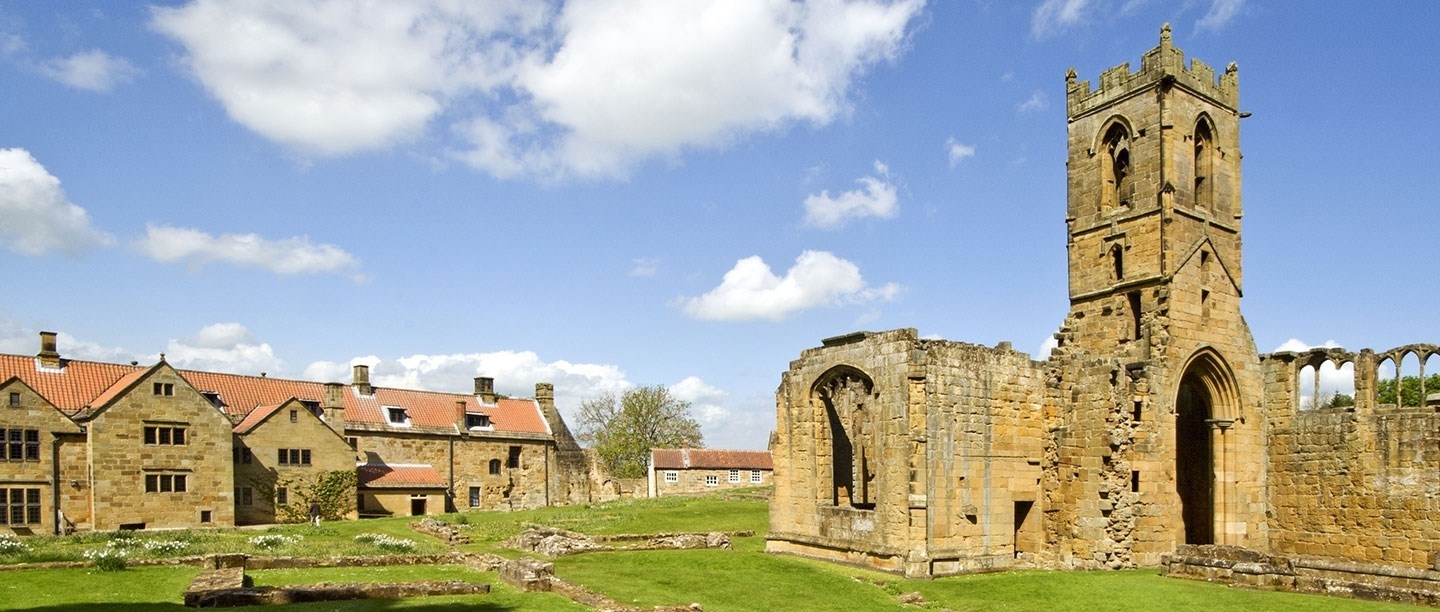 Mount Grace Priory: History and Stories
Mount Grace Priory in North Yorkshire is the best-preserved Carthusian monastery in England. In the Middle Ages, monks lived hermitic lives in one of Mount Grace's 25 individual cells, each with a private garden.
After the Reformation, the site would become the home to wealthy aristocrats and industrialists. These included Lowthian Bell, who remodelled part of the priory in the Arts and Crafts style.
Discover more of the history of Mount Grace and the lives of its inhabitants through the centuries.
Key Facts About Mount Grace Priory
Mount Grace Priory was founded in 1398 by Richard II's nephew Thomas de Holland.
It is the best-preserved Carthusian monastery in England. The priory is even used by historians as a 'type site', or model, for the study of other medieval Carthusian buildings.
Mount Grace was one of only nine Carthusian monasteries, also known as charterhouses, in medieval England.
Carthusian monks lived solitary lives. They spent most of their time in isolated cells and lived according to a strict timetable.
Mount Grace was one of the last monasteries in Yorkshire to be suppressed during the Reformation.
In the 17th century, part of the priory was remodelled as a mansion.
In the early 20th century, the site was bought by wealthy industrialist Lowthian Bell.
Bell enlarged and remodelled the mansion at Mount Grace in the Arts and Crafts style championed by William Morris.
Read the full history of Mount Grace Priory
Who Were the Carthusians?

Find out about the history of the Carthusians, and what set them apart from other medieval monastic orders.

Carthusian Daily Life

Unlike other medieval monks, Carthusians lived as near-hermits, spending most of their time alone in their cells. Find out more about their daily lives.

How to Garden Like a Medieval Monk

Take a closer look at the role gardens played in the daily life of Mount Grace's monks.
A Mini Guide to Medieval Monks
Can you tell your Carthusians from your Cistercians? How did the Cluniacs differ from the Benedictines?
This short animated film will guide you through four key monastic orders of the Middle Ages.
ENJOY A FULL YEAR OF ADVENTURE
Become an English Heritage member and take full advantage of free entry to over 400 sites plus free or discounted access to our exciting events programme throughout the year.


Join now from £4.42 per month