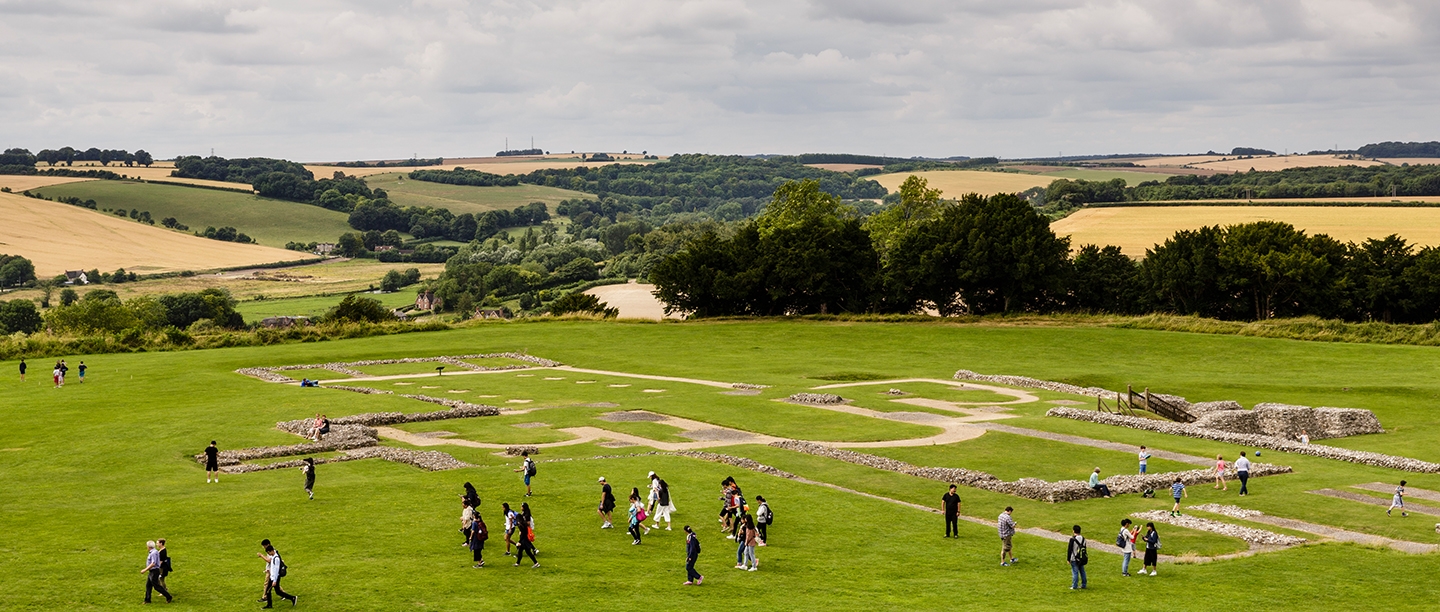 Group visits to Old Sarum
The lost city of Old Sarum is a rewarding site for groups to explore. Iron Age people first raised the great encircling ramparts. William the Conqueror summoned the landowners of England here in 1086. Today Old Sarum is a splendid site with seasonal wild flowers and striking vistas over Salisbury Plain.
"My wife and I had a very pleasant time there and appreciated it. Your staff were helpful and it gave us a good insight there.. Also the weather couldn't have been better." Trevor - TrevNav Services
Group Discount
We offer a 15% discount (10% for Stonehenge) for travel trade and organised groups of 11 or more paying visitors when payment is made in a single transaction.
Per group you also receive:
free entry for one tour leader
free entry for one coach driver
The tour leader, coach driver and any English Heritage members do not count towards the group totals.
Booking information
Trade admission prices and opening times:
Please refer to our Trade Admission Prices & Site Opening Times brochure for pricing and opening times information at our top sites for groups.
Making a booking:
Contact information for making your group booking can be found in the Visit & Contact Information section below.
Please include the property name and date of visit in the subject line of your email along with the following information:
Group name
Name of property
Tour reference/booking reference (if applicable)
Date and time of arrival
Number of visitors
Payment method:
Payment can be made on arrival by: cash, credit/debit card, cheque (made payable to The English Heritage Trust), Agency Voucher Scheme (AVS).
Visit & Contact information
Coach parking: Road narrow on final approach. Not accessible to 'bendy-buses'. During the winter season one coach bay is available on site, or it is possible for the coach to drop off in the car park and then park in the lay-by next to the main road. During the summer season the site can accommodate four coaches, as long as the weather is dry. Unfortunately spaces cannot be booked.
Catering: No café on site, but vending machine offers tea, coffee and hot chocolate as well as sweet and savoury snacks e.g. crisps, flapjacks and ice creams. Directly opposite the site is a Harvester pub, and The Wheatsheaf (a staff favourite) can be found in the picturesque Woodford Valley, five minutes' drive from Old Sarum.
Grounds: Old Sarum covers an area of approximately 29 acres of beautiful rare grass chalk-land. There are many footpaths which criss-cross the site, with a favourite being around the outer ramparts of the site which offers walkers views of the Wiltshire countryside. Following some scrub clearance, Old Sarum is now a great place to spot butterflies and kestrels, which are often seen hovering over the outer bailey.
Average length of visit: 1 hour.
Address: Castle Road, Salisbury, Wiltshire, SP1 3SD
Email: bookings@english-heritage.org.uk (Group bookings team)
Telephone: 01722 335398 (General enquiries only)
Local TIC: If you would like more information about things to do in the local area, please call: 01722 342860 (Salisbury TIC)
Guided tours
Make your group visit extra special by adding one of our guided tours.
Please allow for the indicated minimum notice below when booking a guided tour.
Sarum's Place in History
Let our knowledgeable team guide you around these awe-inspiring ruins, revealing to your group the history of Sarum from the Neolithic period to its place as the notorious 'Rotten Borough'.
Duration: 45 minutes.
Minimum-maximum pax: 11 - 50 pax.
Advance booking required: Yes, a minimum of 30 days notice is required
Price: Price on enquiry.
Aerial fam trip
Take flight above the mighty ramparts of the once thriving town of Old Sarum. See the footprint of Salisbury's original cathedral, the royal castle which stood high on the motte, and discover the awe-inspiring Iron Age hill fort where it all began.
Group Travel Support
Further support and useful resources available to group travel organisers can be found on our dedicated Group Visits webpages.
For educational groups, please visit our School Visits webpages.