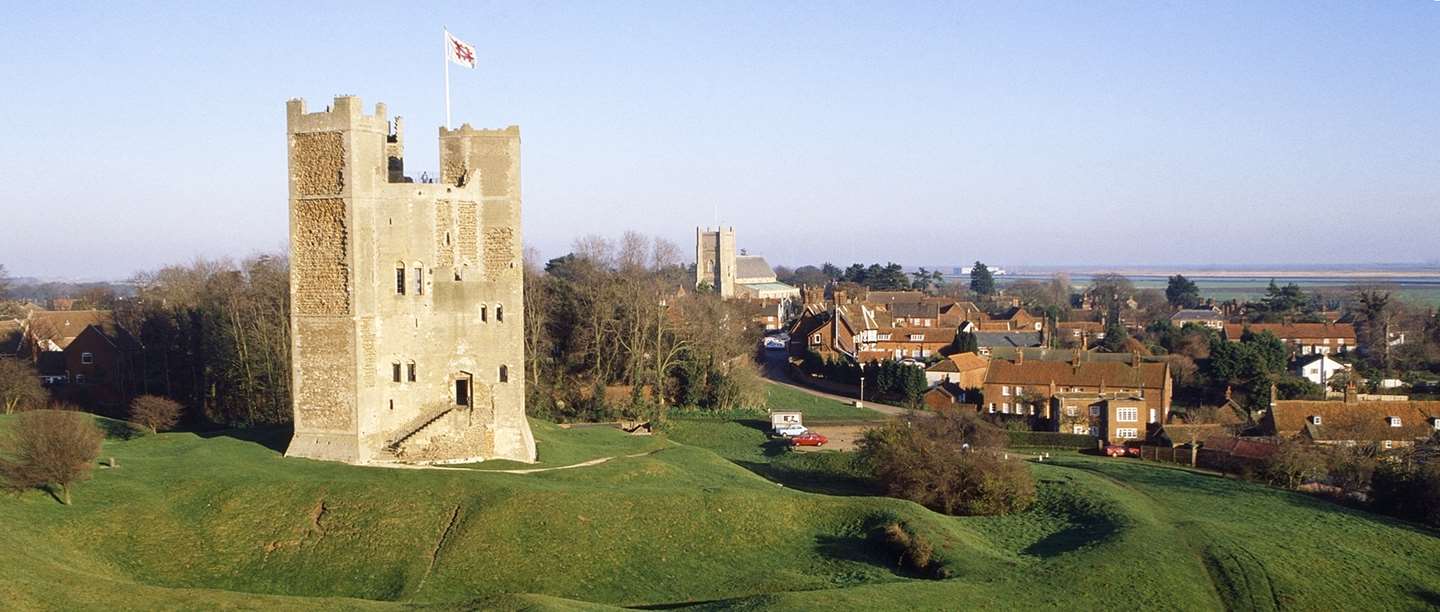 Schools
Book a visit to Orford Castle to bring medieval history to life. Explore from the basement, through the lower and upper halls, to the roof, where there are magnificent views towards Orford Ness.
Please note: Education visits are currently not available at this site.
Information about your visit
A visit to one of our sites will inspire your students and bring your teaching to life. We'd like to reassure you that we're following Government guidance to make your trip as safe and enjoyable as possible.
Important information to consider before you book:
To keep everyone safe we've introduced limits on visitor numbers and school groups, so please bear this in mind when booking your trip.
Find out more about what to expect on your school visit, which also includes our Covid 19 Risk Assessment.
To make the planning process as easy as possible, make sure you check our Plan Your School Trip section at the bottom of this page, for updated information on the facilities at the site as well as our free resources.
As usual, you'll need to book your visit at least 14 days in advance. Please check our Terms and Conditions for full details.
We're continually updating our education offer in line with government guidance. At some sites you might not be able to use our handling collections or costumes as part of a free self-led visit, but where we can provide hands-on items in a safe way we will. We've adapted our Discovery Visit workshops to follow government guidelines, but for certain sessions this hasn't been possible – please check our schools webpages for further information.
There may be areas of our sites which are closed, so please check what's available for your school group on our property webpages and with our booking team. They can put you in touch with our Education Visits Officers who can offer help and guidance, so you can make the most of your school trip.
Curriculum links
Bring the curriculum to life at Orford Castle:
KS1-3 History: Local History study. Significant historical events, people and places in their own locality
KS1-2 Geography: Understand where Orford Castle was built, and why its location was so important to king Henry II
KS1-KS2 Drama: Links between the building and people who used it through various role play
KS2 History: Extend pupils' chronological knowledge beyond 1066
KS2-3 Geography: Place Orford Castle in its geographical context
KS3 History: The development of Church, state and society in Medieval Britain 1066-1509; The development of Church, state and society in Britain 1509 -1745
KS3 Maths, Design & Technology: Understand that Orford Castle's shape was carefully designed using simple geometry
KS4 History: OCR Specification A; study of the historic environment: 'Castles: Form and Function c.1000-1750'
Free self-led visits
Bring learning to life and book your free self-led visit to Orford Castle, to discover one of England's best preserved and most unique keeps. Explore from the basement to the roof, and follow a maze of passages leading to the chapel, kitchen and other chambers in the turrets, to imagine what life was like in a medieval castle. Learn more about local history in the Orford Museum, located upstairs in the castle.
Enquire now
Pre-visit learning
From early Norman motte and bailey castles to sophisticated medieval structures: watch this animation to discover how castles developed and why they were as much about status as defence.
Plan Your Trip
We have a wide range of materials to support your visit and make school trip planning easy. Download our free resources to help make the most out of your visit and create unique learning experiences before, during and after your trip.
We offer free planning visits for group leaders once you have made a booking. Our Education Booking Team are on hand to advise and help you create the best possible school trip to suit your needs and area of study.
Facilities

PARKING There is no coach parking at the castle. The free car park 50 metres from the entrance is drop-off only. Coaches can use the pay-and-display parking available at Orford Quay Car Park.
TOILETS: There are no toilets on site for visitors but there are free public toilets close to the castle, located on Market Hill. Please speak to a member of staff and they will direct you.
LUNCH: Food and drink are not permitted inside the castle, but there are benches near the keep where picnicking is encouraged.
SHOP: The shop is well stocked with memorabilia for your students to buy and take home. We ask that you help our staff by supervising your students and only allowing ten in the shop at any one time.
STORAGE Unfortunately, there are no bag storage facilities at the castle.
Learning Resources

A Teachers' Kit is a free educational tool packed with everything you need to give your group a deep insight into the place you are visiting. Featuring historical information, suggestions for activities, and high-quality images, this resource is a comprehensive toolkit for group leaders of various subjects and key stages. Kits also include key site information, facilities, plans and hazard information.
Enquire now

School visits academic year 2020-21

In line with the latest government guidelines for schools, we're currently unable to accept education visits, and bookings are temporarily closed. If your visit is affected our team will be in touch to help you book another date. We'll share more details on our opening arrangements soon.

Due to the current situation we can't answer calls as quickly as we'd like to. If you'd like more information about a site, email us and we'll put you in touch with an Education Visits Officer.