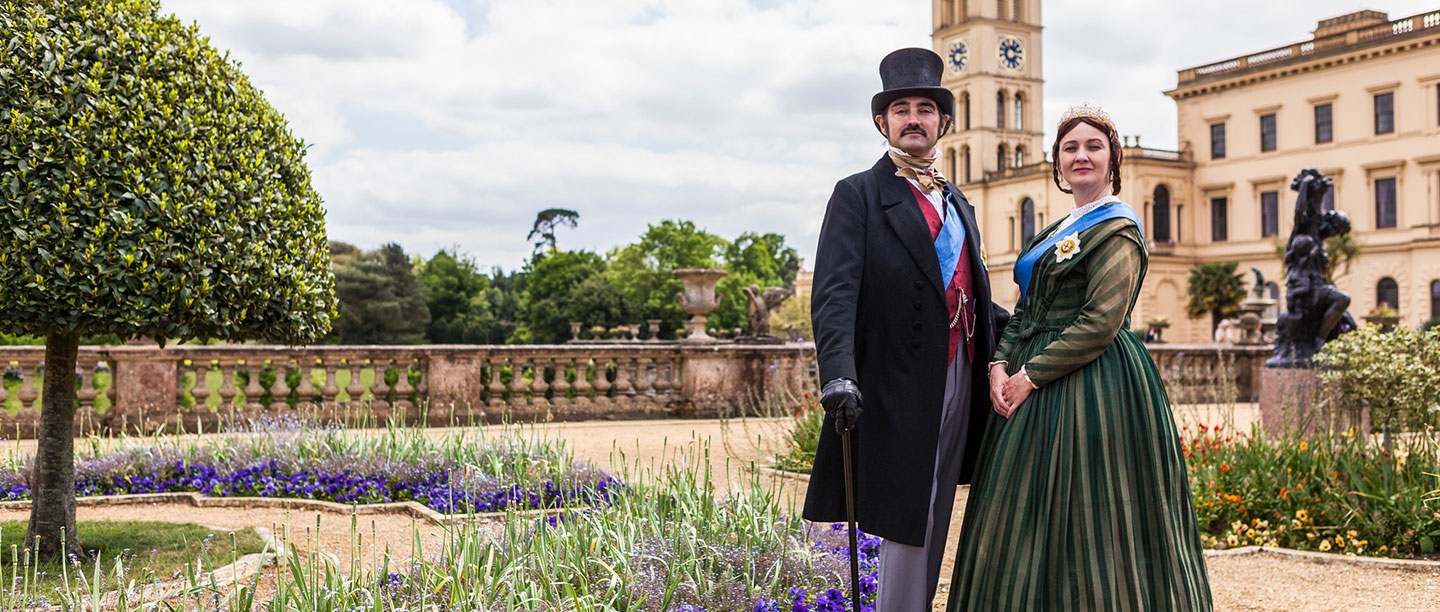 Victoria and Albert at Osborne
Walk in the footsteps of Queen Victoria and Prince Albert and discover Osborne through the eyes of the royal couple.
Some of their most precious family memories were made at Osborne and most of their birthdays were celebrated here.
Take a look at Victoria and Albert's time at Osborne and explore what this palatial seaside mansion reveals about their private lives.
A royal holiday home
Queen Victoria is the only woman ever to have ruled over a third of the earth, and she lived her life under great scrutiny from the press and public.
Victoria and Albert bought the Osborne estate in 1845. The home they built here gives an intimate glimpse into family life away from the bustle and prying eyes of London.
Today you can visit the Queen's bedroom, wander through the elaborate Drawing and Durbar rooms and walk along the couple's private beach. But what was it about the Queen that made her such an iconic ruler?
The life of Queen Victoria
Queen Victoria Makeup Tutorial
Discover what Queen Victoria's makeup and hair can tell us about her reign. In this video we tell the story of Victorian England through the queen's toilette.
Join Fashion Historian Amber Butchart and Makeup Artist Rebecca Butterworth as we open the doors to her Osborne Dressing Room and show you how to recreate a Queen Victoria inspired look at home.
Victoria and Albert in film and tv
Queen Victoria and Prince Albert have inspired screenwriters for decades. The popular ITV series Victoria starring Jenna Coleman and Victoria & Abdul are among the most recent adaptations. Victoria alone has been played by more actors than any other British monarch. But how do on-screen portrayals compare to the real queen?
Family life at Osborne
Queen Victoria and Prince Albert shared many special memories with their family at Osborne with many birthdays, Christmases and even weddings celebrated here.
One of the children's favourite pastimes was playing house at Swiss Cottage, an Alpine-style chalet. The cottage was given to the children on the queen's birthday in 1854 to learn about domestic life, including how to cook, harvest produce and entertain. They also spent time picnicking in the gardens, painting on the terrace and playing on the beach.
Postcard from Osborne
Take a look at Osborne from the sky and experience Victoria and Albert's Osborne like never before. See the Italianate exterior, formal gardens and beach with views across the Solent. Our drone footage has captured the vast estate and beach that Victoria and Albert called home.
Since this video was made, the beautiful lower terrace has been lovingly restored.
Find out more about the terrace upgrade