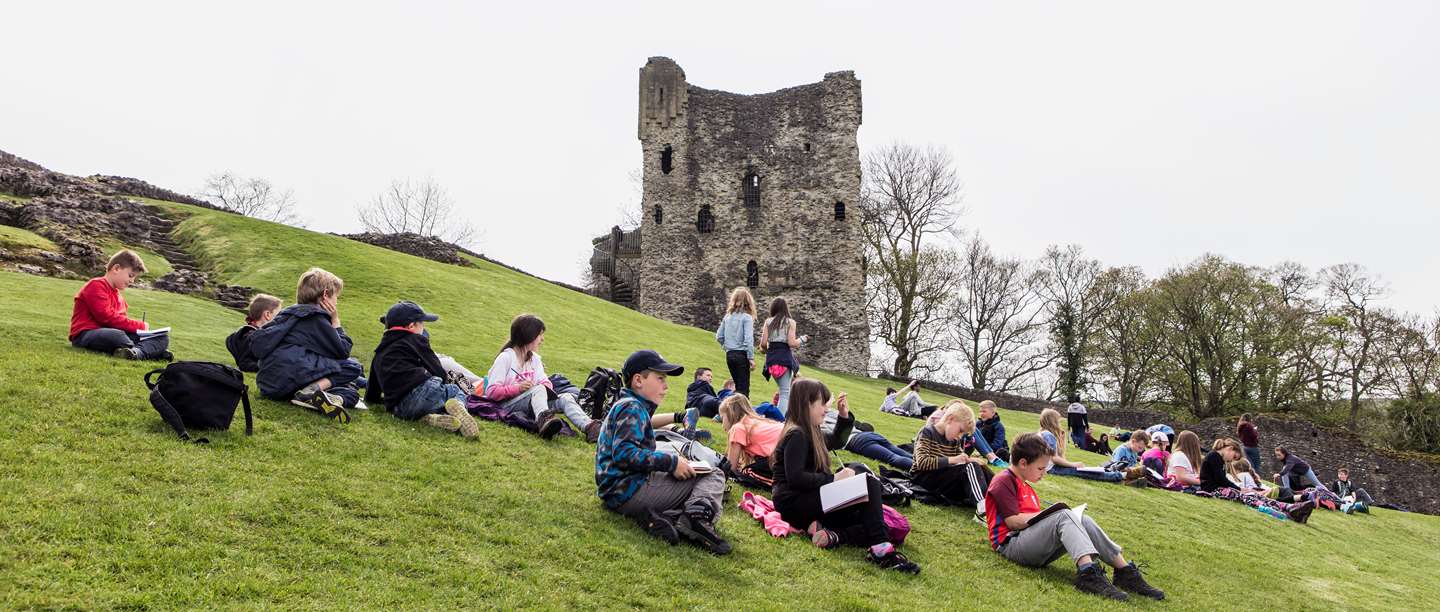 Schools
Founded soon after 1066 by William Peveril and overlooking Hope Valley and Cave Dale, Peveril Castle is a fantastic and historically important site to explore on a free self-led school visit.
Please note: Due to essential conservation work the Keep is currently closed. The Visitor Centre and the rest of the site remain open as usual. We apologise for any inconvenience this may cause.
Curriculum links
An exciting and dramatic Norman castle overlooking the Derbyshire countryside offers educational opportunities for school groups, particularly history from 1066, when the castle was founded.
KS1 History: Significant historical events, people and places; study of castles
KS1-3 History: A local history study
KS2 History: A study of an aspect or theme in British history that extends pupils' chronological knowledge beyond 1066
KS3 History: The development of Church, state and society in Medieval Britain 1066-1509
Free Self-led Visits
Mentioned in the Domesday survey, Peveril Castle is one of England's earliest Norman fortresses. The keep was built by Henry II in 1176. Displays in the visitor centre tell the story of Peveril as the administrative focus of the Royal Forest of the Peak, a royal hunting preserve since the 11th century. Climb the hill to visit the castle grounds, and explore the keep.
ENQUIRE NOW
Plan Your Visit
We have a wide range of materials to support your visit and make school trip planning easy. Download our free resources to help you make the most out of your visit and create unique learning experiences before, during and after your trip.
We also offer free planning visits for group leaders once you have made a booking. Our Education Booking Team is on hand to advise and help you create the best possible school trip to suit your needs and area of study.
Facilities

PARKING: Parking available at the Castleton visitor centre
LUNCH: Picnic area outside the visitor cantre can be used by groups
TOILETS: There is one unisex toilet and one disabled toilet
SHOP: Gift Shop selling English Heritage souvenirs
EXHIBITION: Permanent exhibition display on the upper floor of the visitor centre about the history of the castle.
Learning Resources

These resources are free educational tools packed with everything you need to give your group a deep insight into the place you are visiting. Featuring historical information, site plans, suggestions for activities, and high-quality images, these resources are a comprehensive toolkit for group leaders of various subjects and key stages.


Discover Peveril Castle using this interactive activity trail. The teachers' guide includes notes and answers for teachers, while the trail resource is an A5 activity booklet for students.
How to book

0370 333 0606

Education Opening Times

March: Friday to Monday 10.00 – 16.00
April to September: Monday to Sunday 10.00 – 18.00
October: Monday to Sunday 10.00 – 17.00
November to February: Saturday and Sunday 10.00 – 16.00