Research on Portchester Castle
Portchester Castle has a long and complex history, established through archaeological excavations from the 1960s onwards and more recent studies of the medieval castle. Some areas of the Roman fort remain to be explored archaeologically. Further investigation is also needed on the relationship of the castle to its surroundings, both the village and the natural harbour.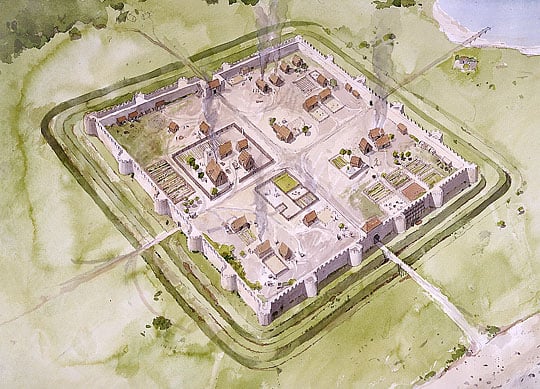 Research to date
Extensive archaeological investigations began in the 1960s in a series of excavations led by Barry Cunliffe. These provided much information about the Roman and Saxon periods in particular and unearthed more than 70,000 items dating from the late 3rd century AD to the 19th century. Some of these are now on display in the exhibition in the great tower.
The excavation reports, published in five volumes, have formed the basis for historical and architectural analysis of the site.[1] They incorporate detailed analysis of the standing buildings as well as a substantial corpus of relevant documentary material from the Middle Ages onwards. Few British castles have undergone such a full modern scholarly analysis.
Recent research has also uncovered much information about the use of the castle to hold prisoners of war during the Revolutionary and Napoleonic wars of 1793–1815. Research has focused particularly on the experiences of a group of prisoners brought to Portchester from the Caribbean in 1796, and the creation of a theatre in the great tower by French prisoners in 1810.
Research Gaps
Some of the most important areas which would benefit from further research include:
the layout and occupation of the fort in the 4th century AD
the intended function of the fort in the Roman period
the circumstances of the foundation of the castle by William Maudit in the 11th century
the history and development of Southwick Priory
what the relationship was between the village and the castle through the Middle Ages
the wider setting of the castle and its relationship to royal hunting parks and chases
how the castle was developed during the reigns of Henry VII and Henry VIII
the 17th-century history of the castle, notably its role in the Civil War of the 1640s
the history of the castle and its ruins since the mid-19th century.
Footnotes
1. B Cunliffe et al, Excavations at Portchester Castle, Society of Antiquaries Research Reports Series, 5 vols (London, 1975–94).