History of St Leonard's Tower
St Leonard's Tower stands on a natural sandstone ledge near the head of a narrow valley on the south-western edge of the village of West Malling.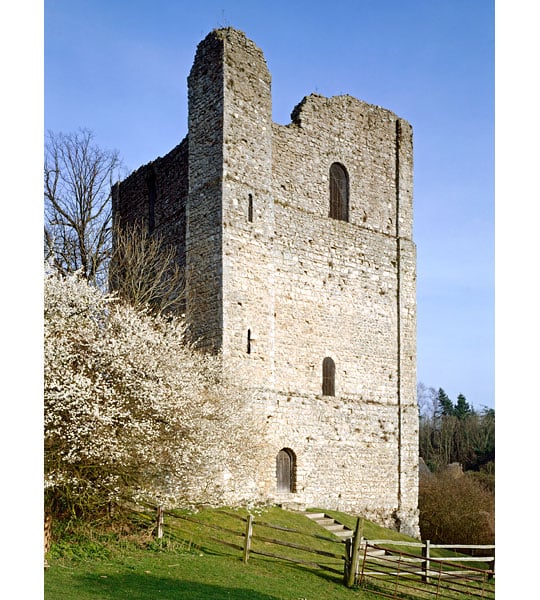 The tower is a mysterious survival. It is thought by some to have been part of a castle built between 1077 and 1108 by Gundulf, Bishop of Rochester, who founded St Mary's Abbey, situated about 700 metres (760 yards) to the north-east.
Alternatively it may have been built by Bishop Odo of Bayeux, who was half-brother of William the Conqueror (and who is thought to have commissioned the famous tapestry); he held church lands at West Malling. The tower takes its name from a chapel dedicated to St Leonard that once stood nearby.
Little is known about the history of St Leonard's Tower. There is no evidence of fireplaces or latrines, which may indicate that the building was used for defensive, rather than domestic, purposes. Alternatively, the tower may have served as a centre for the administration of the local estates of the bishopric.
At a later date the roof of the tower was removed and windows were blocked; these alterations may have been related to the building's later use as storage for hops.
Description
The square tower is constructed of coursed rubble with stone dressings and survives to a height of 20 metres (66 feet). Its walls are 2 metres (6 feet) thick and the building is approximately 10 metres (33 feet) square.
It originally contained a basement and two floors, and joist holes which show the level of the wooden floor of the first-floor chamber can still be seen. A spiral staircase in the north-west turret connected the floors.
The original entrance to the tower, through the east face, was reached by a wooden staircase. This was later blocked, and a new round-headed archway was pierced through the western face at ground level. The tower is lit by round-headed windows. Loops through which arrows could be fired to defend the tower can be seen in the turret.
A stretch of medieval walling forming the base of a later garden wall runs from the north-east corner of the tower downhill towards the road. Traces of herringbone stonework indicate that the wall was constructed during the 11th or 12th century and may have formed part of an enclosure attached to the tower.
Additional buildings such as stables and workshops were possibly situated within this enclosure.