Description of St Paul's Monastery, Jarrow
Remarkably, parts of the 7th-century church have survived for over 1,300 years and form part of the present church, which is still a place of worship.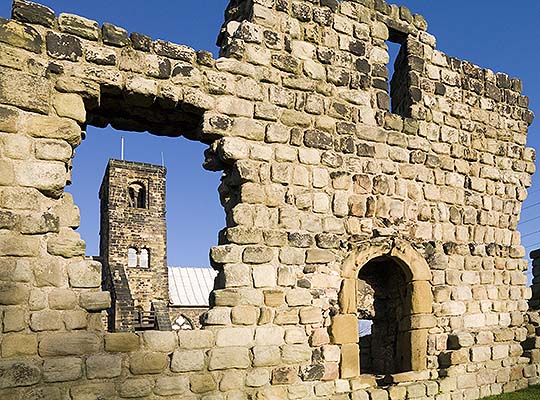 The Church
The chancel of today's church is partly Anglo-Saxon in date, when it was a free-standing church. It was the smaller of two monastic churches that stood in line. The stone used to build these churches was probably reused from a nearby Roman site.
The remains of the larger of the two churches now lie under the nave (not in the care of English Heritage), a rebuilding of the 1860s by George Gilbert Scott.
High in the south wall of the chancel are three small original windows, which once contained fine Anglo-Saxon coloured glass. Fragments of glass recovered during the excavations have been reinstated in the central window.
The churches are joined by a tower which was built in stages between the 9th and the 12th centuries.
Inside the church is the original dedication stone, the oldest in England.
Monastic Buildings
All the standing masonry on the site within English Heritage guardianship is Norman or later. The east wall of the west range still stands, preserving a triangular-headed doorway; the north wall of the south range, including the refectory (which was never completed) and a fragment of its east wall survive.
The ground plans of the two 7th-century buildings revealed during the 1960s excavations are marked by stone setts.
The twin monastic site of St Peter's is today a parish church, and can also be visited. It contains an exhibition about St Peter's Monastery.
Note
The text on this page is derived from interpretation panels at the site. We intend to update and enhance the content as soon as possible to provide more information on the property and its history.