History of Steeton Hall Gateway
Steeton Hall Gateway is one surviving element of a medieval manorial complex. The solar, or private apartment, and some later buildings also still exist, although the latter are on private land and are not open to the public.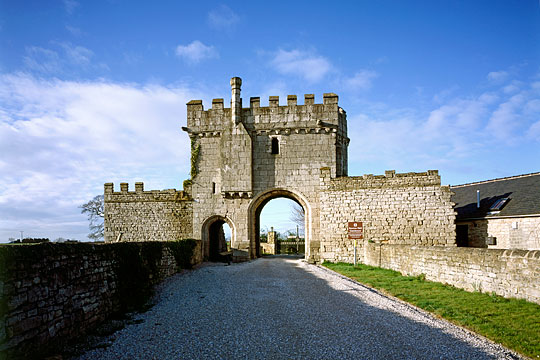 The manor of Steeton, originally called Stiveton, was held by the Reygate family from the mid-13th century.
The two-storey gateway, which controlled the entrance to the manor house on the site of Steeton Hall, was probably built by William de Reygate, a royal administrator in the county of York. It probably dates from about 1360, while the short lengths of battlemented wall are possibly of a later date.
The manor eventually passed by marriage into the Foljambes family who held it for 300 years. The gatehouse was taken into state guardianship in 1948.
Description
The gateway can only be viewed externally.
Visible from the road are two gate passages, a large one for vehicles and a smaller one for pedestrians. On the south side a stair turret with an internal spiral stair leads up to the first floor and roof. The short staircase on the opposite side of the gate passage leads to a porter's lodge; a small loop or window enabled the porter to see into the passage.
On the first floor a projecting chimneystack with an octagonal chimney is supported on four corbels with carved heads. Other corbels supporting the crenellated parapet are carved with heraldic devices of prominent families and individuals, including John Thoresby, Archbishop of York; the Harengills and the Reygates; and possibly the Malbis.
Further Reading
Kitson, S and Crossley, EW, Archaeological Journal, 21 (1911), 203–11
Note
The text on this page is derived from the Heritage Unlocked series of guidebooks, published in 2002–6. We intend to update and enhance the content as soon as possible to provide more information on the property and its history.