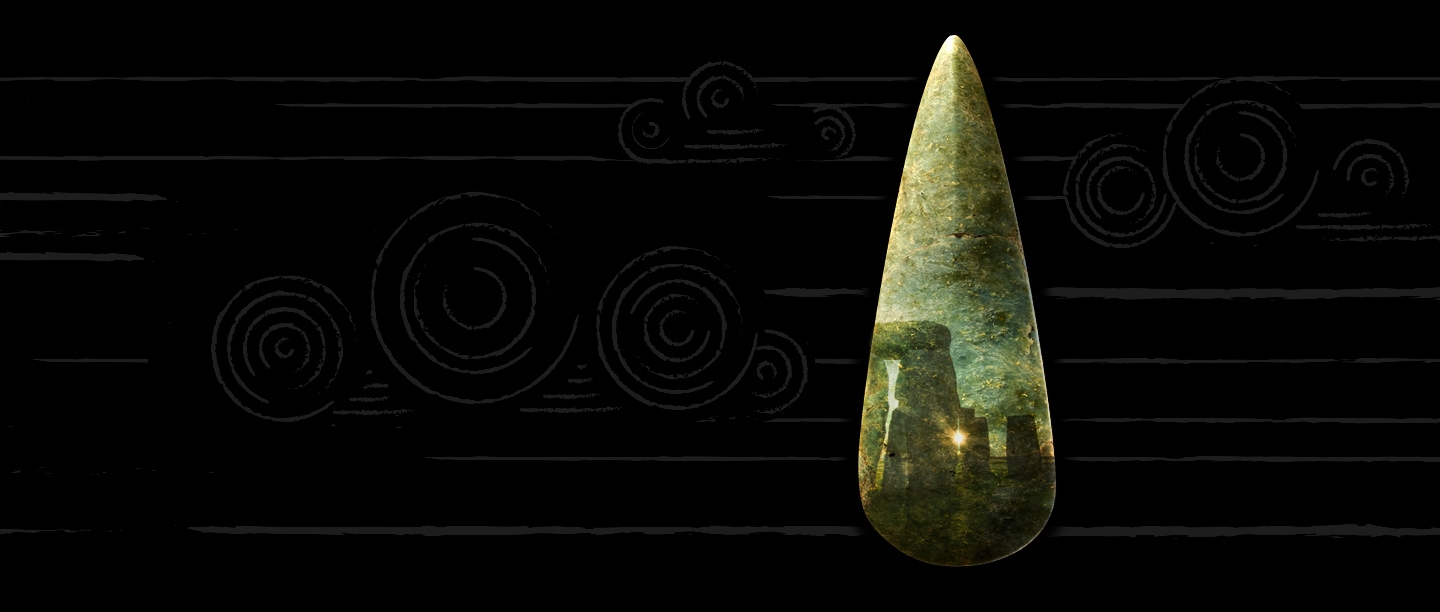 Making connections: Stonehenge in its prehistoric world
At the time of Stonehenge, people connected with others and with the world around them by making and sharing objects. Throughout the Neolithic and Bronze Ages, the monument stood within a constantly changing ebb and flow of objects, styles, people and ideas.
Explore the story of these changing prehistoric connections through precious objects made from stone, chalk, gold and bronze.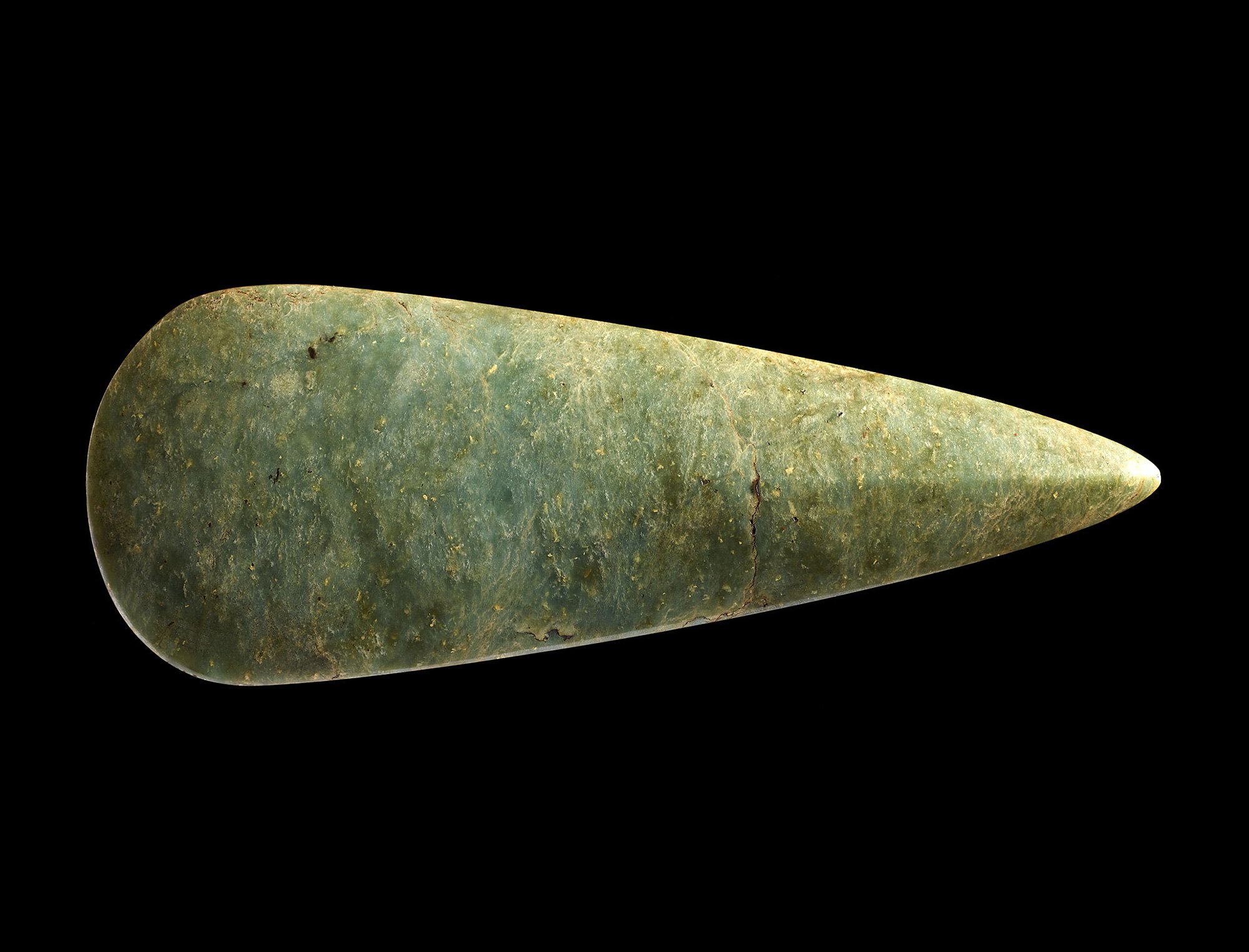 The first farmers
Connections between different parts of the British Isles and Continental Europe changed dramatically during the Neolithic and Bronze Age periods (c.4000–800 BC). We can trace these interactions through the movement of raw materials and finished artefacts, as well as through shared artistic styles and ritual practices.
At the beginning of the Neolithic period in the British Isles, about 1,500 years before Stonehenge was built, farmers arrived from Continental Europe. They brought with them the first domestic animals and plants. They also brought ideas about how to build monuments and make objects, such as polished stone axes.
This remarkable polished green axe was found near Canterbury in Kent, England. It is made of a stone called jadeitite, quarried from Monte Viso high in the Italian Alps. This axe was no ordinary tool – it was a treasured object that connected the farmers back to their homelands.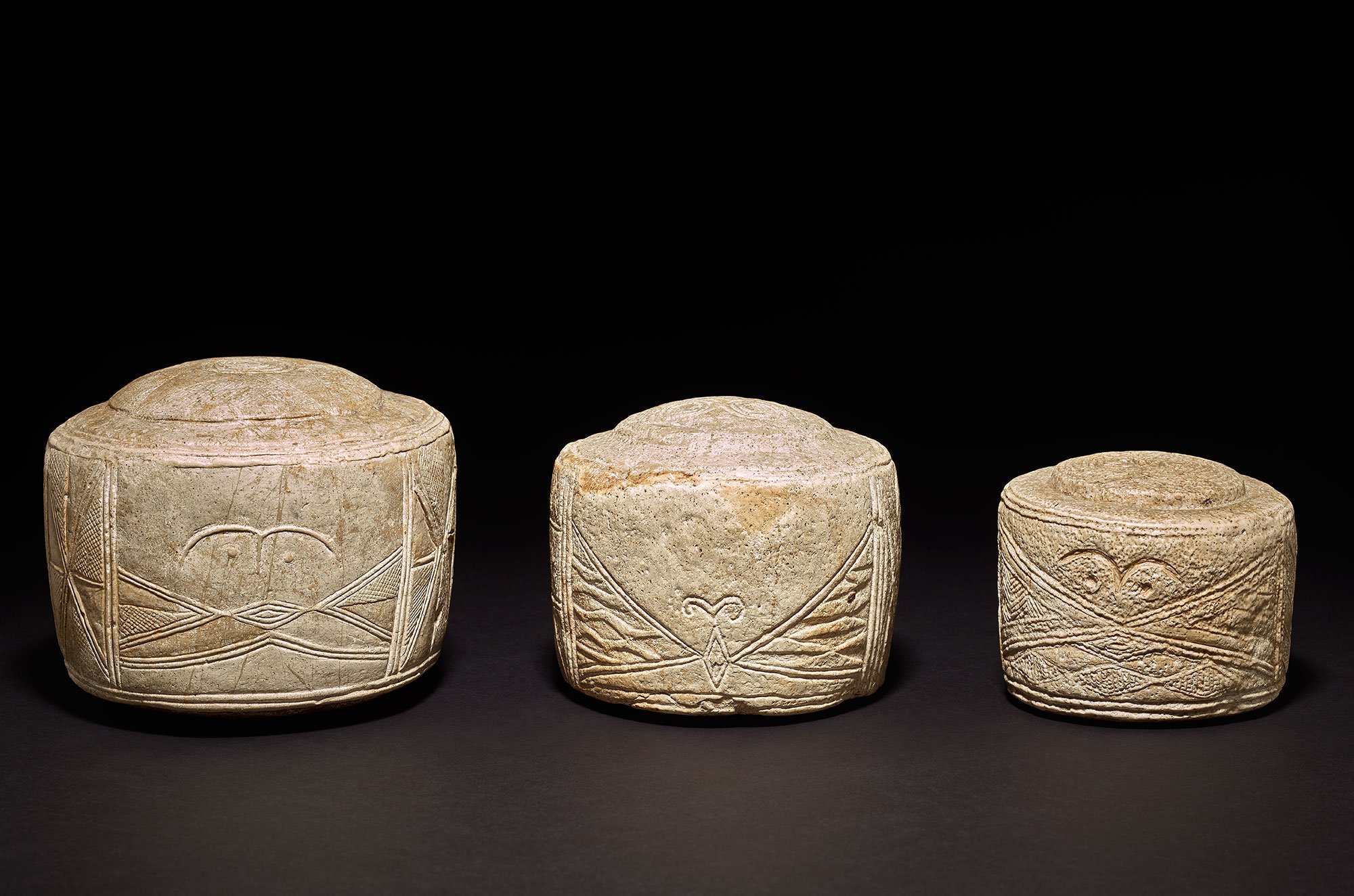 Shared styles
About 4,500 years ago, at the time that Stonehenge was built, people living in the British Isles were closely connected to one another. This was a time when people were building similar monuments such as stone circles and henges (earthwork enclosures) across these islands. They were also decorating the objects they made with shared patterns.
These three carved chalk cylinders, known as the Folkton Drums, date from this time. The distinctive patterns of spirals and lozenges seen on the drums also appear on megalithic monuments, Grooved Ware pottery and other portable objects, showing that people from across the British Isles were sharing ideas, styles and ritual practices.
However, these styles of decoration are not found in Continental Europe at this time.
Local traditions
Although many ideas and styles were shared across the British Isles in the late Neolithic period, each region also retained a distinctive identity. In north-east Scotland, for example, hundreds of carved stone balls were made and used between 3100 and 2600 BC. Their purpose is unknown, but they may have been ceremonial objects that were exchanged between local communities.
This film shows how carved stone balls were made and explores some ideas about their meaning and purpose. Follow the link to view another film about these and other Neolithic objects in the British Museum Curator's Corner series.
See on Curator's Corner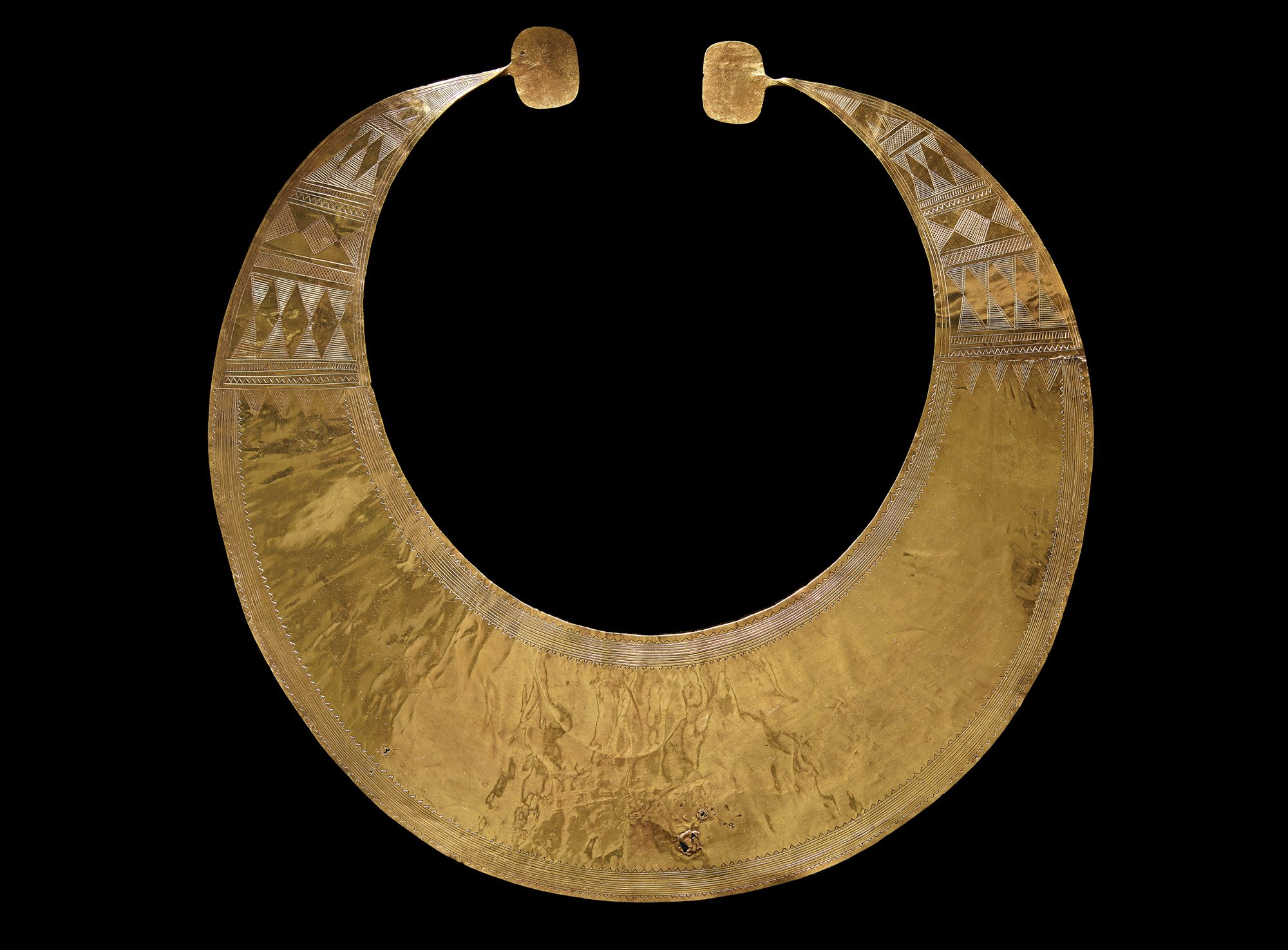 Precious metals
About 4,500 years ago, shortly after Stonehenge was built, newcomers began to arrive in the British Isles from Continental Europe. They brought with them the knowledge to make objects from copper and gold. They may have travelled in search of new sources of these precious metals, which they found in Cornwall, Wales and Ireland.
This collar, known as a lunula, is made from a thin sheet of beaten gold. It was found in Blessington in Ireland and dates from between 2200 and 1800 BC. The incised geometric decoration links it to pottery and textiles which were made and used across a large part of Europe at this time, the early Bronze Age.
The Ringlemere Cup
This gold cup, found in a barrow near Sandwich in Kent, England, also dates from the early Bronze Age. Precious cups like these are found on both sides of the English Channel, suggesting shared traditions and identities among seafaring communities.
You can view the cup in 3D below. Select the play button, then use your cursor or touch screen to rotate the cup and zoom in.
Read more about the Ringlemere Cup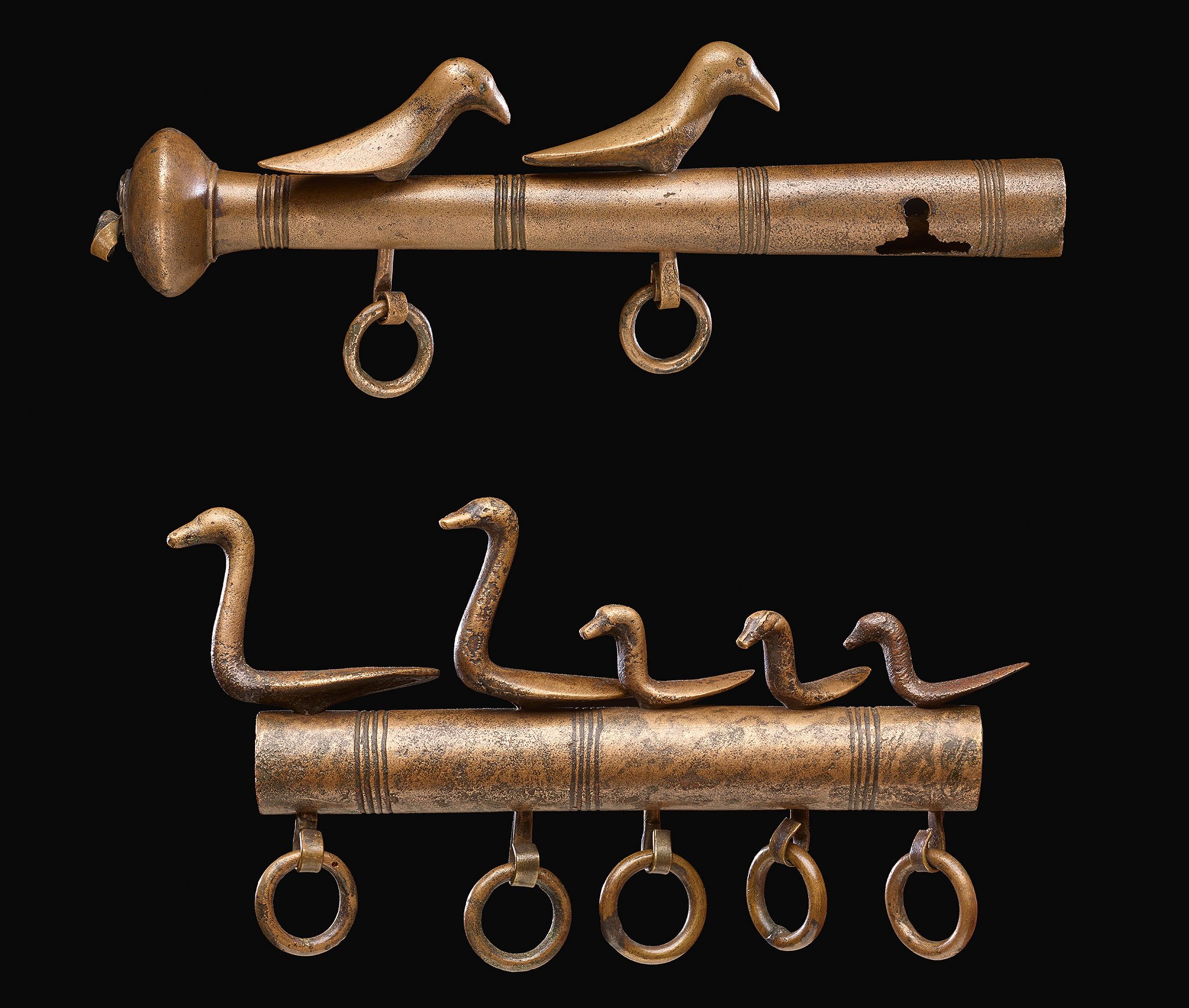 Elaborate ceremonies
During the later Bronze Age (1500–800 BC), societies across Western Europe were closely connected and appear to have held similar beliefs about the heavens and the natural world. People employed increasingly sophisticated bronze-working techniques to make fine objects used in feasts and other ceremonies.
Flesh-hooks, which were used to lift meat from large cooking cauldrons, also became purely ceremonial objects. This flesh-hook, found in Dunaverney, County Antrim, Northern Ireland, has a family of swans and two ravens on the shaft.
Clues in later Irish literature suggest that these birds may relate to European Bronze Age myths and stories of opposing forces and elements – water versus air, white versus black and fertility versus death.
All the objects shown on this page were displayed as part of the Making Connections exhibition at Stonehenge (12 Oct 2018 – 21 April 2019).

Top image: photograph © Trustees of the British Museum. Additional image manipulation: English Heritage