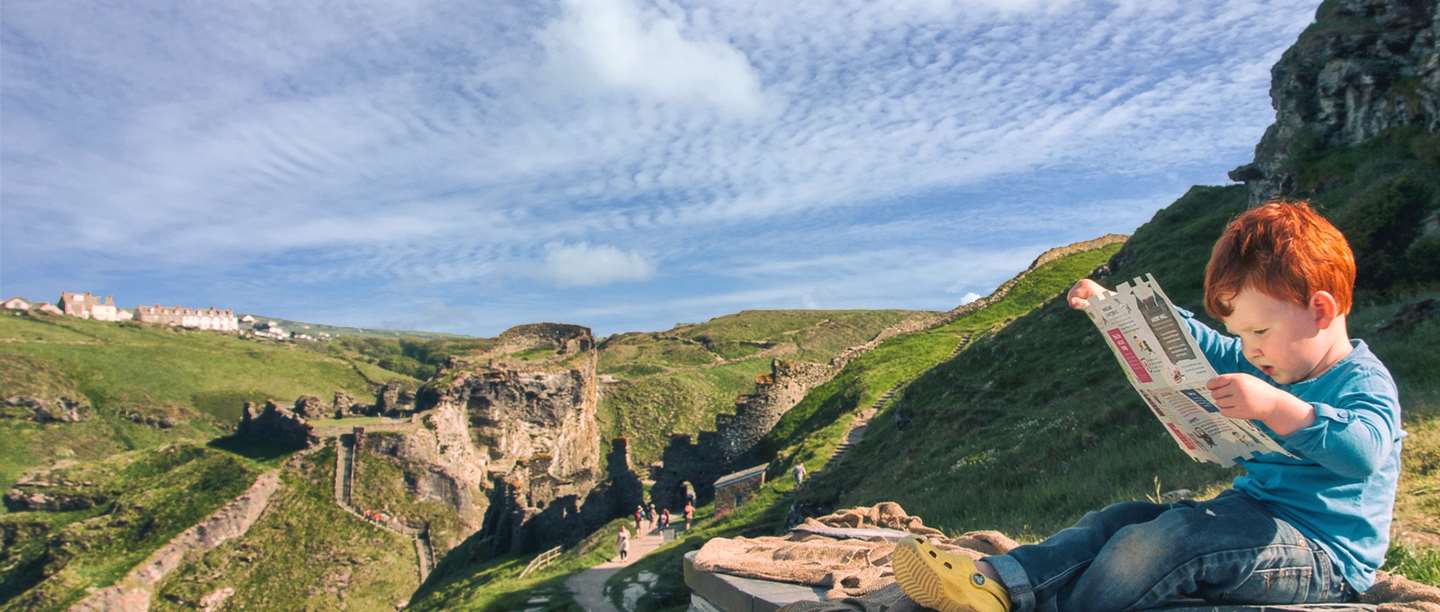 Tintagel Castle Family Guide
Combining spectacular panoramic views across the rugged Cornish coast and the blue Atlantic, with vast amounts of space to explore, kids and grown-ups alike will love Tintagel Castle.
Discover where history meets legend in the exhibition centre, relax on the sheltered beach while the kids explore Merlin's cave, and enjoy a delicious taste of Cornwall with local produce at the Beach Café.
Family Essentials
Food and drink: The Beach Café offers local produce and unique Cornish treats, as well as a selection of cakes, hot and cold drinks, all while enjoying the view to the horizon.
Toilets: Toilets are available next to the Visitor Centre, including an accessible toilet and baby changing facilities.
Dogs: Dogs are welcome on a lead, but should be kept under control due to steep cliff drops. Dog bins are provided, and a water bowl outside the shop. Assistance dogs welcome.
Parking: There is no parking on site, but pay and display parking (not operated by English Heritage) can be found in the village. From there, a land rover service is available (small additional charge) to take visitors to the island.
Access: Be ready for steep climbs, uneven surfaces and rocky terrain.
See Current Opening Times
A playground for the imagination
The Bean family visited Tintagel during their holiday in Cornwall.
"This is exactly what we love. The setting can't be beaten. You throw in waterfalls and giant caves and crashing waves, and it's a pretty great place for the imagination," says mum Megan.
Husband Ben added: "I think Cornwall's unmatched for combining interesting history and great landscapes, so it's perfect for us."
Young Sasha says "I really like that the rocks have a lot of patterns."
Things To Do
Take a picnic: Up high on the rugged Cornish coast, commanding views in all directions, Tintagel is the perfect spot for a picnic. So bring the sandwiches and enjoy your family lunch in a unique setting.
Explore Merlin's Cave: Twice a day, the receding tide at Tintagel reveals a world of rockpools and the impressive Merlin's Cave for children to explore. Stretching deep into the cliffside, this dark cove is a treat for the kids.
Let off steam: Once dense with civilisation, the island now offers plenty of open space for children to run around under the watchful eye of a parent. Inspired by legend, grab your wooden sword and play knights of the round table.
Things to see and do
Staff Recommendation
"There's a land rover service that takes you from the village straight down to the bottom of the site. It gets you down and, more importantly, it gets you back up again! It's about £2 each way, so it's definitely worth using."
Michael Sweeney (Site Marketing Manager)
Family Events

From Victorian seaside fun and medieval jesters to the drama of jousts and sieges, our family events have something for everyone.

Family Membership

Enjoy unlimited access to over 400 historic places across the country with family membership from £50.

Days out for under £20

Looking for a great experience that won't break the bank? Here are our top picks for family days out on a budget, all across the country.