History of Tregiffian Burial Chamber
Tregiffian is a type of chambered tomb known as an entrance grave. It survives largely intact, despite the levelling of part of its mound to make a road in the 1840s.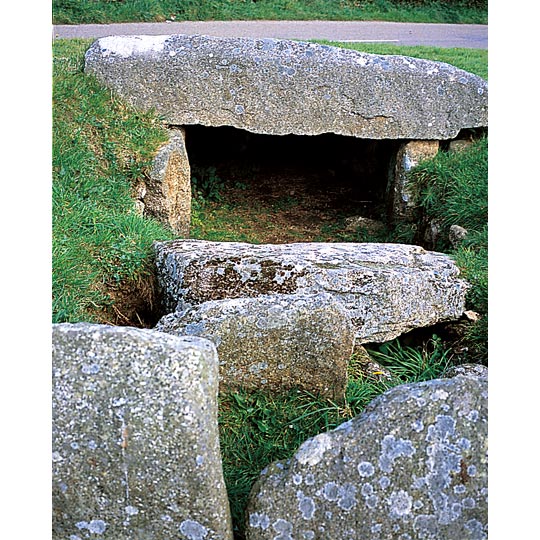 Entrance graves are funerary and ritual monuments dating to the later Neolithic, early and middle Bronze Age (around 3000–1000 BC).
Of 93 recorded examples in England, 79 are on the Isles of Scilly, and the remainder are confined to the Penwith peninsula at the western tip of Cornwall. They are also found on the Channel Islands and in Brittany.
Such tombs typically comprise a roughly circular mound of heaped rubble and earth built over a rectangular chamber, which is constructed from slabs set edge to edge, or rubble walling, and roofed with further slabs.
The few entrance graves that have been systematically excavated have revealed cremated human bone and funerary urns, usually within the chambers but occasionally within the mound.
However, it is by no means certain that they were solely – or even primarily – burial places. Some may have been shrines at which various religious rituals and ceremonies were performed.
Description
Tregiffian is a large entrance grave, with a low, narrow stone-lined chamber; what survives is about two-thirds of the original structure of the chamber.
Internally the chamber measures 16 feet (4.9 metres) long by up to 6 feet (1.9 metres) wide and 3 feet (0.9 metres) high. The walls are built from a combination of edge-set slabs and roughly coursed slabs and rubble. Four massive slabs or capstones span the chamber width to form the roof.
The entrance, at the south-west end, is constricted to 2 feet 7 inches (0.8 metres) wide by two 'portal' slabs: one of these is most unusual, as its face is entirely covered by a network of 25 carved hollows – a rare form of prehistoric rock carving called cup marks. This example may be the oldest in the south west.
The slab here is a cast of the original, which has been moved for safe keeping to the Royal Cornwall Museum at Truro.
Further Reading
Weatherhill, C, Cornovia: Ancient Sites of Cornwall and Scilly (Tiverton, 1997)
Note
The text on this page is derived from the Heritage Unlocked series of guidebooks, published in 2002–6. We intend to update and enhance the content as soon as possible to provide more information on the property and its history.