Description of Wharram Percy Deserted Medieval Village
The only standing buildings at Wharram Percy are the ruined church and some post-medieval cottages, but around them are the grassed-over foundations of two manor houses and about 40 peasant houses and their outbuildings. The outlines of several excavated buildings are marked out on the ground.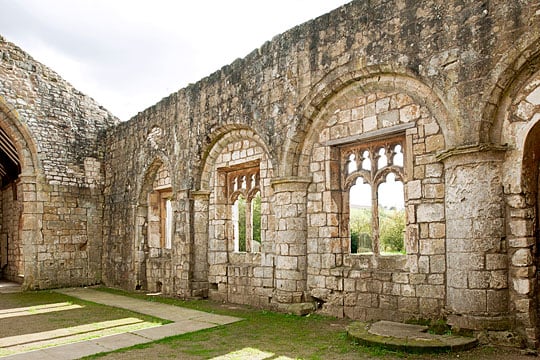 Church and Vicarages
St Martin's Church is a complex building, having evolved through six phases between the early 12th and early 17th centuries.[1] Following the collapse of the tower in 1959, the interior of the church was excavated, revealing a smaller, mid-11th-century stone church and a mid- to late 10th-century timber antecedent.
Four successive vicarages stood nearby between about 1327 and the 1830s.[2] A medieval barn, the outline of which is displayed, was extended to adjoin the earliest vicarage in 1536. When both burned down in 1553, the vicarage alone was rebuilt. It was replaced in the mid-17th century and again before 1764. The outline of the excavated ground-floor rooms of this last vicarage can be seen to the north of the church.
South Manor
At the front of a large rectangular enclosure, dominating the escarpment and the church, stood a manor house probably built by the Percy family, the village's landlords, about 1166 and owned by them until about 1254.[3] A stone-built wing comprised a smart undercroft (the excavated outline of which is displayed), perhaps used as a meeting room, which supported an ornate and well-lit solar (a private sitting room) at ground level.[4]
North Manor
A second manorial compound is now thought to have been occupied by the Percys and their successors from about 1254 until about 1406.[5] Though the complex has been little excavated,[6] its form and development can be understood through the earthworks – the hall range, a large barn and a circular dovecote are recognisable – and it seems to have been enlarged at some stage.[7]
Peasant Houses and Agricultural Buildings
The earthworks of about 40 peasant houses, including several with visible doorways and separate rooms, are interspersed with numerous barns and other outbuildings.[8] The house plots ('tofts') and their adjacent strips of land ('crofts') are grouped in three planned rows, probably built in stages between about 1166 and the late 13th century.
West Row (north) and North Row were probably tenanted by villeins (peasants who were legally under the control of a lord), while East Row comprises smaller, less regular plots that may have been occupied by cottars, who held no land other than their tofts.
West Row (south) is less obviously planned and may have been occupied by sokemen (free peasants). It contains several larger longhouses, including an excavated 14th-century example (outline displayed), which had a 'cruck' timber frame and – unusually – glazed windows.[9]
Millpond
Excavation unearthed a sequence of watermills.[10]The earliest was probably built in the mid-10th century near the centre of the millpond dam, which was reconstructed after the archaeological investigations. The location of a second documented mill is uncertain. After the village was deserted, the pond was converted into a watering-hole for livestock and then a sheepwash.
Post-medieval Farms and Wharram Percy Cottages
The brick-faced stone farmhouse of 1807, the foundations of which are displayed, overlies the site of a narrower timber-framed farmhouse built before 1674.[11] The adjacent farmyard (also excavated and displayed) comprises a byre, stables, cart-stores and threshing floor. The single-storey southern range of the yard is recognisable within the two-storey labourers' cottages of 1851.
Footnotes
1. JC Thorn, 'The structural history of the church', in Wharram III: Wharram Percy: The Church of St Martin, ed R Bell et al (London, 1987), 98–140; for a reappraisal of Thorn's dating, see D Stocker and P Everson, 'A new understanding of the church fabric', in Wharram XIII: A History of Wharram and its Neighbours, ed S Wrathmell (York, 2012), 240–62.
2. C Harding, E Marlow-Mann and S Wrathmell (eds), Wharram XII: The Post-medieval Farm and Vicarage Sites (York, 2010).
3. P Everson and D Stocker, 'Who at Wharram?', in Wharram XIII, 262–77.
4. P Stamper and R Croft (eds), Wharram VIII: The South Manor Area (York, 2000).
5. Everson and Stocker, op cit.
6. PA Rahtz and L Watts (eds), Wharram IX: The North Manor Area and North-west Enclosure (York, 2004), 3–4.
7. The interpretation of the earthworks originally proposed by John Hurst and Jean Le Patourel has been reassessed by A Oswald, 'A new earthwork survey of Wharram Percy', in Wharram XIII, 26–31.
8. Oswald, op cit.
9. D Andrews and G Milne (eds), Wharram I: Domestic Settlement I: Areas 10 and 6 (London, 1979); S Wrathmell (ed), Wharram VI: Domestic Settlement 2: Medieval Peasant Farmsteads (York, 1989).
10. C Treen and M Atkin (eds), Wharram X: Water Resources and Their Management (York, 2005).
11. For results of the excavations and interpretation of the evidence see Wharram XII.