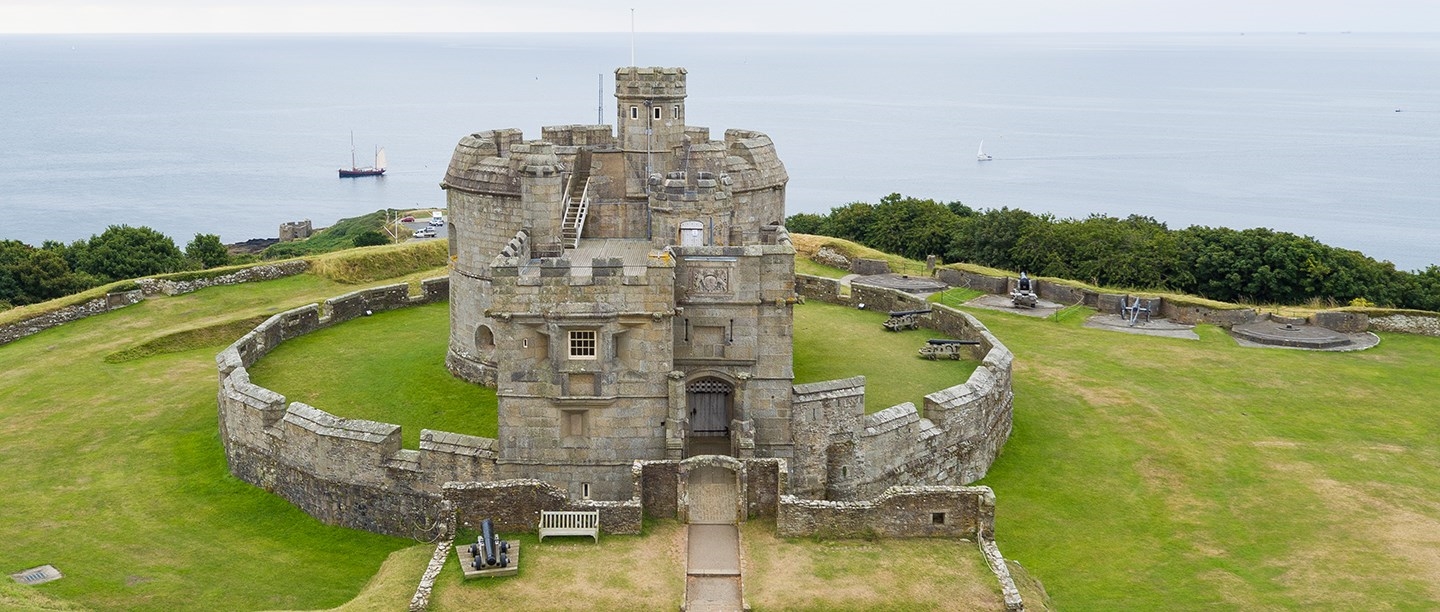 Castle Weddings
For the ultimate in wedding venues it really has to be an English Heritage castle.
Speak to a member of the Hospitality Events Team today!
Choose a stunning Historical Castle for your Wedding
With 66 castles across our historic collection you could say that English Heritage are the experts in castles, as such we have chosen two of our very best to present to you the perfect castle wedding venues. With atmospheric keeps, panoramic views, and romantic ruins, our castle wedding venue collection contains something inspiring for every couple. Imagine your own castle for the day, with rooms that require no dressing above a few flowers or lights, unique photo locations, and an impressive space in which to wine and dine your guests. Our castles often come with 'added extras' no other wedding venue can boast, such as a stunning beach for that romantic photo opportunity or a cannon fire salute.
Pendennis Castle, Cornwall
Pendennis boasts both a 16th Century castle keep and attractive barracks, both of which are perfect for wedding receptions and ceremonies. The castle is set on a grand headland with far reaching views over to St Mawes and across the Fal Estuary. Ceremonies can be held in the castle keep and receptions can be hosted in the exclusive event suites within the barracks. With a dedicated events kitchen, exclusive private events entrance and views out across the castle, you can really get the party started.
Old Wardour Castle, Wiltshire
If you are looking for that romantic ruin of a castle with idyllic tumbledown walls but enough perfectly preserved window and door openings to let the sunlight stream through then Wardour is for you. Originally inspired by the designs of French Chateaus, Old Wardour's six sided ruin is the perfect fairy tale setting. You can choose to marry within the ruined castle itself on in an 18th Century pavilion by the lake. With a past appearance in Robin Hood: Prince of Thieves castle wedding venues really don't come any more romantic than Old Wardour Castle.
Here's one of our other impressive settings for you to say 'I do'.
Eltham Palace, London
A hybrid of Art Deco elegance and medieval castle, Eltham Palace, is a venue truly fit for a modern princess. If you are looking for a castle venue you can easily fall in love with Eltham's Great Hall. Possibly the most spectacular wedding breakfast venue in the entire English Heritage collection; the Great Hall was built for Edward IV in the 1470s. With its stunning hammer beam roof, which sits high above you, you might be forgiven for forgetting that the Palace is also the epitome of 1930s luxury. The Great Hall therefore boasts under floor heating and is surrounded by Eltham's 19 acres of beautiful gardens. Hidden away in South London Eltham Palace is easily accessible from London and the South East, with accommodation options in nearby Blackheath and Bromley.
Wedding Venue Enquiries

Contact details for each venue are available on the venue page please contact them directly for further information. For other venues owned by English Heritage, please click here.

For any other enquiries get in touch below or see our FAQ page.

We aim to respond to your query within 5-10 working days if not sooner and apologise in advance for any delays.

Download the National Wedding Brochure