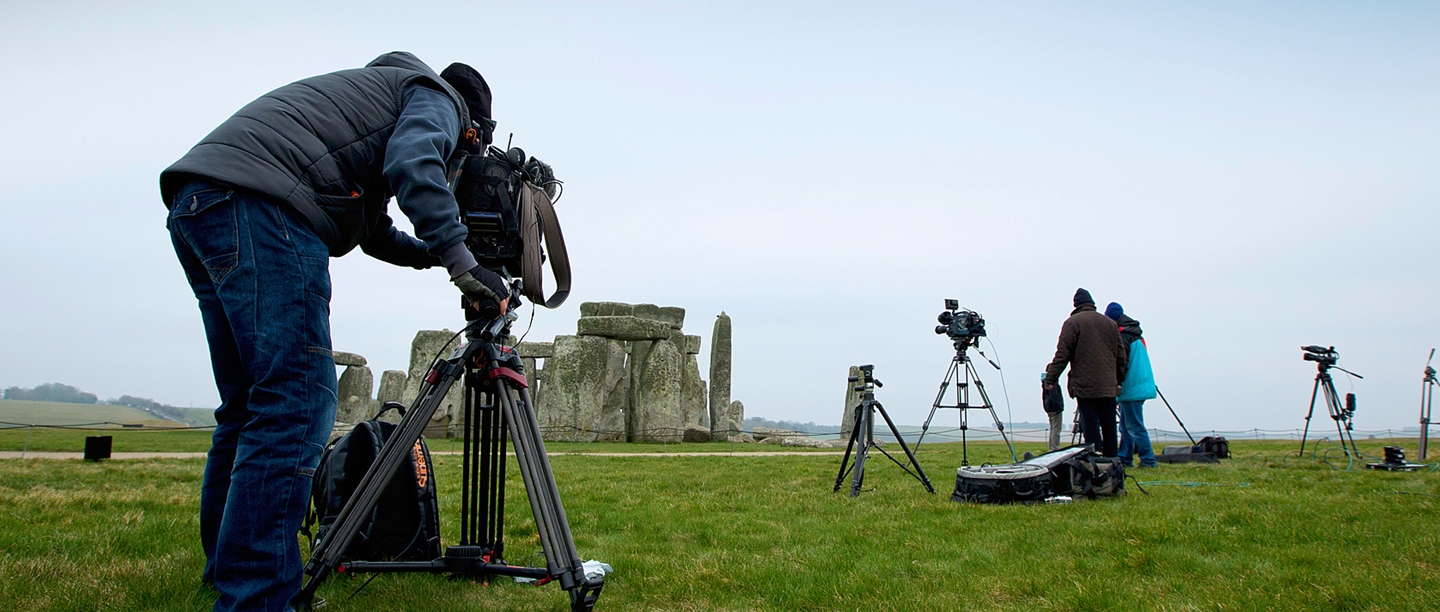 Top Ten Filming Locations
Discover more about some of the films and television series that have been filmed on location throughout English Heritage's most historic sites.
While castles and stately homes may be the first thing that spring to mind when you think of English Heritage (of which we do have a beautiful selection) we also house a vast variety of locations that may surprise you, including controllable waterways, underground bunkers, controllable roads, urban derelict style buildings, a beach, and even a 1980s disused Coastguard station.
Each site has something unique to offer. We are proud to have provided locations for a variety of projects over the years from historic based documentaries (National Geographic, the BBC) to large scale feature films (Into the Woods, The Huntsman). We are lucky enough to manage some of the most iconic sites in England such as Stonehenge and Dover Castle alongside continually uncovering sites packed with filming potential.
Our Venue Hire team is dedicated to providing location managers with all the information they need from initial enquiries right through to on the ground support on location during a hire. Seen something of interest? We'd love to hear from you! Contact us at Filming.enquiries@english-heritage.org.uk or by calling 0300 020 0017
Discover your next filming location
Dover Castle, Kent
A vast site with a huge selection of medieval to WWII interiors and exteriors available to hire. From miles of underground tunnels to stunning coastal panoramic views, Dover Castle is packed with capability. It has housed feature films such as Into the Woods and Marvel's Avengers: Age of Ultron, and you will have often seen it double for the Tower of London on TV series such as Wolf Hall (2015).
Tilbury Fort, Essex
Tilbury Fort is a newly discovered site where filming is concerned and in a short space of time has become hugely popular. With a large area of cobbled hard standing it is the perfect place for large scale set builds and housing unit bases. It also houses its own moat and bridge along with a run of Georgian style terrace houses known as the officers' quarters.
Stonehenge, Wiltshire
As one of the most iconic sites in the world Stonehenge speaks for itself as an iconic dramatic backdrop and a great source of historic interest. Filming is possible between sunrise and 9am on allocated days. Coaches are available to transport crew and equipment from the visitor centre up to the stone circle. Surrounding fields can serve as unit bases.
Eltham Palace, London
A beautiful blend of stunning art deco and medieval interiors Eltham Palace truly is one of the most unique sites in London. The house and its team are proud to have facilitated many great projects in recent years (ITV's Jekyle and Hyde, Florence and the Machine 'Shake it Out'). The main entrance hall, bedrooms and great hall are just a few examples of the dynamic interior spaces available in the house, all set within the beautiful landscaped gardens that offer a wealth of open spaces to hidden walkways, and even a moat. The main visitor car park lends itself as a great unit base for larger productions. There is also an attractive café area housed in the former Orchid House.
Kenwood, London
Set on Hampstead heath, Kenwood offers some of the most beautiful skyline views of London, and is easily accessible from the city centre. The Georgian exteriors of Kenwood, set within 74 acres of landscaped ground including flower gardens, lakes and natural woodland. offer a stunning backdrop for filming on the doorstep of the capital.
Ranger's House, London
Based adjacent to Greenwich park the Georgian mansion is a great location for filming and stills. Easily accessible from central London, the redbrick exteriors of Rangers House and its adjoining garden are a hidden gem.
Wrest Park, Bedfordshire
A truly vast site absolutely packed with filming potential. 92 acres of land including landscaped lawns, bowling pavilion, roman style bath house and winding river stretch out from the French inspired 19th Century mansion.
Carlisle Castle, Cumbria
Carlisle castle is great example of the many sites we have to offer in the North of England. At over 900 years old, its stone walls and tower create a wonderful backdrop for photographic opportunities. As well as its medieval origins, the castle is also home to several MoD units some of which are vacant. Of these units, one houses a complete and untouched 80's style 'mess bar/working men's club'. The large hardstanding within the castle walls makes for a great unit base or set build opportunity.
Belsay Hall, Northumberland
Belsay Hall is a truly unique site. The main 19th-century mansion house with original wallpaper throughout and, with no interpretation in place, really is a blank canvas full of opportunity. Also on the site you will find the original 14th Century castle, stunning landscapes and an incredible quarry garden. The quarry garden's sheer rocks faces enables a microclimate to keep the variety of tropical plant life thriving. An exotic backdrop such as this really is a special find in Newcastle and in the height of summer cannot be missed.
Be inspired and get in touch