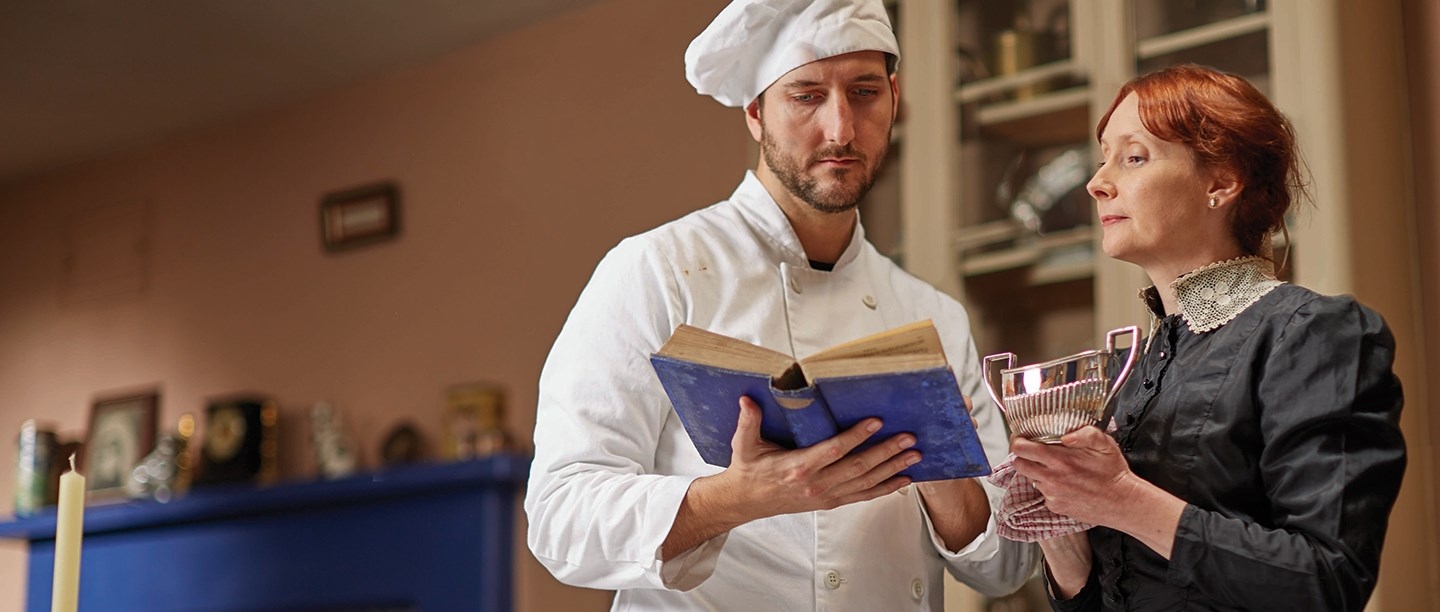 CHRISTMAS CRAFTS AND HISTORIC RECIPES
Join our Victorian cook Mrs Crocombe in the historic kitchens at Audley End House as she makes everything you need for a traditional festive feast. Or mix up some fabulous 1930s cocktails in Art Deco splendour at Eltham Palace.
We're also showing you how to make a Tudor wreath known as a 'kissing bough' and sharing a few creative ideas for historic recipes and crafts from our blog.
Christmas Crafts for all family
Make your own christmas crackers the victorian way
Set your festive season off with a bang by making your own traditional, Christmas crackers with our step-by-step guide. They're simple enough for kids to have a go, and we have a range of other creative things to do too - including Christmas cards and decorations.
If you're inspired to try making any of these projects, we'd love to see the results! Share your photos with us on Facebook, Twitter and Instagram.
Get Cracking
How to make a tudor christmas wreath

The kissing bough was one of the most popular Christmas decorations in Tudor times. Here are step by step instructions on how to make one. Suitable for adults and older children.

How to make a paper angel Christmas garland

Follow our simple guide and create an angel garland to decorate your mantelpiece or Christmas tree, in much the same way that people in Victorian Britain would have done. Suitable for children.

How to make a layered Christmas tree card

With our step-by-step guide, you can continue a 170-year-old tradition by creating a handmade Christmas tree card, complete with decorations. Colouring pens at the ready! Suitable for children.
TRADITIONAL RECIPES FOR A FESTIVE FEAST
VICTORIAN CHRISTMAS RECIPES
A RECIPE FOR MINCE PIES FROM VICTORIAN ENGLAND
Mrs Crocombe is making traditional mincemeat in the Victorian kitchens of Audley End House. She's made enough to last the whole Christmas season and will be using it to make some mince pies today. For the full ingredients and method, head to our YouTube channel below:
FESTIVE DRINKS FROM HISTORY
VICTORIAN GIN PUNCH
At their most basic, gin punches were made from lemons or oranges, sugar or honey, hot water, and gin. A slightly more elevated version would include one or more extra alcohols - rum or brandy, sherry, Madeira or a liqueur. Get the full recipe and more from Mrs Crocombe on our YouTube channel.
Celebrate in the style of the decadent 1930s with three vintage cocktails. We mixed them all up in the sumptuous Entrance Hall of Eltham Palace where Stephen Courtauld mixed drinks for his guests in the evening.

DRINK LIKE A NORMAN

Whatever they thought of the English reputation for drunkenness, the Normans appear to have had no problem with joining in our frolics...

SHOP FOR CHRISTMAS DRINKS

Browse a range of alcoholic drinks based on old English recipes, including fruit wines, traditional meads and liqueurs sparkling wines, gin, punch and port. They're all made in England and all perfect as gifts for any drink connoisseur.
IF YOU LIKE THIS, YOU MIGHT ALSO ENJOY