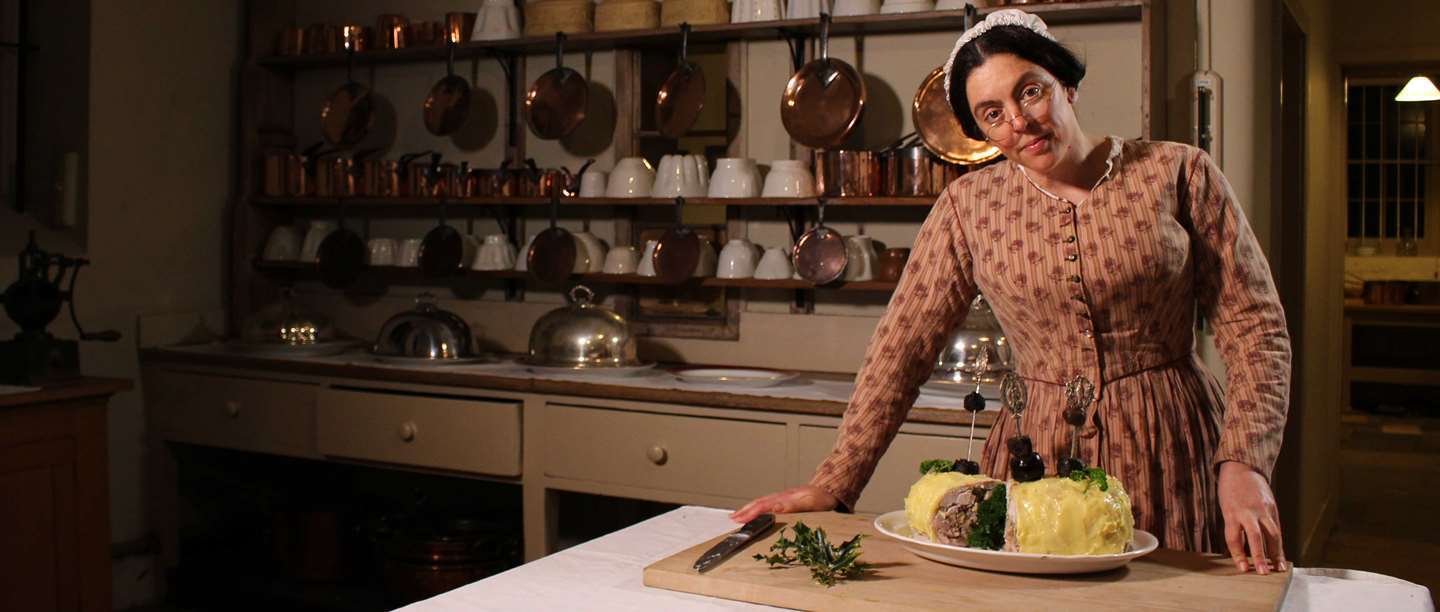 Victorian Recipes for Christmas
Mrs Avis Crocombe was the head cook at Audley End House in the 1880s, and we're lucky enough to have her hand-written recipe book in our collection.
This Christmas, you can prepare your own traditional Victorian feast using Mrs Crocombe's recipes. Travel back in time and get a taste of Christmas as it was nearly 140 years ago.
Christmas Cake
This traditional plum cake is based on a recipe by Charles Francatelli, who was Queen Victoria's chief cook from 1840 to 1841.
Filled with lots of fruit including plenty of chopped cherries and spices, it's bound to delight your guests this Christmas.
Christmas Turkey
If you fancy trying something a bit different with your turkey this Christmas, then why not try Mrs Crocombe's recipe for Galantine of Turkey?
This recipe calls for your turkey to be filled with a scrumptious pistachio stuffing, which is worth a taste at any time of the year.
Gingerbread
Follow Mrs Crocombe's recipe for gingerbread decorations and try hanging them on your Christmas tree - if you can resist eating them. They not only look beautifully festive, but will also fill your home with a deliciously sweet and spicy fragrance.
Mince Pies
Christmas just isn't Christmas without a mince pie or two...or six. Impress your friends with some homemade Victorian ones, straight from Mrs Crocombe's recipe book. You might need to warn them about one particular ingredient though...ox tongue can be an acquired taste!
Gin Punch
What's your favourite Christmas tipple? Mrs Crocombe always prepared a gin punch as a festive treat for the servants at Audley End House, and it's still the perfect pick-me-up on long, cold winter nights.
Cup of Tea
The presents are wrapped, the turkey is stuffed and the vegetables have been peeled. If you've been rushed off your feet this Christmas, make sure you take some time out to enjoy a relaxing cup of tea. How do you take yours?
Gift of membership

Wrap up 6,000 years of history for friends or family with the Gift of Membership this Christmas and enjoy days out together.

Christmas Shop

Get stocked up now with some Christmas essentials or buy the foodie in your family some mouth-watering treats. Browse our shop for a feast of festive inspiration.