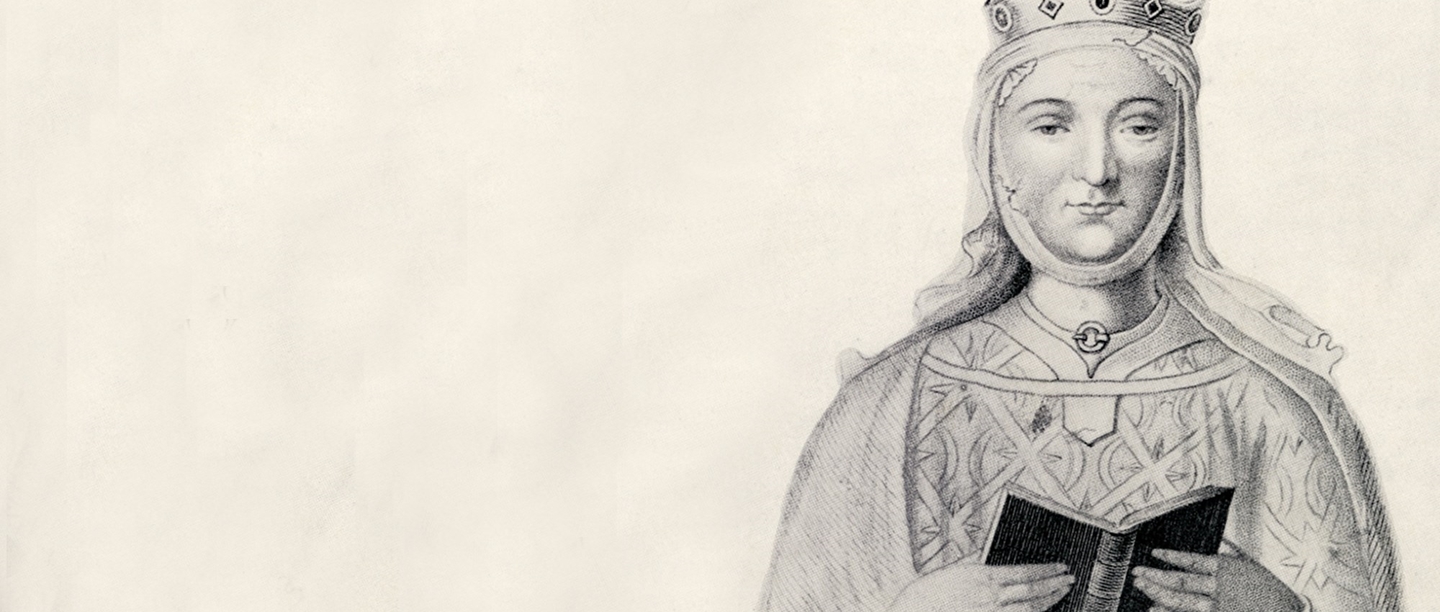 Eleanor of Aquitaine
Eleanor of Aquitaine was queen of two great medieval European powers – England and France. One of the wealthiest women in Europe, she played a very active role in government affairs.
Lived: about 1122–1204
Field: Royalty, government affairs
Key moment: Taking part in a plot against her husband, King Henry II, in 1173.
The most eligible woman in Europe
Born in about 1122, Eleanor became Duchess of Aquitaine, a region in what is now south-western France, after her father's death in 1137. The teenage Eleanor had suddenly become the most eligible bride in Europe.
In 1137, Louis VI, King of France, secured Eleanor as bride to his son and heir, Prince Louis. Eleanor travelled to Bordeaux and married Louis on 25 July 1137. Within a few months of the wedding the king was dead, and Eleanor and Louis (now King Louis VII) were crowned king and queen of France on Christmas day 1137.
An unhappy marriage
Eleanor and Louis had two daughters, Marie (born in 1145) and Alice (1150), but their lack of a son and heir caused tension between the couple.
Louis left to go on a crusade to the Holy Land in 1147, and Eleanor persuaded him to allow her and her ladies to accompany the army. The crusade was a disaster, and Louis showed himself to be a weak and ineffectual military leader. Meanwhile Eleanor was lauded for her strength and wisdom during the crusade. The couple returned to France in 1149, and by 1152 their marriage had been dissolved.
Queen of England
Though Eleanor wished to stay unmarried, this was impossible because her wealth and power made her a target for kidnapping (if she was forcibly married, the kidnapper could take her lands).
One kidnapping was attempted in 1152 by Geoffrey of Anjou, but Eleanor escaped. She reportedly sent an envoy to Geoffrey's older brother Henry, Count of Anjou and Duke of Normandy, demanding that he marry her instead. Whether this is true or not, Henry and Eleanor were married on 18 May 1152, just eight weeks after her marriage to Louis VII was annulled.
In 1154, Henry became King Henry II of England. Eleanor bore him eight children, and played a very active role in government for almost two decades. However, her relationship with Henry was strained, partly due to his neglect of their children. Eleanor returned to Aquitaine in about 1168 with two of their sons, Richard and Geoffrey.
Revolt and Imprisonment
In 1173 Eleanor's eldest surviving son, Henry, dissatisfied with his lack of power, plotted to overthrow his father. He travelled to Aquitaine, and his brothers Richard and Geoffrey joined him in the plot. Eleanor's reasons for supporting their revolt are not clear, but she may have been motivated by the way her power in Aquitaine was being constrained, and possibly also by Henry's treatment of their sons.
The revolt failed, and in 1173 Henry II captured Eleanor. He imprisoned her for almost 16 years at various locations, including Old Sarum in Wiltshire. It seems that she was kept in some comfort there – fine clothes for Eleanor and her household seem to have been dispatched regularly from London, and between 1175 and 1180 the sheriff of Wiltshire spent large amounts of money on the queen's maintenance at the castle.
Find out more about Old Sarum
Return to power
During her long imprisonment she saw little of her children, but they remained close to her. When Richard succeeded to the throne in 1189 as Richard I, one of his first acts was to release Eleanor and grant her powers over English political affairs.
During the last 15 years of her life Eleanor displayed extraordinary abilities as a ruler. Richard spent most of his time away on crusade, and Eleanor acted as vice regent along with her younger son, John. Although Eleanor's official role in English affairs ceased on Richard's death in 1199, she continued to wield considerable influence. She remained closely involved in the affairs of Aquitaine until her death at the age of 82 in 1204, maintaining her role as one of the most influential and revered people of medieval Europe.
Old Sarum

Discover Old Sarum, where the remains of a medieval royal castle and the original Salisbury Cathedral stand within an immense Iron Age fortification.

Women in history

Read about the remarkable lives of some of the women who have left their mark on society and shaped our way of life – from Anglo-Saxon times to the 20th century.

Pioneering women in London

Discover some of London's famous residents who took the historic first steps to open up new opportunities for women, and are now commemorated by blue plaques.