Eleanor de Montfort
An influential woman at the centre of a civil war, Eleanor acted independently to protect her own interests and those of her family and her supporters.
Lived: 1215–1275
Field: Woman at war
Key moment: Held Dover Castle against siege in 1265.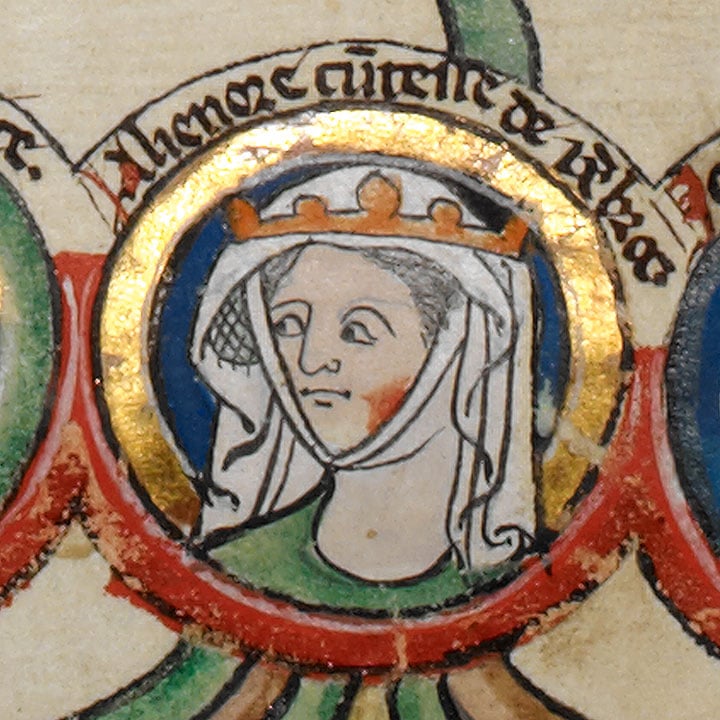 THE SECOND BARONS' WAR
Over the course of the mid-13th century a group of English barons became increasingly dissatisfied with Henry III's rule, believing that the king was giving too much influence to foreign relatives of the royal family. This resulted in a period of conflict between 1264 and 1267 later known as the Second Barons' War.
By 1263 Simon de Montfort, 6th Earl of Leicester, had emerged as the baronial party's leader. In 1264, following the capture of Henry III and his heir (the future Edward I) at the Battle of Lewes, Simon became the de facto ruler of England.
THE KING'S SISTER
Simon de Montfort's influence in English politics came in part from his wife, Eleanor, who was Henry III's sister. She was a very wealthy widow when they married in 1238 – her first husband had been the powerful William Marshal the younger, Earl of Pembroke.
Eleanor also seems to have been personally assertive, nothing like the model of the meek, submissive wife praised by contemporary moralists. A letter to her by the Franciscan friar Adam Marsh, a long-term correspondent of Eleanor's, advised her to lay aside quarrels and act in a spirit of moderation when counselling her husband.
During the early months of the Montfordian regime Eleanor was at her manor of Odiham in Hampshire. There she acted as a communication hub between her husband and sons as they took control of key areas of the country while networking with supporters, including the Bishops of Lincoln and Worcester, and housing prisoners such as the royalist Sir Robert de Brus.
She also appeared alongside her husband at his grand Christmas court held in Kenilworth Castle, Warwickshire, the family's primary seat and the centre of their regime.
ELEANOR AT DOVER CASTLE
On 28 May 1265 Prince Edward escaped from captivity, restarting the war and causing Eleanor to move to the greater security of Dover Castle, where she could hope to influence the important Cinque Ports (the confederation of the five ports of Hastings, Romney, Hythe, Sandwich and Dover).
Very unusually her accounts for her time in Dover survive – the earliest document of its type from outside the royal household. These accounts give us an unparalleled insight into daily life in the castle. For example, we know that Eleanor ate all her meals in the hall with the rest of the household and that those meals would never include either meat or poultry on Fridays and Saturdays. During one feast for the burgesses of Winchelsea and Sandwich on 12 July 1265 half an ox, two sheep and a pig were consumed, as well as both red and white wine and ale.
Other more personal details also survive, such as the deputy captain's child being given a gold brooch as a birthday present, and the names of various servants who would not normally appear in the historic record, including William the carter and Petronilla the laundress.
END OF AN ERA
Tragedy struck Eleanor on 4 August when both her husband and eldest son were killed at the Battle of Evesham. This left her in a very vulnerable position – as an influential member of the overturned regime in possession of Dover Castle, a key strategic location, she was naturally a target.
In contrast to the wife of another rebel baron, Hugh Despenser, who surrendered the Tower of London as soon as she heard her husband had died at Evesham, Eleanor decided to keep control of Dover. She had already prepared to defend the castle in July by bringing in a siege engine and employing an engineer, but her focus was on using the castle's location to protect her surviving family members. For example, she paid her younger son Richard's debts before transporting him to Dover on his way to the continent. She also sent 11,000 marks in cash to France for the family's use.
Life in the castle became more difficult during this time, with food being obtained 'by booty' (raided) rather than bought as it had been before.
THE 1265 SIEGE
Eleanor's accounts end before the dramatic events of October 1265. However, chronicle accounts tell us that 14 royalist prisoners whom Eleanor was holding in the great tower at Dover Castle convinced their guards to release them, and fortified the tower against her. When Prince Edward heard what had happened he besieged the castle.
Attacked from both within and without, Eleanor negotiated a settlement in which she was exiled to the continent, all goods in the castle other than personal clothes and arms were handed over to the king, but her supporters would receive pardons. The success of her negotiations is shown by the fact that at least one of the men with her at Dover, the deputy constable Sir John de la Haye, had his lands returned to him as early as 9 November.
Eleanor left the country on 28 October and became a nun at Montargis Abbey, about 70 miles south of Paris. She died there in 1275.

Top image: Eleanor de Montfort, depicted in a 13th-century genealogy of the Kings of England
© British Library Board (MS Royal 14 B.VI)
Find out more
Further Reading
Louise J Wilkinson, Eleanor de Montfort: A Rebel Countess in Medieval England (London, 2012)