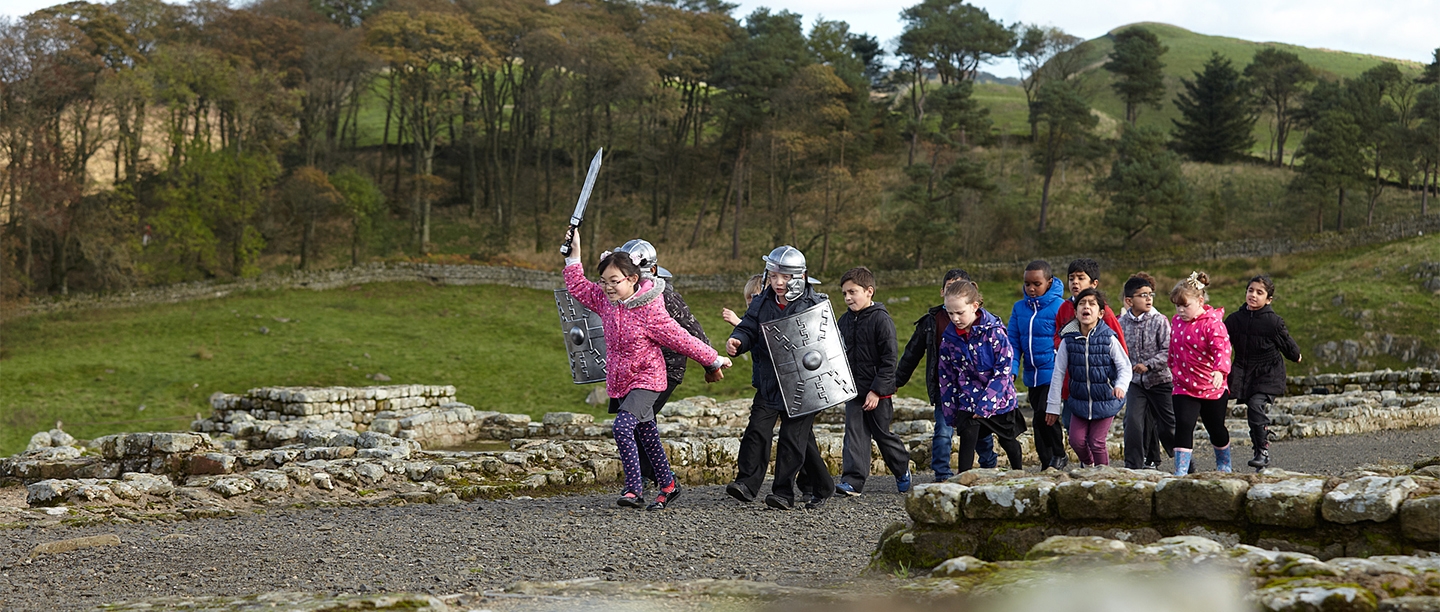 1900 years of Hadrian's Wall
2022 marks 1900 years since the construction of Hadrian's Wall began.
To mark this important milestone, we've created a series of exciting education activities, events and resources to bring your study of the Romans to life. Come and visit us for free at one of our sites along the Wall, explore a Roman city or villa, or take part in Roman activities in your classroom.
Find out all you need to know about the Romans and the significance of this UNESCO World Heritage Site.
Visit Hadrian's Wall
Explore the iconic Hadrian's Wall with your class and learn more about how the Roman's changed the course of Britain's history. Visit Houseteads Roman Fort, the best preserved along the Wall and discover what life was like for the 800 soldiers based there, or take your students down the cobbled street of Corbridge Roman Town, and explore the civilised world that Hadrian's Wall was built to protect. Book a free self-led visit or enhance your day with an expert-led Discovery Visit at selected sites.
Find out more
Wroxeter Roman City

Book a free self-led visit, or allow our experts to guide your students through the remains of what was once one of the largest towns in Roman Britain.

Lullingstone Roman Villa

Lullingstone Roman Villa provides an insight into Roman Britain, and into the lives of the people who lived at the villa.

Richborough Roman Fort

Richborough is perhaps the most symbolically important of all Roman sites in Britain, witnessing both the beginning and almost the end of Roman rule here.
Birdoswald Learning Day

Pupils will examine Hadrian's Wall in more detail with us during our fun, hands-on learning day. Register your interest to take part in our free sessions on 5 and 6 July.

Build the Wall at School

Can't travel to the Wall? Then build it for yourself! Follow our handy guide and recreate Hadrian's Wall in your classroom and share your construction successes with us!
Teaching and Learning Resources
Teaching the Romans

Read advice from our educational experts and historians and explore suggested activities that you can try with your students at home, in the classroom, or on a school trip.

Local Learning: Hadrian's Wall

Use our Local Learning guide for Hadrian's Wall to support KS1 students learning about their locality and KS2-3 embarking on their Local History study.

Curators' Collections: Hadrian's Wall

Hear from our curator Frances McIntosh as she highlights some key objects from sites along the Wall and the stories they reveal.

Discover the Wall (Podcast Playlist)

Join Maddie Moate as she discovers the rich history of life on Hadrian's Wall in this podcast series.
Video Resources
Explore our range of videos highlighting what life was like for people building, guarding and living along Hadrian's Wall during the Roman period.
Discover the story behind the Wall's beginnings, meet a Roman Legionary and find out more about how the Romans changed Britain. Discover more about how Roman fashions and take to the skies above Chesters Roman Fort to survey the surviving remains of a Roman cavalry fort.
How did the Romans Change Britain?

Postcard from Chesters Roman Fort and Museum