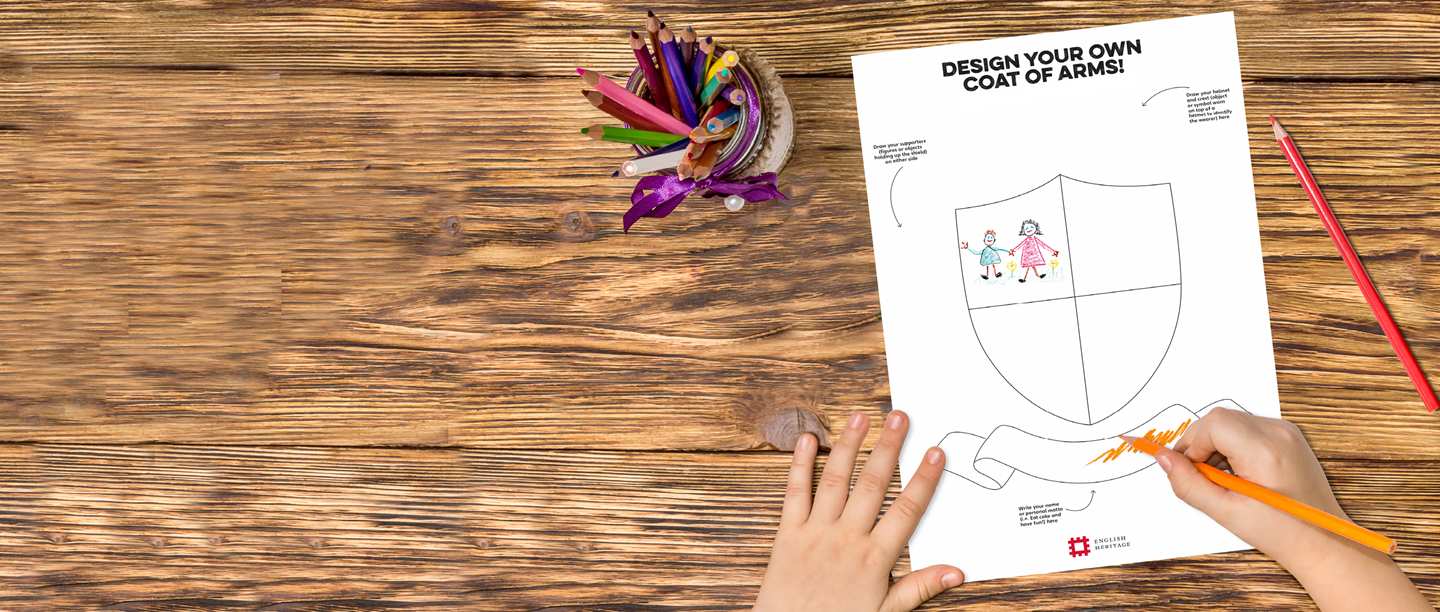 Design your own coat of arms
Follow our instructions to design your own coat of arms!
Learn about the history of coats of arms, including the royal coat of arms, and how the designs were used to show who they represented. Then use our guide to the heraldic code and simple downloadable template to design your own coat of arms to represent you or your family!
What is a coat of arms?
A coat of arms is the name for the colourful decoration that noble families used to represent themselves, and they date all the way back to the 1100s. When they went into battle or competed in tournaments, knights and royalty wore their coats of arms on their shields and as part of their outfits, so they could tell who was who.
Sometimes, two families wanted to have the same design. When this happened, a special court – called the High Court of Chivalry – would decide which family was allowed to keep it. For anyone to have a coat of arms today, it must have either been given to them or inherited from another member of their family.
The Royal coat of arms
In the United Kingdom, the monarch has their own coat of arms, which is used to represent them. It can also be found on public buildings like courts, and on products with royal warrants that are bought by the royal household.
The coat of arms has changed over time, and each element is an important symbol. In the four sections of the shield are the Royal emblems of England (three lions), Scotland (single lion) and Ireland (harp). On each side, the two supporters holding the coat of arms represent England (the lion) and Scotland (the unicorn). The special position of Wales as a Principality, represented by His Majesty King Charles III's eldest son the Prince of Wales, meant that it was not included in the Royal Arms. Instead the Prince of Wales has a separate coat of arms which includes the arms of Wales at its centre. The plants of the United Kingdom are also often included under the shield. If you look carefully, you should be able to spot the English rose, Scottish thistle, Welsh leek and Irish shamrock.
There are two mottos on the royal coat of arms. The one surrounding the shield in the middle is written in Latin and means 'Evil to him who evil thinks'. It represents the Order of the Garter, an ancient order of knights who are chosen by the reigning monarch. The second motto is written in French at the bottom of the coat of arms, it means 'God and my right'. This is the motto of the monarch and is a reference to the idea that kings and queens have a divine (God given) right to rule.
What did they look like?
Designs for coats of arms included four main things:
In the centre was a shield divided into sections. Each section had an image in it to represent the family the coat of arms was made for.
On either side of the shield, there might be objects or animals that look as if they're holding it up. These are called supporters.
Above the shield was a helmet and a crest. A crest is a special object worn on top of a helmet to help identify who's wearing it.
Below the shield was a phrase, often written in Latin, called a motto. This was designed to reflect the person's beliefs.
Heraldic Code
Discover the medieval names and meanings for the different colours, shapes and animals used on coats of arms. When heraldry began to be used, knights and their families spoke Norman French, and the elements used in coats of arms had special names in this language.
You don't need to know this code for your own coat of arms, but you could use the colours, shapes and animals in your own design.
Discover the code
Create your own design
Now it's your turn to create your own coat of arms. To help you get started, we've created a template that you can download, print off and fill in - just click on the link below.
Your design could include drawings of your home, family, pets, favourite superheroes, video games - anything goes!
Don't forget to include supporters on either side, a helmet and crest at the top, and a motto along the bottom.
Download your template
Become a member
Not a member yet? With a membership, you can enjoy access to more than 400 historic places for a full year, plus discounted entry to hundreds of family events and our exclusive members' magazine.
Family membership starts at just £5.75 a month.
Join today