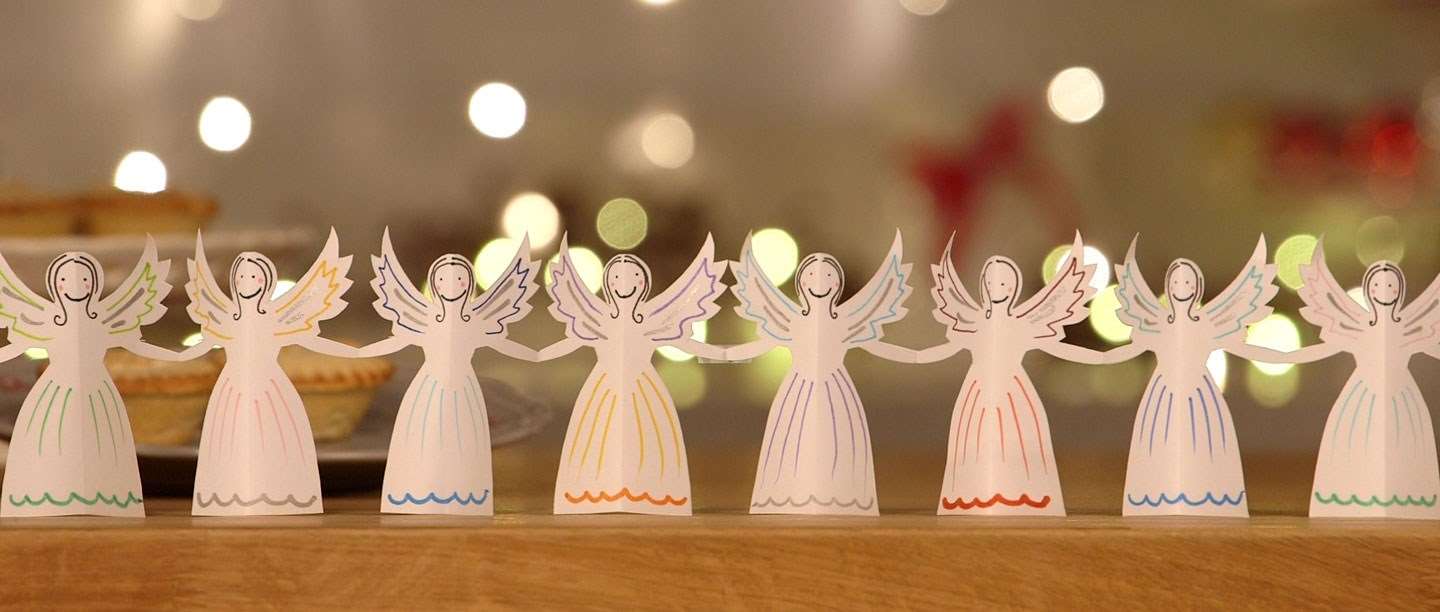 Christmas craft: How to make an angel garland
There's no better way to add some festive cheer than by making a pretty angel Christmas garland.
Follow our simple guide and you'll be able to create garlands to decorate your mantelpiece or Christmas tree, following a tradition that was popularised in Victorian Britain in the mid 19th century.
Victorian Decorations
It's hard to imagine Christmas today without crackers, gifts and a tree. Yet, at the start of the 19th century, Christmas was barely celebrated.
It wasn't until the late 1840s that many of the trappings we now associate with the festive season were popularised by Queen Victoria and her husband Prince Albert, and decorating your home at Christmas (often with homemade adornments) became fashionable.
You will need:
Angel template (download here)
A sheet of A4 paper
A pencil
Scissors
Sticky tape
Colouring pens or pencils
Step 1. Cut out your chosen Angel Shape
To get started, download the angel garland template and print it out on to A4 paper.
Choose the style of angel you would like to make and cut out the shape.
Little ones: ask an adult to help you with scissors!
Step 2. Fold paper into pleats
Fold the plain piece of A4 paper in half horizontally and then unfold it. Fold again by bringing the edges of the paper in to meet the line you made with the first fold.
Now you should have four evenly spaced folds across the paper. Fold the spaces between each of these folds in half, flipping the paper over as you go.
Step 3. Place the template on the paper
You should now have a strip of paper folded up in a concertina shape.
Place the angel template you cut out on top of the paper, with the angel's head next to the fold, and her hand on the edge of the paper.
Step 4. Draw around the template
Using a pencil, draw around the outside of the angel template.
Then move the template further down the paper and draw around it a second time.
Step 5. Cut out the outlines
Carefully cut along the lines you've drawn, making sure not to cut along any of the folds. Little ones should ask an adult to help with scissors!
Unfold the paper and you'll have two matching sets of four angels. Using a small piece of tape, join the two sets of angels by sticking their hands together.
Step 6. Decorate the angels
Flip the garland over and decorate your angels however you like! Felt pens and crayons will make beautiful colours, and why not try using glitter or pieces of wrapping paper?
Have fun getting creative - and why not ask your parents to share your designs with us on Facebook and Twitter.
Video: How to make paper Angel Garlands
To see how we made our own set of angel garlands, watch our step-by-step video guide.
It will help explain how to fold the paper into a concertina shape and give you some great ideas for how to decorate your angels!
Download the angel template
Download these simple templates to start making your angel garland.
We've got three different designs to choose from. Why not make one of each?
Download Angel Template
You may also be interested in