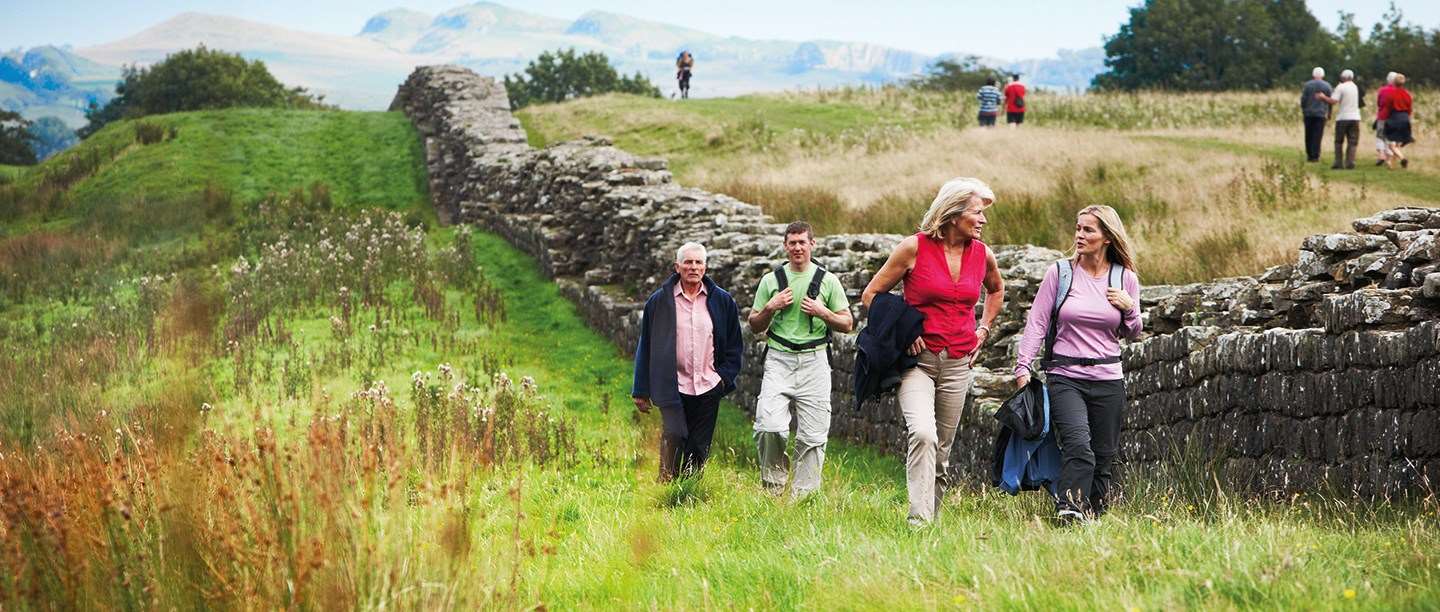 Stride into Spring
Embrace the season with these five walks encompassing your favourite English Heritage properties, from Bolsover Castle in Derbyshire to Walmer Castle in Kent, and download our step-by-step guides and maps.
Derbyshire: Bolsover Castle and Sutton Scarsdale Hall
Distance: 7 miles (6 hours, visiting the properties) Difficulty: 2/5 Stay: East Lodge, Hardwick Old Hall
Based around Bolsover Castle, this route explores the heritage woven into the landscape of the East Midlands and connects two prominent landmarks of north-east Derbyshire.
It's a rural route through open countryside that takes in the Bolsover Model Village, built in the 1890s to house employees, and Carr Vale Flash wetland reserve, one of the best places in Derbyshire for birdwatching.
Download the Walk PDF
Kent: Walmer Castle to Deal Castle
Distance: 2 miles (2 hours, visiting the properties) Difficulty: 1/5 Stay: Garden Cottage or Greenhouse Apartment, Walmer Castle and Gardens
Nothing blows away the cobwebs like a bracing coastal stroll. This short, linear walk follows a well-marked coastal trail along shingle beach with one eye on the sapphire waters of the English Channel.
'I love the fact you are really on the edge here,' says Rowena Willard-Wright, a senior curator based at Dover Castle. 'It's about as far as you can go before reaching France.'
Download the walk PDF
London: Apsley House, Wellington Arch and Jewel Tower
Distance: 1.5 miles (3 miles circular) Difficulty: 1/5
'When a man is tired of London, he is tired of life,' wrote Samuel Johnson. The 18th-century writer penned the words while living in Holborn and his house is now marked by one of 900 English Heritage blue plaques in London.
This short stroll takes in Johnson's house in Holborn as well as Apsley House (the former home of the first Duke of Wellington), Wellington Arch and Jewel Tower.
Download the Walk PDF
Norfolk: Castle Acre Priory
Distance: 6.4 miles (4 hours with visits to the properties) Difficulty: 2/5
This gentle stroll around a rural west Norfolk village connects visits to Castle Acre Priory, one of the best-preserved monastic sites in England, and Castle Acre Castle and Bailey Gate.
'Castle Acre remains a place of calm, a destination for many modern-day pilgrims' – Jo Murfitt, property steward at Castle Acre Priory.
Download the Walk PDF
Northumberland: Housesteads Roman Fort to Chesters Roman Fort
Distance: 9.6 miles (6 hours) Difficulty: 3/5
This walk along the moderately undulating central section of Hadrian's Wall offers history, landscape and nature. It explores some of the free to enter sites managed by English Heritage, such as Sewingshields Wall and the Temple of Mithras near Carrawburgh Roman Fort.
'This section highlights how much of the Roman architecture remains embedded in the landscape to this day' – Frances McIntosh, curator of Roman collections at Corbridge Roman Site, Northumberland.
Download the Walk PDF
You may also be interested in