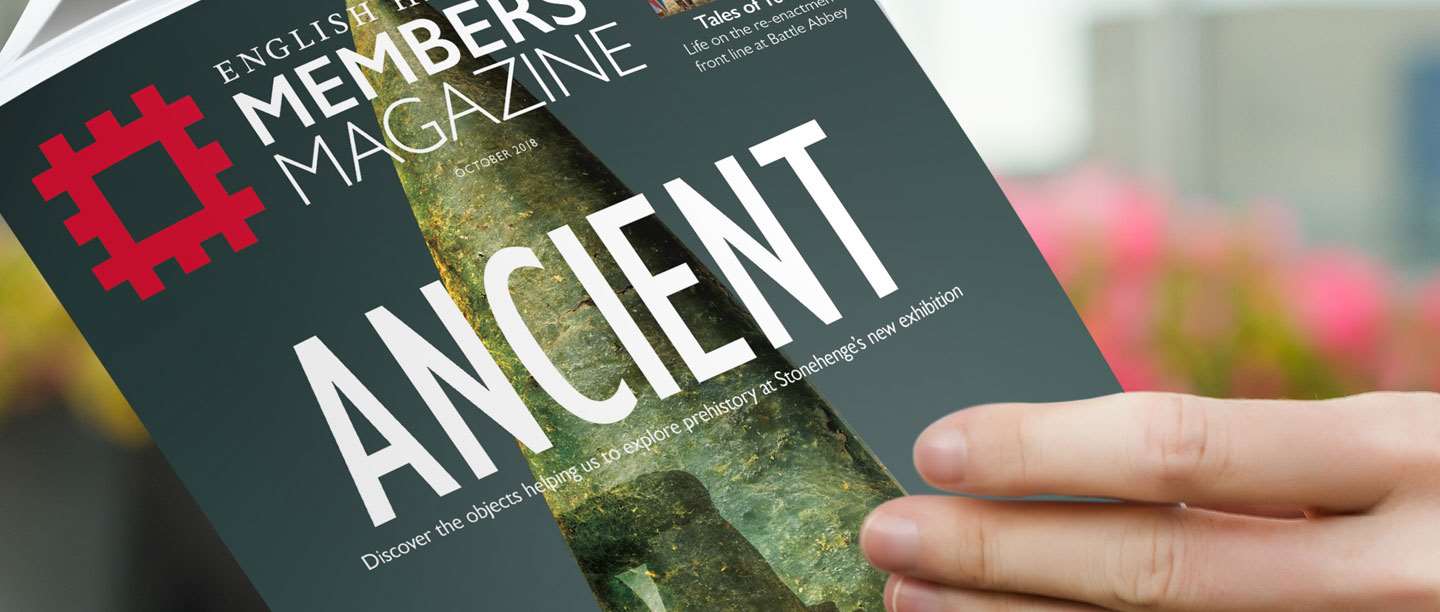 English Heritage Members' Magazine
Discover the October 2018 issue of the Members' Magazine and delve deeper into the stories with exclusive articles, quizzes, competitions and more.
A guide to the battle of Hastings
Each year we celebrate the anniversary of the Battle of Hastings with a spectacular re-enactment which takes place at 1066 Battle of Hastings, Abbey and Battlefield. Discover the events that led to what is one of the most turning points in British history, plus watch our fascinating video to find out how chain mail is made.
Get ready for battle
Plan a spooky day out
Watch our video to learn how to carve a traditional halloween turnip (the predecessor to the pumpkin!) and uncover the tales of some of the spookiest experiences staff and visitors have had at our sites. Dare you plan your own visit to see if you have a strange encounter of your own?
Prepare for a scare
The Iveagh Bequest
When the owner of Kenwood house – Edward Cecil Guiness, 1st Earl of Iveagh – passed away in October 1927, he bequeathed the house and its exquisite collection of old master paintings to the nation. Discover more about this philanthropic act and some of the beautiful paintings on display at Kenwood.
Discover the collection
Support your family's education
Education doesn't just have to be reserved for the classroom. We take a look at some of the opportunities for organised school trips to some of our top sites for educational visits, plus how you can plan your own family trip to educate and inspire your family.
Plan an educational visit
20 Questions Quiz
How many stones in the stone circle are visible today? How many people visit Stonehenge each year? Where did the stones come from?
Find out the answer to these and other curious questions about Stonehenge with our 20 questions quiz.
Find out the answers
Join the Readers' Panel
Our Readers' Panellists provide us with valuable feedback about the Members' Magazine, helping us to make sure each new issue continues to interest and inspire you. What's more, each time our Readers' Panellists send their feedback, they're entered into a prize draw to win £25 worth of Amazon vouchers.
Find out more about the Readers' Panel
Members' Rewards
Our Members' Rewards scheme gives you access to a variety of exclusive offers, discount deals, fantastic competitions and unforgettable experiences – all negotiated just for you with many of Britain's top brands.
Discover your rewards
October 2018

July 2018

May 2018

March 2018

October 2017

July 2017

May 2017

March 2017
Discover the section of our Members' Area especially for young Members. Each issue of Kids Rule features a different period in English History. This time we're taking a closer look at what life would have been like in Stuart England. Here's what we've got in store for you:
Watch an interview with master horseman William Cavendish
Design a Stuart newspaper for a chance to win a £100 goody bag
Download a Stuart dress-up kit and make a cavalier hat
Continue your mega timeline with our downloadable poster
Explore kids rule
You may also be interested in