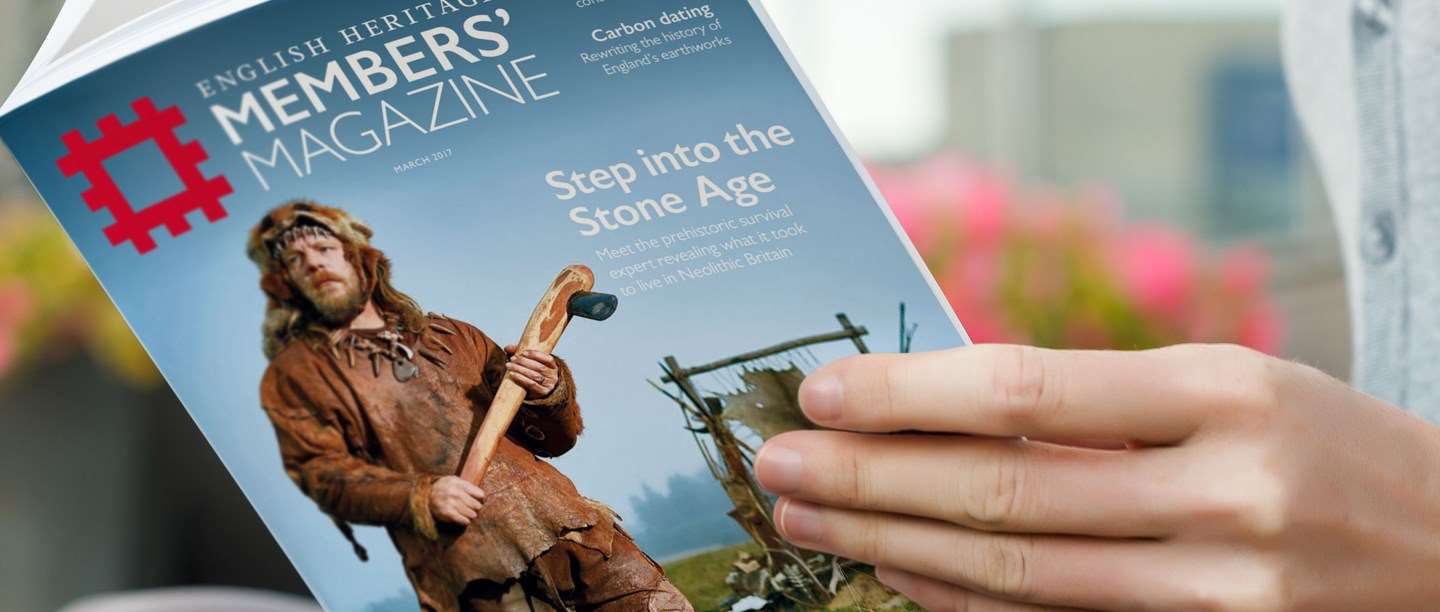 English Heritage Members' Magazine
Discover the March 2017 issue of the Members' Magazine and delve deeper into the story with exclusive photo galleries, behind-the-scenes videos and more.
New Season
SPRING WALKS
Embrace the new season with eight beautiful walks encompassing some of your favourite English Heritage properties.
From moderate family walks through woods and moorland, and gentle ambles through open country and grazing pasture, to a challenging walk along uneven cliff paths: get outdoors this spring and explore our sites.
Download step-by-step guides and maps for each of the walks.
Log in to Explore the Trails
Expert Care
REFURBISHMENT AT WITLEY COURT AND GARDENS
After it was fully restored in 2003, the spectacular Perseus and Andromeda fountain at Witley Court and Gardens in Worcestershire gradually became covered in vegetation.
Restoration work is once again underway on the famous fountain, and a temporary platform has been built along the scaffolding so visitors can get a closer look at the statues as they are worked on.
Watch our exclusive video to discover the how a stonemason returned the statues to their former glory.
Log in to Watch the video
The Heritage Quiz
This year marks the 150th anniversary of the installation of the first official London blue plaque. How much do you know about the scheme and the people it honours?
Who was the first official blue plaque, in Holles Street, near Oxford Circus, to?
Who is the oldest surviving London blue plaque to?
What colour is the plaque to the 'man of science' Michael Faraday?
English Heritage took over the scheme in 1986. Which was the first plaque to bear its name?
What shape is the plaque to Hubert Parry, composer of Jerusalem?
In 2011 English Heritage commemorated a leading ophthalmologist, famed for her work on contact lenses. What was her name?
Which football manager has been commemorated with a blue plaque at his old address in Hendon in north-west London?
To be awarded an official English Heritage plaque, the proposed recipient must have died a minimum of how many years ago?
How many houses in London have two official plaques?
What is Benjamin Franklin's plaque made of?
Log in to Check your score
Kids Rule!
Discover the section of the Members' Area especially for kids, where our young Members can learn about England's history, discover more about our sites and find loads of fun things to watch, read and do!
Interview with a Real-life Stone Age Man
Download our Stone Age Selfie Kit
Read the Guide to Prehistoric England
Explore Kids Rule
From the Archive
THE OCTOBER ISSUE
Discover highlights and extras from the October magazine, including:
1066 and beyond - Learn about the truth behind the myth surrounding William's momentous victory as English Heritage historian Steven Brindle reveals the real story of the Norman Conquest.
Surprises in store - A tour of Helmsley Archaeology Store in North Yorkshire reveals thousands of historic treasures not usually on display, and the work that goes into preserving them.
Jewel Tower sculptures - Find out why precious stones are helping historians discover what England's earliest castles looked like, and delve deeper into the story with our annotated image featuring a sculpture of a wooden castle.
Discover More
You may also be interested in