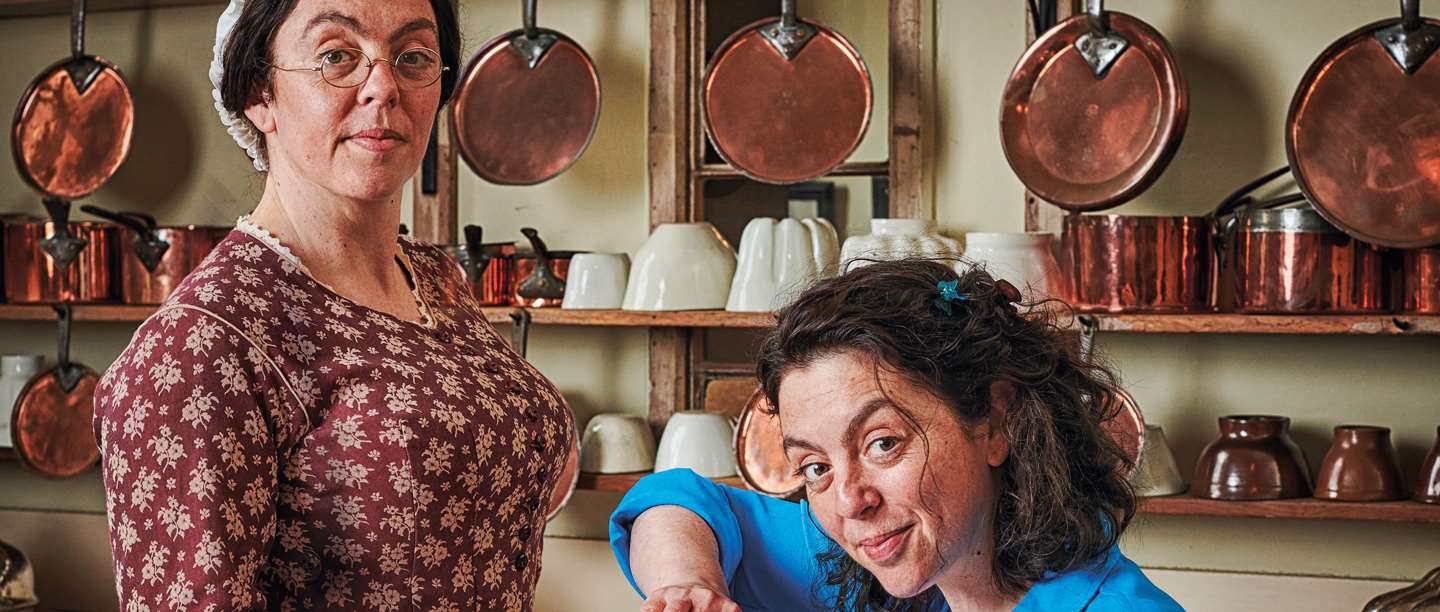 Meet the Expert: Kathy Hipperson
Meet Kathy Hipperson, historical interpreter best known for playing Mrs Avis Crocombe in hit YouTube series, The Victorian Way.
I play the role of Mrs Avis Crocombe, the cook at Audley End in the 1880s. She's part of the costumed characters at the house from May to September. I also play her in a series of videos that you can find on the English Heritage YouTube channel.
Not much is written about the real Mrs Crocombe, so there have been some challenges.
in bringing her to life. She's mentioned in the census, and we have her original notebook of recipes, but that's it. A lot of the information we've put together has been based on research about Audley End itself, as well as generic information about servants in the late Victorian era.
Playing Mrs Crocombe changes depending on whether I'm talking in the kitchen with visitors or making a video. In the kitchens I'm generally talking one-to-one, so you never know where a conversation will end up. It's often led by what I'm physically doing, such as the dish I'm preparing. A video is more of an educational format, so I'm standing up and presenting. I prefer having an audience to respond to.
When people visit us, or watch one of the videos, what I really want them to do is take away facts – about what life was like in the kitchen, about Mrs Crocombe herself and about servants in general during that era. I also enjoy myth-busting some of the preconceptions people have about servants and their day-to-day lives.
Historical interpreters come from all sorts of different backgrounds. Some are trained actors like me, and a lot of really talented historical interpreters I know have degrees in history, which certainly helps, as does having some natural acting ability. But the most important thing is being personable with the public.
I love my job. I get to spend every day in a costume, talk to lovely visitors and share interesting knowledge with people who will hopefully find it interesting too. My favourite part is getting to find out about ordinary people – kings and queens are fascinating, but it's always nice to get the chance to play someone less known. One of my other roles is Florence Nightingale Richards, the keeper of the keys at Tintagel Castle. She's great fun to play because she doesn't have any of the control Mrs Crocombe has.
Before playing Mrs Crocombe, I had no interest in cooking at all, especially savoury dishes. I do cook a lot more now, though – often strange dishes and at random times. I like the science of cooking and I like the concept of cooking, but I'm not interested in the taste unless it's got lots of sugar.
I definitely cook some of Mrs Crocombe's recipes at home – some of them are very popular with my family. My favourite is the gingerbread cake, and the gâteau de pommes is pretty good. But I won't be making sheep's brain croquettes again.
How to Make Devonshire Squab Pie - The Victorian Way

How to Make Macaroni Cheese - The Victorian Way

Behind the Scenes with Kathy Hipperson
Buy How to Cook the Victorian Way
How to Cook the Victorian Way is the definitive guide to the life, times and tastes of the world's favourite Victorian cook. Mrs Crocombe is the breakout star of English Heritage's wildly popular YouTube series, The Victorian Way. This beautifully photographed book features fully tested and modernised recipes along with a transcription of Avis's original manuscript, plus insights into daily life at Audley End by Dr Annie Gray and Dr Andrew Hann, and a foreword by Kathy Hipperson. It showcases the best recipes from Mrs Crocombe's own book, alongside others of the time, brought together so that every reader can put on their own Victorian meal.
Order now