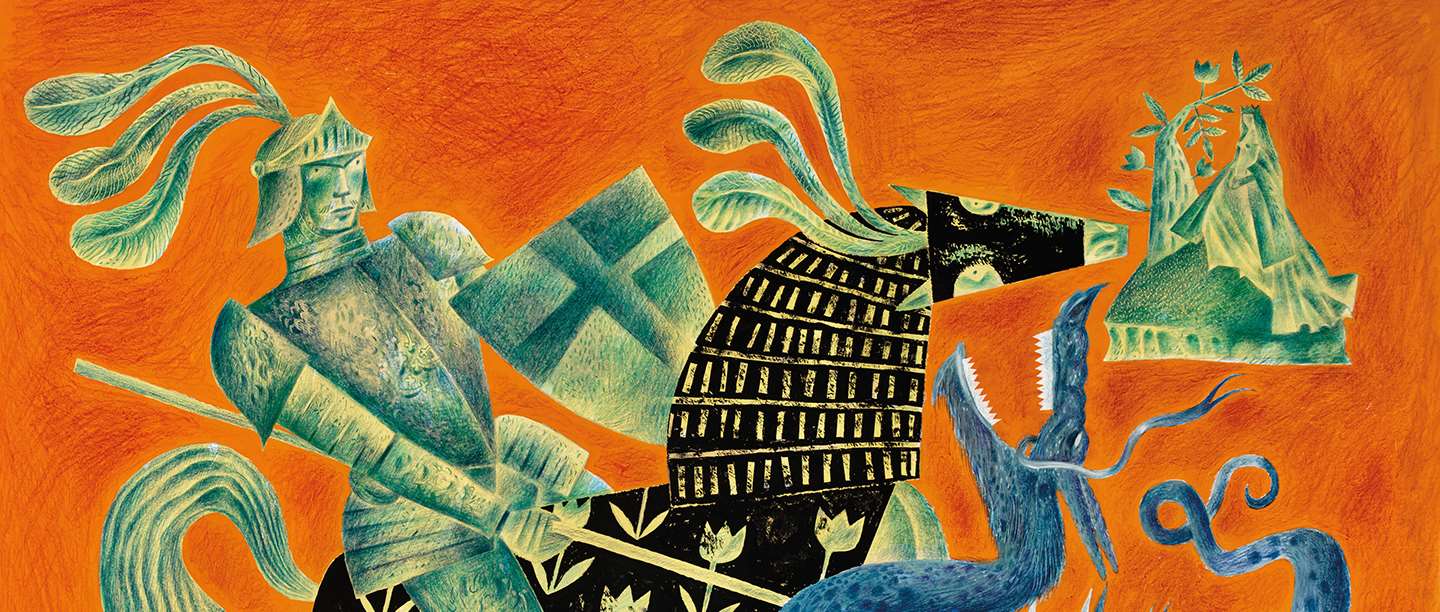 Telling Tales
THE MYTHS, LEGENDS AND FOLKLORE OF ENGLAND
England's history is interwoven with the threads of myth, legend and folklore. These stories shape our understanding of our past and our present.
Join us as we tell tales from England's past and uncover the history behind them, from St George to sea-monsters, medieval ghosts and buried treasure.
Help us to map England's folklore
Every village, parish, town and city has its own local legends, from ghostly tales to fantastical creatures.
With your help, we are collecting stories from across England on our interactive online map. Visit the link below and click Submit a Tale to share a story and explore those shared by others.
Explore the map
Tales from English Folklore
A series bringing England's myth, legend and folklore to life
The Tale of St Hild and The Snakes

The story of the determined Abbess who banished a plague of poisonous snakes from Whitby Abbey.

The Tale of the Dancers of Stanton Drew

How were the Stanton Drew Stone Circles formed? Legend says that it began with a wedding long, long ago...

The tale of the cult of Mithras

In a dark underground temple, Roman soldiers worshipped a little-known God. But what did initiation to this secretive cult entail?
Making the map
with Clive Hicks-Jenkins
BRINGING MYTH AND LEGEND TO LIFE
We visited artist Clive Hicks-Jenkins and digital experts Gravitywell to reveal how traditional craftsmanship and modern technology were brought together to create the map of myth, legend and folklore.
Dragons and their origins

Where did the dragon myth originate, and why are dragon stories so widespread across at least two continents? Carolyne Larrington, Professor of medieval European literature, investigates.

Where do myths, legends and folktales come from?

Mythical tales are well established in English culture. But where do these stories come from? Carolyne Larrington examines the origins of dragons, kelpies, hobs and even the legend of King Arthur.

Explore more stories on our blog

Discover more stories around myths, legends and folklore plus a range of other topics on our blog.
Tell us a story for your chance to win
Aged 5–14? Got a creative imagination? Do you think you could tell us a story in 500 words or fewer?
Be inspired by one of our historic sites this summer and create your own story for a chance to win some amazing prizes for you, your family and your school.
How to enter
Stories
Explore the myths, legends and folklore of England
Stay tuned throughout the year as we uncover more tales of English myth, legend and folklore...
Whitby Abbey, North Yorkshire

These gothic abbey ruins were the inspiration for Bram Stoker's Dracula, and home to the snake-banishing St Hild.

Tintagel Castle, Cornwall

Ancient island castle steeped in legend and said to be the place of King Arthur's conception.

More places

Explore all 400+ of the historic places in our care, many of them associated with myth, legend and folklore.
Legendary Holidays

Stay in the places where myths and legends were made with our deluxe holiday cottages. From Lindisfarne Priory to Dover Castle, enjoy exclusive access to a historic site after it closes to the public.

Hand crafted treasures

Display a beautiful piece of legend in your own home with our collection of reproduction swords and armour inspired by history.

Join us for a legendary summer

Make this summer legendary with our season of events. Witness Romans clashing, brave knights battling it out in real tournaments, and jousters displaying feats of strength and skill to rival today's top athletes.