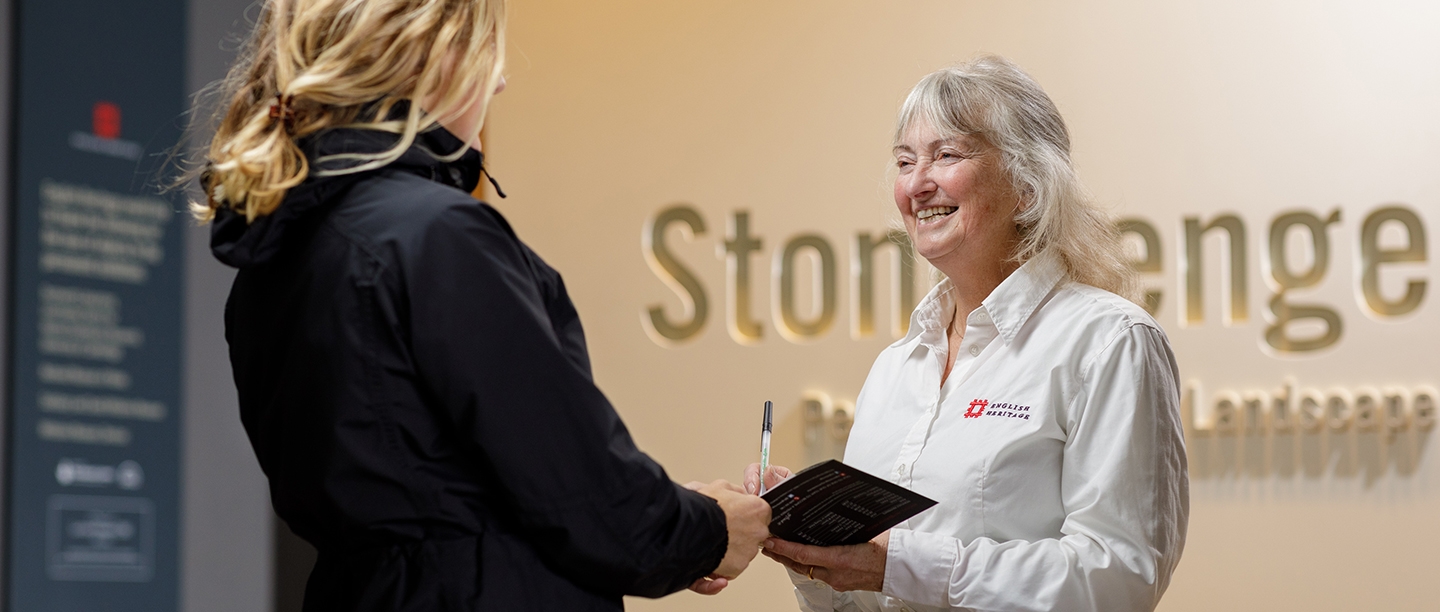 Agency Voucher Scheme
Find out more about our Agency Voucher Scheme and how it helps you to provide the best service to your guests when visiting English Heritage sites.
Terms and conditions apply.
What is the Agency Voucher Scheme?
Our Agency Voucher Scheme (AVS) provides a credit facility to commercial organisations bringing regular visits to English Heritage sites and simplifies the administration when booking and on arrival.
Once you have opened an AVS account with us, you will be able to quote your unique AVS account number when booking your visits. When your bookings is confirmed, all you need to do is provide your company voucher to your guests or group leader to be redeemed on arrival at one our historic site.
Your guests will start enjoying their visit with no need for a cash transaction as we'll send you an invoice after your visit.
Eligibility
If you are interested in opening an Agency Voucher Scheme account, please get in touch with us to start the application process. You can find the terms and conditions for entry onto the scheme below.
Acceptance onto the scheme is solely at our discretion. To be eligible to apply we will ask your organisation to:
Agree in full to the terms and conditions for entry onto the scheme
Pass a credit check
To complete multiple visits to English Heritage properties in a single season
It can take up to 4 weeks for an application to be processed. If the application is successful, the account will be made active on the first working day of the next calendar month.
We kindly ask that applications are made well in advance of a booked visit and an alternative method of payment is arranged where appropriate.
Contact us
Agency Voucher Scheme Terms & Conditions 2022
Definitions
In this contract, the following words will have the following meanings:
The English Heritage Trust ("we" "us") known as English Heritage (company number 7447221 and charity number 1140351) incorporated and registered in England and Wales whose registered office is at The Engine House, Fire Fly Avenue, SN2 2EH
Company ("you")
"Prohibited Keywords" means one or more or all of the following keywords and/or phrases:
'Site Name'; 'visit Site Name'; 'explore Site Name'; 'Site Name tickets'; 'tickets to see Site Name'; 'book Site Name tickets'; 'about Site Name'; 'stone circle'; 'stone circle experience'; 'stonehenge vip exhibition'; 'stonehenge exhibition'; 'stonehenge vip'; 'go inside the stones'; 'go inside the stone circle'; 'walk amongst the stones'; 'stonehenge salisbury'; 'book a trip to Site Name'; and 'day out Site Name'
"Site Name" means the name of any English Heritage property in respect of which you market the sale of tickets.
1. Length of contract
1.1 This contract is personal to you and you may not transfer it to anyone else, including any person or company which buys or takes over your business.
1.2 We provide you with this facility at our discretion, and may withdraw it any time on reasonable notice as more particularly described in section 15 hereof.
1.3 This contract shall be deemed to have commenced on the date we confirm your account has been made active.
1.4 This contract will be renewed annually in line with the commencement of English Heritage's financial year start date of 1st April. You will be required to renew and agree to these terms and any amendments made in writing annually.
2. Your obligations
2.1 You must provide one or more sample voucher (s) in the following format:
Date of visit
Time of visit
Company Name
Name of Tour (Number of Tour if applicable)
AVS code
English Heritage Booking reference number
Number of Visitors: Adults (18+), Concessions (65+), Child (5-17yrs),
2.2 Where you present Vouchers featuring incorrect information English Heritage reserves the right in its absolute discretion to:
charge you a reasonable administration charge; or
refuse entry to the site; or
require you to complete an English Heritage voucher template before entry to the site is permitted.
3. English Heritage Sites included in this scheme.
If your application to join the Agency Voucher Scheme ("AVS") is successful then you will be able to use your account number to make bookings at all English Heritage sites including Stonehenge.
4. Reservations and confirmed bookings
4.1 When you make a reservation at any of our properties you must provide the following information:
state the number of people the reservation is being made for and, if possible, whether they are adults (18+), children (aged 5 -17) or concessions (over 65s or students with valid ID) ("Ticket Type");
the date of visit; and
Anticipated time of arrival.
4.2 Final numbers and Ticket Type must be submitted correctly on the voucher presented on admission.
For Group Bookings made through our Centralised Reservation Team.
4.3 When you make a reservation you will be issued with a unique reference number for that reservation. No monies will be taken at the point of reservation and you may adjust the number of people and whether they are adults, concessions or children at any time up until a final confirmation of the reservation. A final confirmation can be made at any point up to 7 days before the intended date of visit.
4.4 Once you have confirmed a reservation it becomes a confirmed booking.
4.5 After receipt of a confirmed booking you undertake to confirm to us the exact number of visitors attending in respect of that booking no later than 7 days before your visit. In the event of a repeated failure by you to provide accurate confirmation of visitor numbers we reserve the right to accept no further bookings from you.
4.6 It is important that you inform your coach and tour leaders of the time of arrival stated on your confirmed booking. We will do our best to accommodate your party if you arrive earlier or later than the time allocated on the booking confirmation. We cannot guarantee admission particularly at busy periods.
5. Using our name and images
5.1 You may only use photographs, video content and other intellectual property belonging to English Heritage and/or the English Heritage logo with our prior written approval. You must follow any usage guidelines we send you and accredit the source of the images. If you would like a copy of our guidelines, please email our travel trade department who will send through an updated copy. Email: traveltrade@english-heritage.org.uk
5.2 You may not purchase pay per click advertising words using the name 'English Heritage'.
5A. Prohibited Keywords
5A.1 You shall not and you will ensure any sub-distributor shall not use the Prohibited Keywords (including by combining the Prohibited Keywords with the words: 'tours', 'visit', 'exhibition' or 'tickets') to gain an advantage over English Heritage's direct marketing of tickets to its properties in any paid search marketing activity in countries where English is the official language. All prohibited terms should be added as negative keywords. This restriction includes
5A.1.1 set up or use any domain name (secondary domain) that incorporates the Prohibited Keywords within the secondary domain; 5A.1.2 use the Prohibited Keywords within a subdomain of any website or channel; and
5A.1.2 any use or a combination of the Prohibited Keywords within a domain name, subdomain or subdirectory that would attempt to pass-off as the official source of English Heritage tickets.
6. Account Management
6.1 English Heritage will appoint an account manager to act as your main point of contact and to receive notices under this contract and you will also appoint one if we require you to do so.
6.2 If the total number of visitors you bring to our properties falls below 350 for Stonehenge, or 300 for any other English Heritage property in any one calendar year, we reserve the right to terminate this contract.
6.3 We will monitor your performance on a regular basis not less than annually.
6.4 It is your responsibility to ensure English Heritage is provided with up to date and accurate contact details for each of your Sales, Operations. Finance, Contracting and Emergency points of contact ("Contact Details").
6.5 You shall provide us with a complete and accurate Contact Details form each time you renew this contract.
7. Credit References
7.1 7.1 We will take up credit references with your bank before entering into the contract with you and reserve the right in our absolute discretion to take up such credit references with your bank at any time during the operation of the contract and you agree to provide us with all necessary assistance to obtain these references.
7.2 For UK based companies we will arrange for an initial credit check to be undertaken by Dun & Bradstreet and shall thereafter arrange for an annual credit check to be undertaken in respect of the company prior to agreeing any contract renewal.
7.3 For any companies who have been operating for less then two years we reserve the right to reduce our standard credit facilities and/or require the payment of a deposit.
8. Discounts & Admission Charges.
8.1 Where any discounts have been agreed between the parties these will be detailed in Schedule 1. For the avoidance of doubt the maximum permissible discount you may pass on shall be 10% of the entrance fee for Stonehenge and 15% for any other English Heritage site.
8.2 English Heritage reserve the right to reduce or cancel any additionally agreed discounts if it becomes aware you have passed on a higher than standard discount to your customers.
8.3 All AVS customers and third parties must ensure price parity. Unless otherwise agreed in writing by English Heritage no Tour Operator, OTA, Travel Agent, Wholesaler, Coach Operator, Travel Experience Operator and/or any other company selling attraction tickets shall sell entry tickets at a price less than those advertised on the English Heritage website.
8.4 Admission prices vary from property to property. Details of applicable prices should be confirmed with the property at the time of booking, or can be found on our website at english-heritage.org.uk.
9. Admission charges
9.1 Admission charges will not be payable by:
9.1.1 One group leader and one coach driver per group of eleven (11) or more paid admissions;
9.1.2 English Heritage members (on production of a valid membership card);
9.1.3 Overseas Visitor Pass holders (on production of a valid pass);
9.2 You must not sell admissions below the published prices that English Heritage sets at any property unless they are sold as part of a package which includes other elements such as transport or accommodation.
10. Payment
10.1 We will invoice you on production of your voucher which states the total number and types of admissions related to the relevant confirmed booking at the relevant English Heritage property that you are visiting. The total invoice amount will be the higher of either the number included in any confirmed booking, stated on your voucher or the group size permitted by us into the property on the day (if the latter be larger).
10.2 You must pay our invoices within 30 days.
10.3 If you do not pay us on time, we will be entitled to charge you interest annually at 8% over the current Bank of England base rate calculated daily.
10.4 You may not deduct your bank charges from the amount payable to us.
10.5 We reserve the right to cancel or suspend future bookings and terminate your AVS status for failure to pay within these terms and if payments are not received by the due dates.
10.6 You may not withhold payment in respect of any invoices, which are not in dispute.
10.7 In the event of any overdue payment we shall operate the following late payments notice scheme:
Action:

First Notice:

If the payment is overdue by 14 days you will receive notification from us via phone or email.

Final Notice:

When a payment is overdue for 30 days a Final Notice will be sent either by phone or email. After this time the AVS facility with English Heritage will be suspended until all outstanding sums are paid. English Heritage reserves the right to refuse entry to any of its properties where any sums remain outstanding and the AVS facility is suspended.

Final Notice Reminder:

If we do not hear from you within 7 days of the issue of the Final Notice we shall send you a Final Notice Reminder to seek to arrange a payment date with you.

Formal Letter of demand:

Where payment remains outstanding for 7 days after the issue of the Final Notice Reminder we shall issue you with a formal letter of demand and:

suspend this contract;
accept no further bookings;
refuse entry to all your groups at all English Heritage sites; and
reserve the right to commence legal proceedings without further notice at which time we will seek to recover our costs and interest on the outstanding amounts.
11. Indemnity
You will indemnify us against all losses, costs, damages and expenses of every kind and nature, including legal expenses, in respect of loss of or damage to any English Heritage property caused by you, your employees, agents or visitors who you bring onto our properties, unless caused by the negligence of English Heritage, its employees or agents.
12. Circumstances outside our or your control
12.1 If we are unable to allow your visitors onto one of our properties or you are not able to bring them for reasons outside our respective control, the affected party will immediately inform the other. For the purposes of this clause, the expression "circumstances outside its control", means an event which is beyond the control of the affected party and which such party could not anticipate or mitigate by means of insurance, contingency planning or any other prudent business means. This will include fire, flooding or damage to an English Heritage property or any other occurrence which prevents us from allowing public access to the property, but not industrial action by the affected party's own employees.
12.2 In such circumstances, we will refund your booking fee (if one was paid) and you will not be obliged to pay us for the affected visit. We will do our best to provide a convenient alternative date and/or time for your group, but we cannot guarantee any particular date or time, particularly for busy properties.
13. Unauthorised payments
13.1 You must comply with all applicable laws and regulations relating to anti-bribery and anti-corruption including but not limited to the Bribery Act 2010 and must not engage in any activity which constitutes an offence under the Act;
13.2 You must have in place your own procedures to ensure compliance with the Act.
13.3 You must not offer or give or agree to give any English Heritage employee or agent any gift or consideration of any kind as an inducement or reward for doing, forbearing to do, or for having done or forborne to do any act in relation to the obtaining or execution of this contract.
14. Ending this contract
14.1 We may end this contract immediately if you:
14.1.1 do not pay an invoice after being reminded once of your obligation to pay any of our invoices within 30 days of invoice date; as outlined in clause 10
14.1.2 become bankrupt or insolvent; make or attempt to enter into any arrangement or composition with its creditor(s); agree to carry out the Contract under a committee of inspection of its creditors; issue a notice calling a meeting to pass a resolution for your winding up; are wound up by an order of the Court; or have a provisional liquidator, receiver, manager or administrator appointed;
14.1.3 Undergo a change of control (as defined in section 1124 of the Corporation Tax Act 2010);
14.1.4 Make any unauthorised payments or otherwise fail to comply with our unauthorised payments requirements;
14.1.5 Pass on discounts in breach of the limits imposed by clause 8.2;
14.1.6 You are in breach of your obligation imposed by clause 14.3;
14.1.7 Sell entry tickets at rates lower than those displayed on the English Heritage Website unless they are sold as part of a package which includes other elements such as transport or accommodation;
14.1.8 purchase Pay Per Click words which contains the term English Heritage;
14.1.9 are repeatedly late in paying our invoices in any six month consecutive period;
14.1.10 do not within [4 weeks] sign and return our terms and conditions including any annual amendments and/or changes of the same issued to you by us from time to time.
14.2 You may end this contract by giving us at least 3 months' notice at any time.
14.3 You shall ensure that your staff conduct themselves in a professional manner at all times, for the avoidance of doubt, English Heritage reserves the right to terminate the agreement if your staff demonstrate rude, offensive, abusive or intimidating behaviour at any time towards any English Heritage personnel.
15. Changes to this contract
We may alter any or all of the terms of this contract by giving you reasonable written notice of our changes. If you do not wish to continue the contract as a result, you may end it by giving us four weeks' notice provided that you complete all bookings made with us before you do so.
16. General
16.1 All notices will be given in writing (and may be validly served by email so long as it is sent with a return receipt) and be delivered by hand or sent by first class post to the addresses given in this contract, or such other service address as either of us notifies to the other. A notice sent by post will be deemed to have been served two working days after posting. A notice sent by email will be deemed to have been served when the return receipt is received.
16.2 This contract contains the whole agreement between the parties relating to your account with us and supersedes all prior agreements, arrangements and understandings between us.
16.3 This contract will be governed by and construed in accordance with English Law and the parties agree to submit to the exclusive jurisdiction of the English courts.
Stay in Touch
Contact Us

Find answers in our FAQs, or get in touch with the team. For general enquiries about English Heritage, please contact Customer Services. For educational groups, please visit School Visits. If you are looking to make a group booking, please refer to our Bookings and Payments page for guidance.

Travel Trade Tel: +44 (0)117 975 1349 (Tues, Weds, Fri only)

Join our Mailing List

Follow the link to sign up to our mailing list and receive useful updates from us. Like our annual update on trade admission pricing and opening times and our bi-annual Attractions newsletter.