Location
Holy Island is a tidal island which is only accesable twice every 24 hours during low tide.This means that the island is truly yours when other visitors have left for the day. To access the Island, you must cross the causeway at one of the safe crossing times, which can be found here.
Book now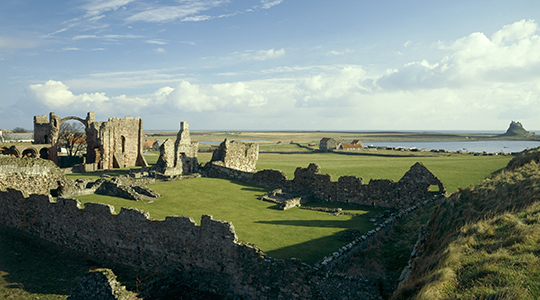 Main property and near by
Pub: 0.5 miles
Coast: 0.5 miles
Local shops: 1 mile
Supermarkets: 12 miles
Visit the fascinating museum at Lindisfarne Priory and find out about a grisly Viking raid, the cult of St Cuthbert, and the beautiful medieval manuscript: the Lindisfarne Gospels. Explore the island on foot and discover St Cuthbert's Isle just off the shore from the priory. It was here that St Cuthbert lived out his hermit years. Climb the high ridge known as the Heugh south of the ruins for spectacular views across to Bamburgh Castle and the Farne Islands.
Things to do in Northumberland
From spotting the puffins and seals on a boat ride to the Farne islands to spotting the Aurora Borealis, a stay in Northumberland is filled with unique experiences. Our guide to a weekend on the Northumberland coast will ensure you won't miss out on anything in this spectacular scenery.
Discover our Northumberland Guide